On August 19 Tesco was fined £300,000 for misleading customers over the sale of half-price strawberries.
Tesco was selling the strawberries for £3.99 for a much shorter length of time than the 'half-price' offer of £1.99. This contravened the pricing practices guide, which states that the length of the new lower price sale should not be longer than the old higher price was available.
At the time, we wrote about the immediate impact of the fine on social media. On the day of the ruling more than four in ten (43%) UK Twitter users heard about Tesco, up from just 17% the day before.
Now that the story has had over a week to settle, we have looked into our brand perception tool, BrandIndex, to see whether it had any impact on Tesco's consumer perception scores.
If we look at Buzz, which measures whether consumers have heard something positive or negative about the brand, we see a steady decline since 19 August. On the day of the fine Tesco had a Buzz score of -6.which has fallen to its current level of -9.2.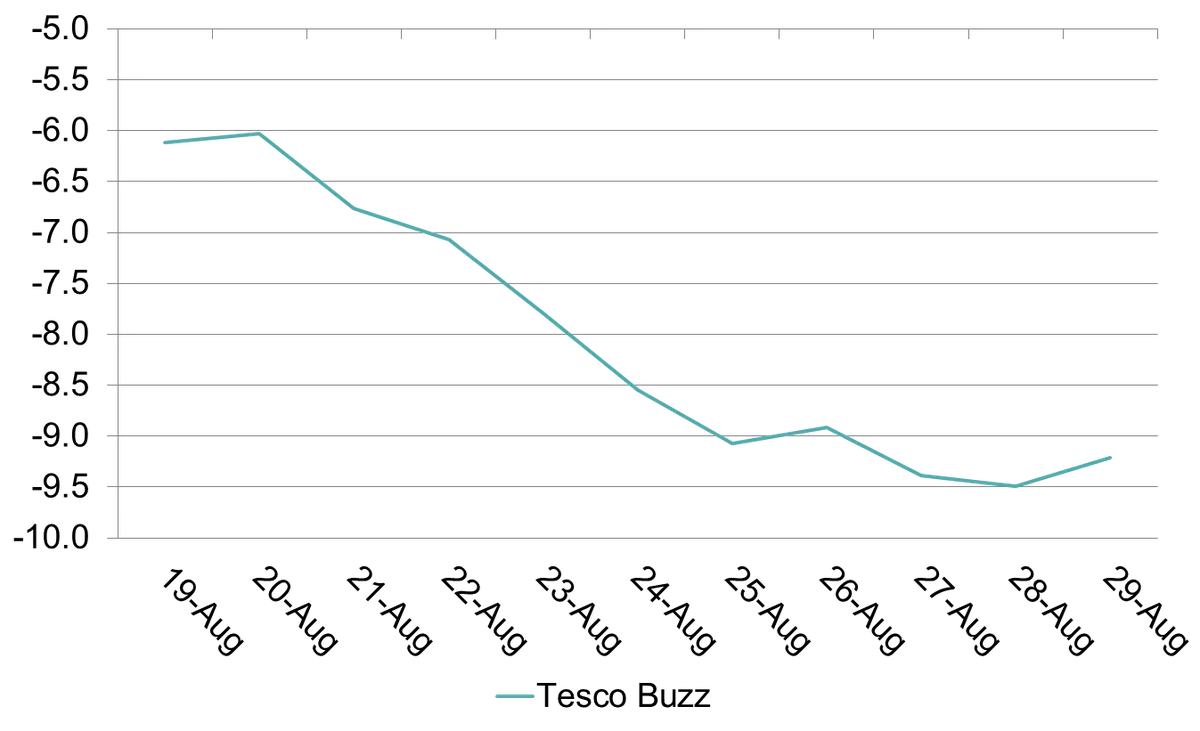 Considering the scale of the fine this fall in Buzz is expected. However, has this decline in Buzz affected Tesco's overall Index score (a composite measure of six key image attributes)?
Interestingly, Tesco's overall Index score has remained largely unaffected by the scandal. It's score on 19 August was 14.0 compared to its current score of 14.2.
Furthermore, a crucial consumer measure, Purchase Intent, has also remained unaffected by the scandal. On 19 August Tesco's purchase intent score was 25.1, which has in fact risen slightly to its current level of 25.3.
Our data suggests that Tesco has emerged from the fine relatively unscathed.
While the story caused a significant stir on Twitter, and the brand has suffered a declining Buzz score, such sentiment has failed to impact Tesco's overall Index and Purchase Intent scores.
Image courtesy of Getty