Netflix, the on-demand internet streaming service, has been a hot topic in media circles recently, notably for its acclaimed original programming and its "binge-watching" format that allows viewers to watch as many episodes of a series as they feel like, all at once. It is active in a plethora of major markets internationally, and here, using BrandIndex, we can analyse the content provider's progress in the UK, US and Brazil.
In the news...
Earlier this week Netflix achieved a coup in the UK market when it aired the first episode of the last season of hit US TV series Breaking Bad, meaning British fans of the show (about a high school chemistry teacher who turns to a life of crime after being diagnosed with cancer) will be able to see new episodes on Netflix before they air on television.
Last week it launched a Portuguese-language scripted comedy series, 'A Toca', exclusively in Brazil (where the company launched in 2011) as part of a localised original strategy that aims to encourage deeper audience engagement in different markets.
Netflix' biggest splash was its $100m production of House of Cards, originally a BBC miniseries remade as a 13-episode political thriller starring Kevin Spacey. It made headlines around the world, and became the first online program to be nominated for an Emmy.
Another highlight was its revival of cult hit Arrested Development.
... but what do consumers think?
The brand is clearly adept at generating media chatter in key markets, but how is that translating in terms of how Netflix is seen by consumers?
Looking at the brand's performance using two key BrandIndex measures – Buzz and and Purchase Intent – we see an interesting pattern:
Firstly, its scores are highest in the US, which is not surprising as it's where the company originates and where it is most established.
Second, its UK scores are essentially flat-lining, indicating that – Breaking Bad aside – while Netflix' position in Britain is solid, it is not generating upticks in interest and excitement with British consumers.
Finally – and perhaps most intriguingly – the brand appears to be generating a surge of positive Buzz in Brazil. At the beginning of last month its Buzz score in this important emerging market stood at a healthy +10, but today it stands at +19.2, putting it on course to overtake the US for positive Buzz.
So while Brazil still lags behind Britain and American in terms of Purchase Intent for Netflix, the sizeable increase in Brazilian consumers hearing good things about the brand could translate into a similar surge in subscribers.
Buzz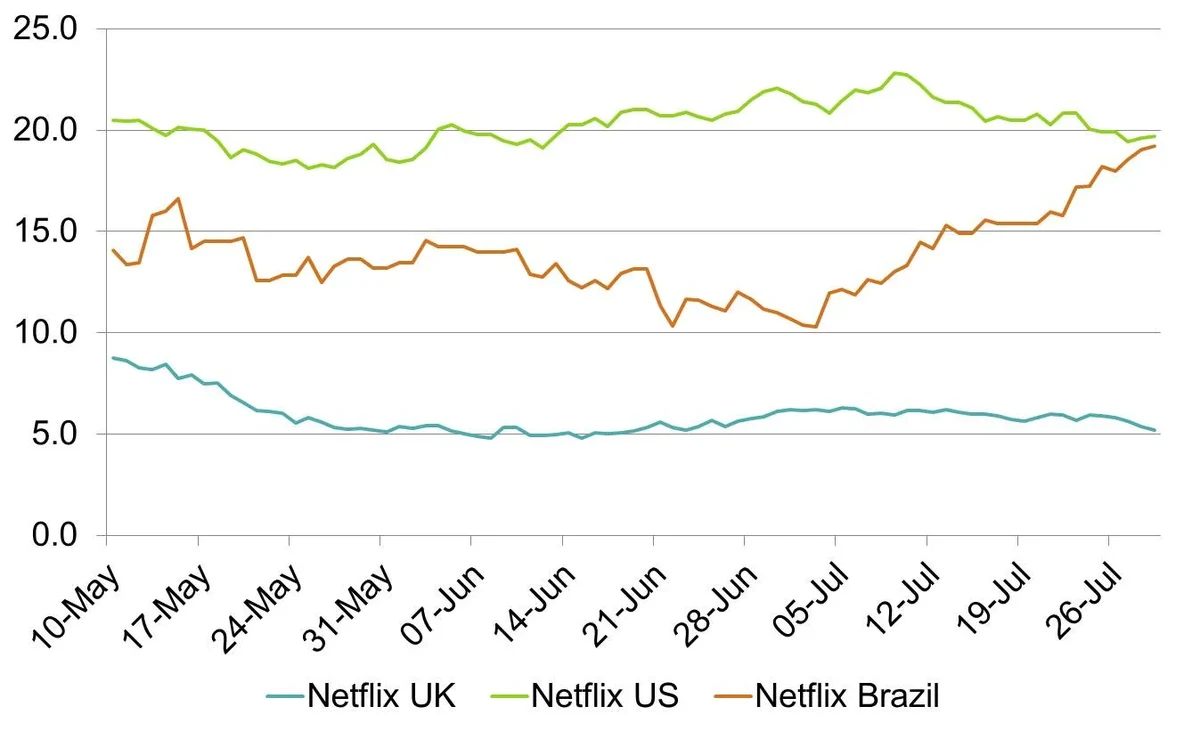 Purchase Intent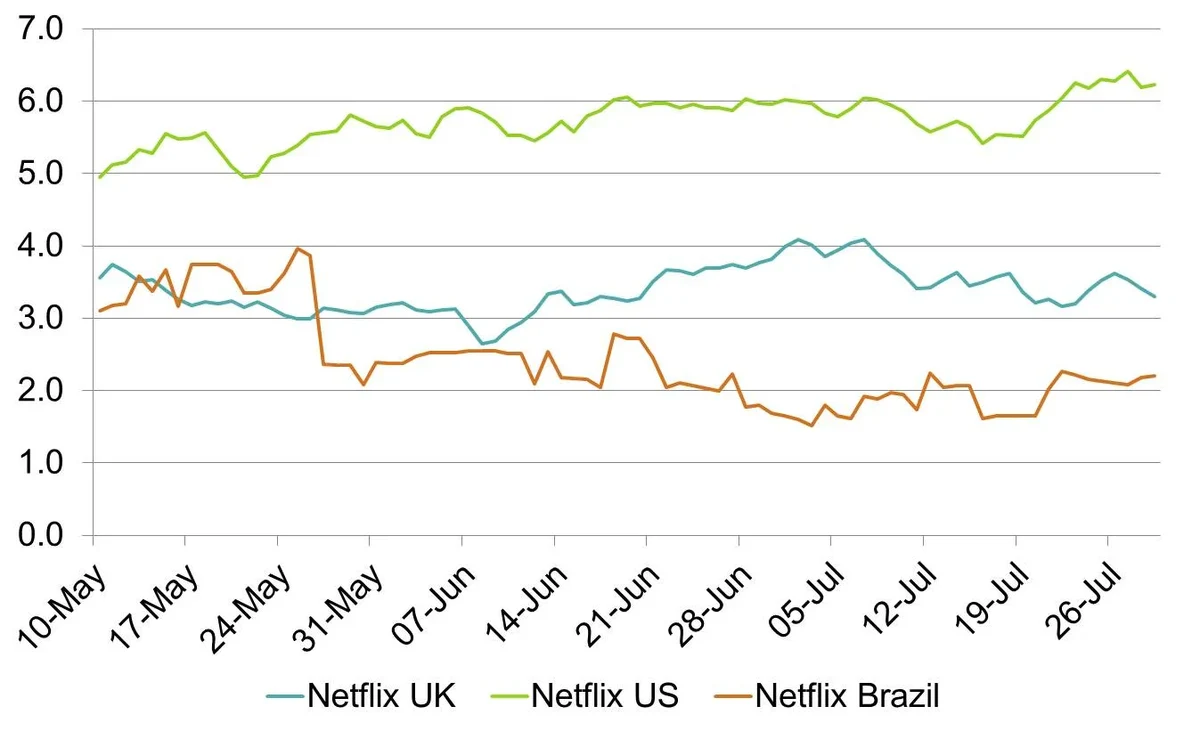 Image courtesy of Getty images