Earlier this week fast-food behemoth McDonald's experienced a fall in its stock price after it released disappointing second-quarter financial results, with the company warning that it faces a tough year ahead. However, while the world's biggest hamburger chain may be wise to downplay its prospects for the rest of 2013, according to YouGov BrandIndex its consumer perception scores for the quarter paint a somewhat sunnier picture in four key markets.
McDonald's blamed its disappointing sales on increased competition in the US and the gloomy economic environment in Europe. And indeed, the company's global nature was highlighted in the details of its Q2 results. While sales in the US business were 0.5% lower than forecasters predicted, they were still up by 1% from this time last year. Sales were down in real terms by 0.1% in Europe, but according to reports a solid performance in the UK and Russia was dragged down by weak sales in Germany and France.
Looking at McDonald's Index score (a composite of six key measures of brand health) we can see that in the UK, US, France and Germany, consumers' perception of the brand was better at the end of the quarter than it had been at the beginning. Worth noting is that in France and Germany, two of its more challenging markets, the brand's Index score increased the most (up by around 4-points in both countries).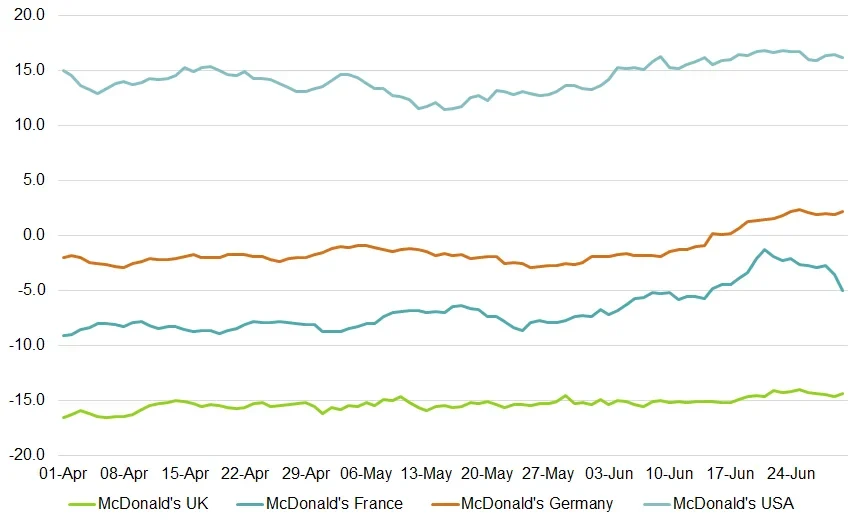 Turning to McDonald's Buzz score (a net score based on the percentage of consumers who have heard something positive vs something negative about the brand), we see that – with the exception of the UK – people are hearing considerably more good than bad about McDonald's.
Its US Buzz dipped slightly, from +12 to +10, but America it still leads the pack on this measure. The most marked rise in Buzz was in France, going from +0.8 to +8.6 over the course of the quarter, which can probably be explained by a surge in TV campaigns for fast-food chains in France during May and June. McDonald's main rivals in France, KFC and Quick, experienced a similar rise in Buzz at this time, likely for the same reason.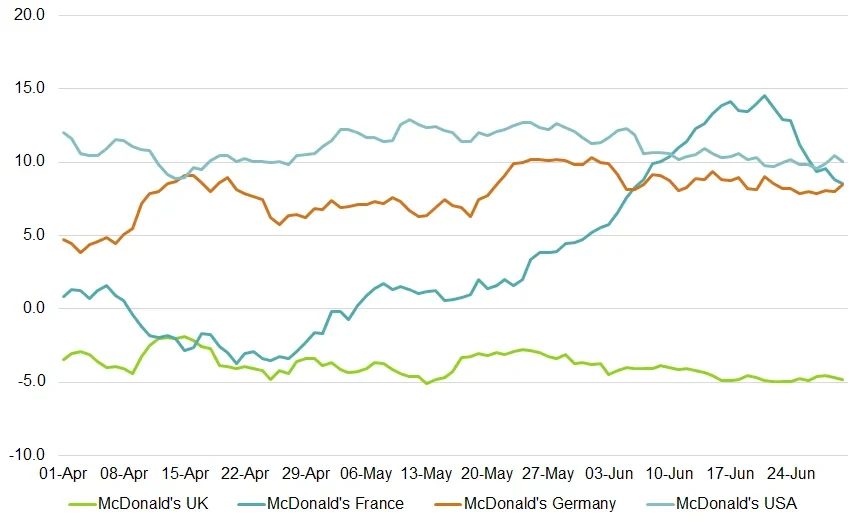 Fast forwarding to today, nearly a month into the third-quarter, and McDonald's Index scores in France and Germany have continued their upward trajectory, standing at -3.8 and +5.9, respectively, compared to -5 and +2.2 at the end of Q2. We will have to wait and see whether this translates into improved sales in those markets.