YouGov CEO, Stephan Shakespeare, revisits Co-op Bank to track the firm's fortunes since its series of crises earlier this year
A month ago I looked at the succession of crises suffered by the Co-operative Bank this year: the collapse of its deal to buy branches from Lloyds, a downgrade from Moody's, and the controversy surrounding its bail-in.
I promised that we would be watching closely to see how it played out over time, and so I've gone back into the data to track the firm's fortunes in the eyes of the public.
The Co-op's Buzz score – which is a net score of whether consumers have heard something positive or negative about the brand ­– had fallen from +12.6 on 27 April to -4 on 30 April, after the Lloyds deal collapsed.
Then it dropped from -5.3 on 10 May to -27.1 on 13 May after the downgrade.
It was starting to decline again from -16 on 16 June after the bail-in announcement, and finally bottomed out at -31 on 19 June. It has been recovering since.
By 8 July the ground lost in that final decline has been recovered, and the brand has plateaued since, sitting at -15 on Monday of this week.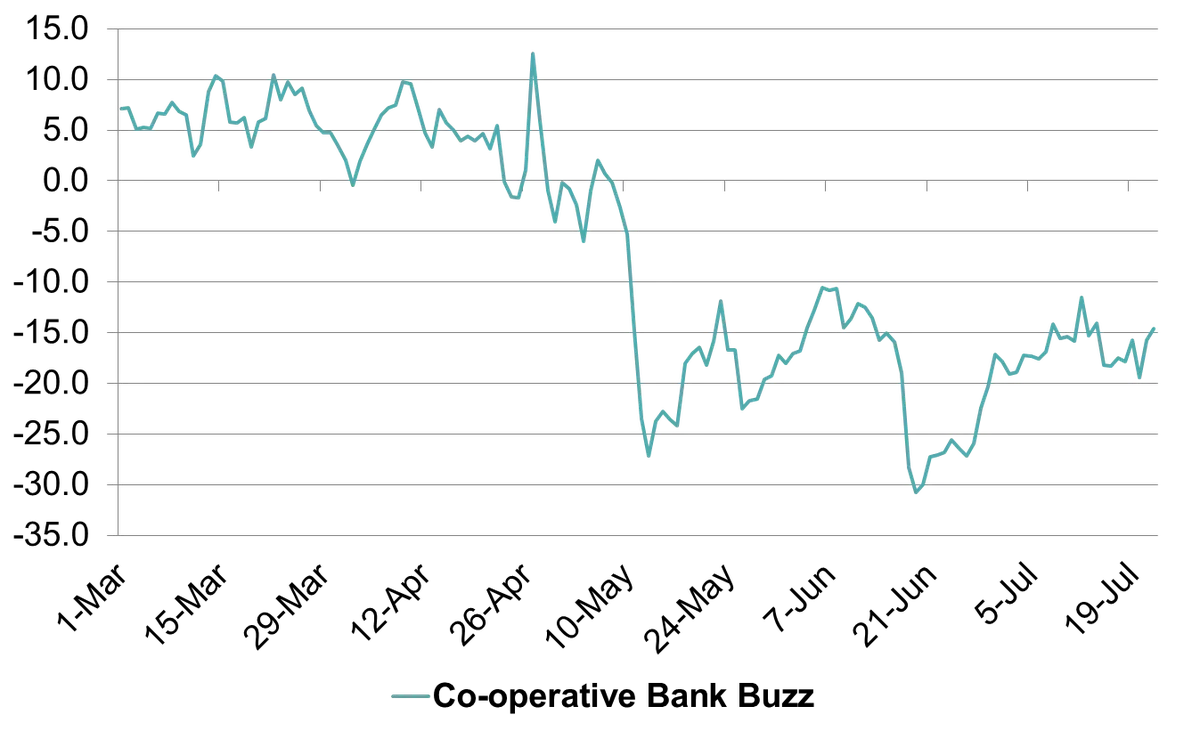 The Index score shows a similar but interestingly different pattern. Rather than being news that people have heard, Index is a composite of six key image measures that looks at how consumers perceive the brand.
The Co-op's Index score was not really affected by the deal collapse, but fell badly from +12 to +4 after the downgrade, and then again to -2 off the back of the bail-in announcement. It has now recovered somewhat, and currently sits at +1.
The Co-operative is well on the way to recovering the buzz and overall perception ground it lost in the third dip, but it still has much work to do to get back to its position of just a few months ago.
Perhaps the best perspective is to look at its position relative to other banks. Of the 27 that we track, its Index score places it seventh; a good position but down from third three months ago.