Mumsnet founder Justine Roberts this afternoon tweeted, "Hearing that Kate's gorn into labour…". Despite this being an unverified rumour with a spelling mistake and a bit of improper familiarity ("Kate"!), it is safe to say that most people know she is referring to speculation that the Royal Baby is on its way.
Using YouGov SoMA, our social media analysis tool, we can reveal that two-thirds of the UK Twitter population heard about the Royal Baby so far this month. As we approach Catherine's reported due date (13 July), activity has been ramping-up.
On Sunday, just under a quarter (22%) of UK Twitter users heard about the Royal Baby, however on Monday that figure leapt to over a third (37%) and has stayed at that level throughout the week. So far today, 29% of the UK Twittersphere has received messages about the Royal Baby in their newsfeeds.
Facebook, which typically has lower levels of chatter but has a higher number of users than Twitter, has displayed a similar pattern. On Sunday, just 1% of UK Facebookers heard about the Royal Baby, but all this week around 7% of the Facebook population has been seeing updates related to the incoming new member of the Royal Family.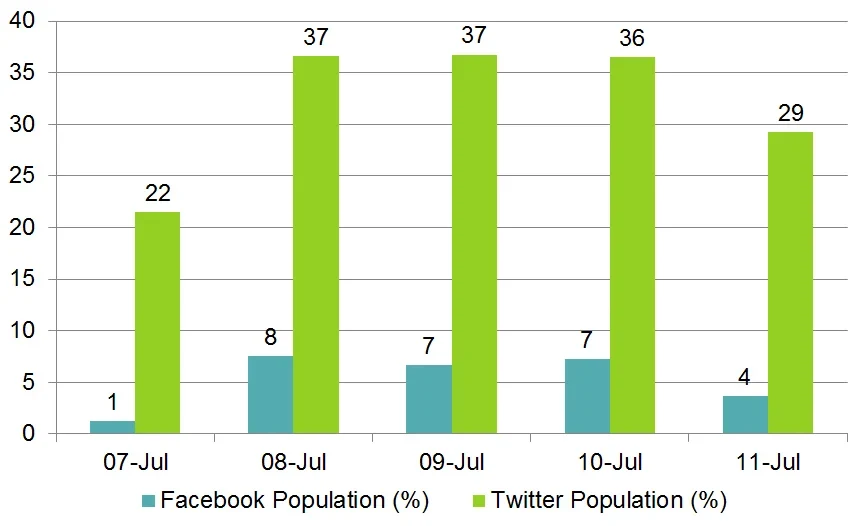 On both social media networks more women are hearing about the Royal Baby, however it is somewhat more balanced on Twitter than on Facebook. On Twitter, those hearing about the Royal Baby are 56% female, while on Facebook 67% are women.
Whether Justine Roberts' information is correct is anyone's guess, but if it is true then this could be one of the biggest ever events on social media in the UK. Stay tuned for updates!