The biggest aerospace show of the year is currently taking place in Paris, with orders as of yesterday surpassing $100 billion.
Rival planemakers Boeing and Airbus have been competing for business, capitalising on the growth of budget airlines and demand for more fuel efficient jets.
Yesterday, Ryanair followed easyJet's Airbus aircraft order (placed on 18 June) by revealing that it had agreed a deal to purchase 175 Boeing 737-800 jets. This deal marks Boeing's biggest ever European order.
Like easyJet's order, Ryanair's announcement had a noticeable impact on Twitter. Using YouGov's social media analysis tool, SoMA, we can see that 6.2% of the UK Twitter population were exposed to a mention of Ryanair on 19 June, compared to just 3.7% the previous day.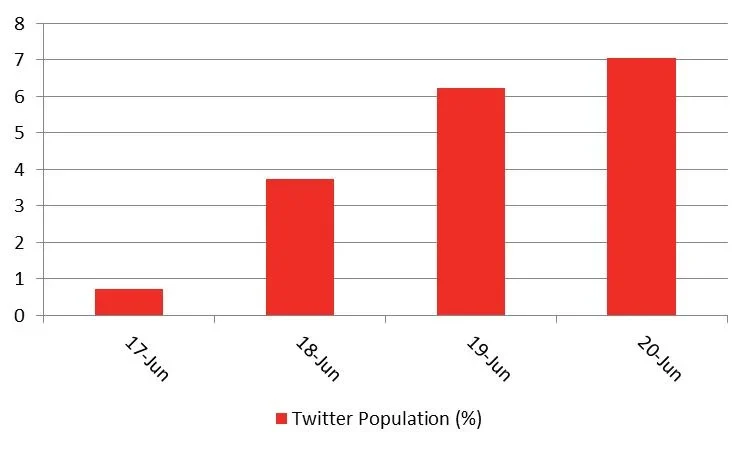 SoMA is also able to offer insight into what was heard, as well as by whom it is heard.
We can see that the most popular words mentioned alongside Ryanair on 19 June were 'boeing', 'order', 'airline', '737' and '175', which indicates that the increase in Ryanair's reach can be attributed to the budget airline's order with Boeing.
It is also interesting to note that a similar demographic audience were exposed to Ryanair's aircraft order, as those exposed to easyJet's order on 17 June. For example, a majority of those who heard about the budget airline on this day were male (69%), while 22% were from the North. Whereas those who heard about the easyJet order on social media were even more male (78%), with a substantial proportion (20%) hailing from the North.
story keeps Ryanair's Twitter momentum going
Moving on to today, we can see that Ryanair's reach has in fact surpassed yesterday's score. This is in contrast to easyJet's Twitter activity on the day following its order, which fell back to normal levels.
By looking at the most popular words mentioned alongside Ryanair today ('peanut', 'history', 'easyJet' and 'airlines') and by analysing the associating verbatim comments, we can see that a BBC article describing the history of easyJet and Ryanair (the so-called 'peanut airlines) is responsible for Ryanair's sustained Twitter activity on the day following its order.
Not only does this indicate the role social media has in enhancing brand awareness, but it also demonstrates the symbiotic relationship between social and other, more traditional media channels.
Not only is SoMA able to indicate to brand manager's the volume and type of consumer that heard about a brand on a particular day, it is also able to place social media activity in the context of other media channels.