EasyJet, Europe's second largest budget airline after Ryanair, today announced that it has agreed a deal to buy 135 new aircraft from Airbus.
Both Airbus and Boeing were pitching for the easyJet contract.
EasyJet Chief executive Carolyn McCall said that although both companies worked very hard for the contract, Airbus "offered us the best deal". While the list price of these planes is thought to be around £7bn, the budget airline has claimed that it has negotiated a "substantial discount".
Using YouGov's social media analysis tool, SoMA, we can measure the impact of this story on Twitter in real time. For today (18 June) we can see that currently 12.4% of the UK Twitter population has been exposed to a mention of easyJet on their feeds, rising from just 1.9% yesterday.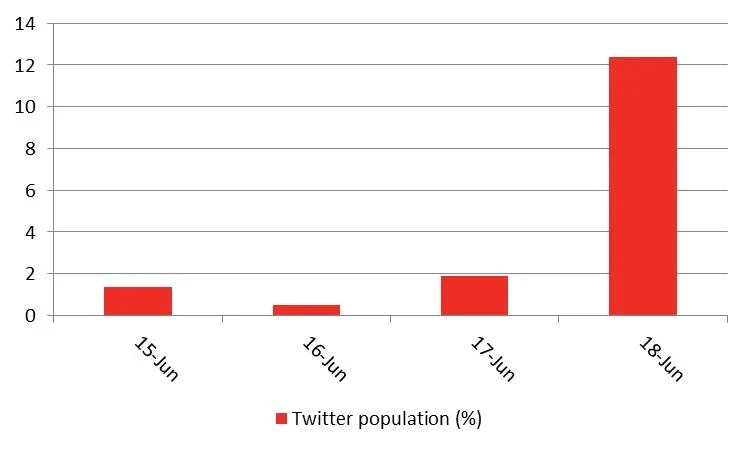 SoMA is also able to offer insight into what was heard, as well as by whom it is heard.
We can see that the most popular words mentioned alongside easyJet today are 'airbus', '135', 'deal', 'order' and 'planes', which indicates that today's increase in Twitter activity can be attributed to easyJet's deal with Airbus.
Perhaps most significantly, SoMA is able to offer insight into exactly what demographic groups were exposed to a mention of easyJet on their Twitter feeds. For example, 78% of those exposed to easyJet on Twitter today are male, while 20% are from the North.
This analysis demonstrates the importance of tracking social media activity immediately and in real time. Not only is SoMA able to immediately demonstrate to brand managers the amount of users that are exposed to a brand, but it is also able to go into more depth by indicating exactly what is heard, as well as by whom it is heard.