Shaun Austin, Director at YouGov Media, argues that while Netflix's recent foray into original programming has generated a lot of critical praise and given them a large slice of press coverage, the business case for them to effectively become a studio has yet to be made.
In February, Netflix released House of Cards. The launch generated a lot of attention, both for the show itself and Netflix's bold shift from curator to creator of content.
Netflix's change in gear comes as the VOD marketplace becomes increasingly crowded. As well as ISPs and the usual suspects such as YouTube, Sky and Virgin Media, retailers not traditionally associated with VOD have entered the market. Tesco acquired Blinkbox to launch "Clubcard TV" and Sainsbury's also launched an on-demand service.
The increased competition means established operators such as Netflix and LOVEFiLM are looking for ways to evolve so they can both consolidate their positions and differentiate themselves from rivals. On paper, creating content seems like a great idea. These companies hold a lot of data on what people watch, when they pause, rewind and exit content. It's the ultimate data set to create and deliver content that people want and engages them.
House of Cards
However, will this mass move into production be short-term PR noise or is it a viable long-term business proposition that can improve brand perception and increase subscriptions? Looking at various YouGov data sets around the House of Cards launch it seems likely to be the former.
We compared Netflix to LOVEFiLM - its nearest competitor - using BrandIndex, our daily tracking tool of brand perception. Since Netflix's launch in January 2012 it has gained considerable ground on LOVEFiLM in terms of its Index Score (measuring overall brand health). Yet, as the below figures for October 2012 onwards show, it still trailed some way behind its more established rival even after a Christmas ad campaign and the subsequent launch of House of Cards.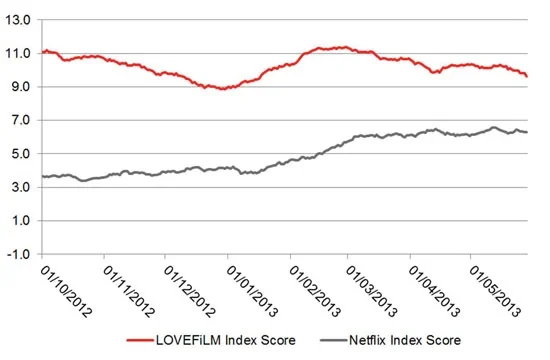 However, if we look at the Buzz Scores – that measures positive or negative sentiment about a brand – over the same period, a more nuanced picture emerges. The release of House of Cards saw a positive impact on Buzz for Netflix. Its score started increasing just after the trailer for the show was unveiled in mid-November and eventually pulled away from LOVEFiLM on 6th February, shortly after the series launched. This trend then continued following the announcement of the new series of Arrested Development.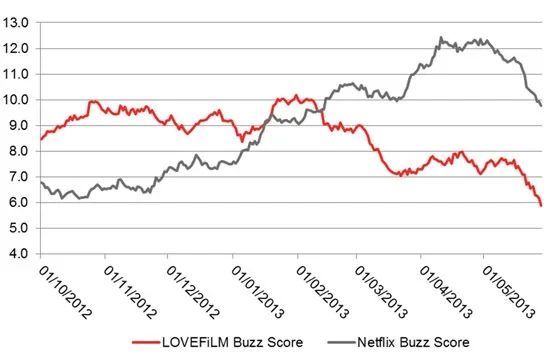 Other BrandIndex measures from February 2013 onwards that assess value for money and consumers' satisfaction with a brand show the series had an initial impact that was not sustained in the medium term, lasting perhaps as long as it took to watch the 13 episodes.
Value (measuring consumer perceptions of value for money)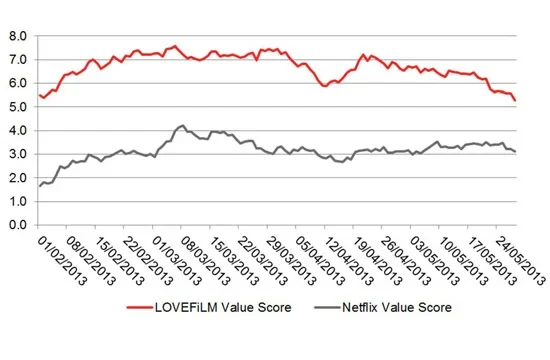 Satisfaction (measuring how satisfied consumers are with a brand)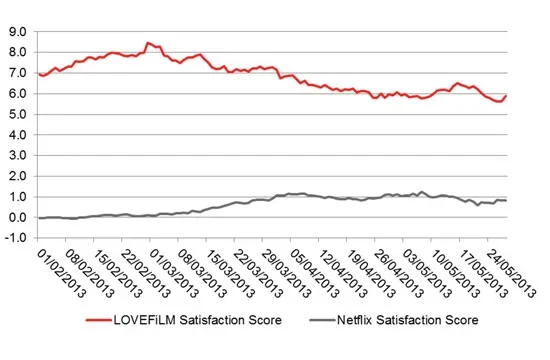 Worth the price?
Given the purported $100m price tag for the series, were the improvement in brand awareness for Netflix and temporary increase in customer value and satisfaction ratings really enough reward for the scale of the investment?
The fieldwork for our first Content on Demand Tracker was conducted two weeks after the House of Cards launch and shows that amongst subscribers to each service, LOVEFiLM was still perceived as having better range, quality and quantity of content available. This indicates that House of Cards had not made the expected impact. Indeed, the results suggest that Netflix's strengths lie in the technical aspects of content on-demand, such as quality of streaming, navigation of website and ability to access across different devices rather than the quality of the content.
While both services are reluctant to release subscriber numbers, our Content on-Demand study indicates that in the UK LOVEFiLM still holds a significant advantage over its rival. 13% of people online say they had used LOVEFiLM in the past three months compared to 7% for Netflix. While the commissioning of more original content such as a new series of Arrested Development may help bolster its reputation for content in the long-term, at this stage, the impact of the launch of House of Cards has been muted.
More than a question of content
Although content matters to subscribers, the more important question for on-demand services is "what drives subscribers to content in the first place?" I think any answer to this has to acknowledge the power of a programme's "social footprint" - the mark it makes on the public's consciousness that itself drives more people to the content.
For on demand providers to succeed as content-makers, they need to ensure that what they create makes a social footprint. Unless this happens, they will never make the leap from curators to creators. To date the most effective way of doing this has been to reach large number of people all at the same time, either through TV or Cinema.
A recent report from Nielsen claimed there is a correlation between viewing figures and the volume of tweets about a programme. It may sound obvious enough that the more people who watch a programme, the more people will talk about it online. However, it's also something that adds to show's 'social footprint' - helping create that buzz which in turn creates an appetite amongst consumers for the programme and itself drives media coverage that repeats the cycle.
Programmes that truly engage the viewer can positively influence the brand power of a channel. BrandIndex shows this is what happened with ITV's Broadchurch and the Paralympics on Channel 4, where with the increases lasted the length of time the programme was on TV, and in turn caused a sustained positive uplift for the channel. Yet while this works for linear TV with their scheduled programming, it is a much harder trick to pull off when people can only view a series or film through a single service that is by its very nature unscheduled.
Game of Thrones' broadcast roots helped the series gain a cult following in the UK. However, it was also named by TorrentFreak in 2012 as the most pirated TV show of the year, a consequence of high demand and limited supply. Although operating in the subscriptions rights window, services like Netflix and LOVEFiLM would be better off spending their money identifying and investing in getting these TV series into their catalogues sooner, thereby providing their customers with the content they want to see and the content that people are talking about. For the time being this will remain the content broadcast on TV.
This article originally appeared in MediaTel