On 9 May we looked into the potential impact of Audi's latest advertising campaign, which features Zachary Quinto and Leonard Nimoy, who both play Spock in the new and old versions of Star Trek.
The ad features the two Spock's racing each other to the golf club and, unsurprisingly, the younger Quinto in his Audi S7 Sedan outpaces Nimoy in his Mercedes Benz CLS 550.
In our previous article we noted the potential controversy with rival carmaker Mazda, who is the official automotive partner for Paramount Pictures' new film Star Trek: Into Darkness.
Using YouGov's brand perception tool, BrandIndex, we noted how Audi and Mazda's Buzz scores (which measures whether consumers have heard anything positive or negative about a band) were level at 4, while Mercedes lagged behind at 1.1.
We then raised an interesting question as to whether Mazda would benefit from its 'official partnership' with the film franchise, or whether the carmaker would have been better off hiring the other Stark Trek duo, Chris Pine and William Shatner, and eschewing the official sponsorship costs.
Looking at YouGov's BrandIndex in the month following the launch of Audi's advert, we can see that the car maker has trumped both of its rivals, particularly Mazda, indicating its clever ad is working.
Currently Audi is ahead of its two main rivals for Buzz, with a score 3.1, while Mercedes comes in second place with a score of 1.8. Mazda brings up the rear, with a score of 1.1.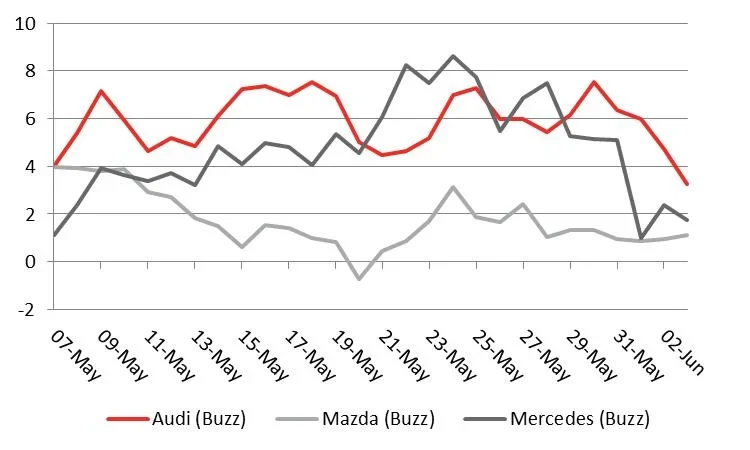 While Mazda and Audi were on par prior to their advertising campaigns, it seems that Audi's 'unofficial' advertising campaign has so far been more successful than Mazda's.
Using YouGov's social media analysis tool, SoMA, we can see that Audi's advert had a significant impact on social media, which could be used to explain the brand's improved Buzz score. For example, 10.3% of the Twitter and 1.6% of the Facebook populations were exposed to a mention of Audi on the day the advert launched.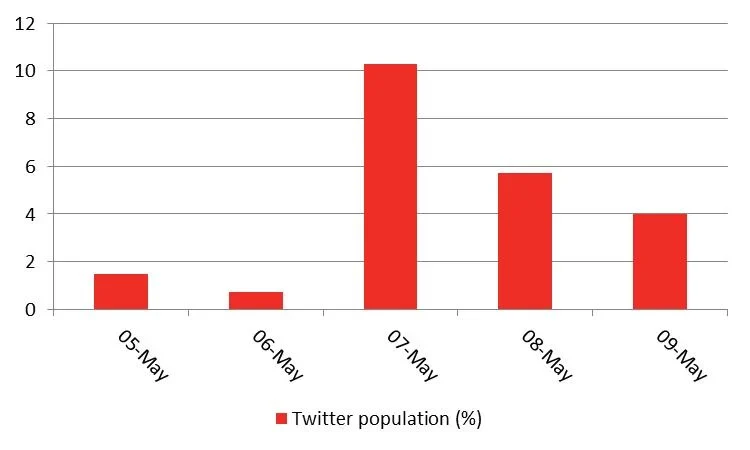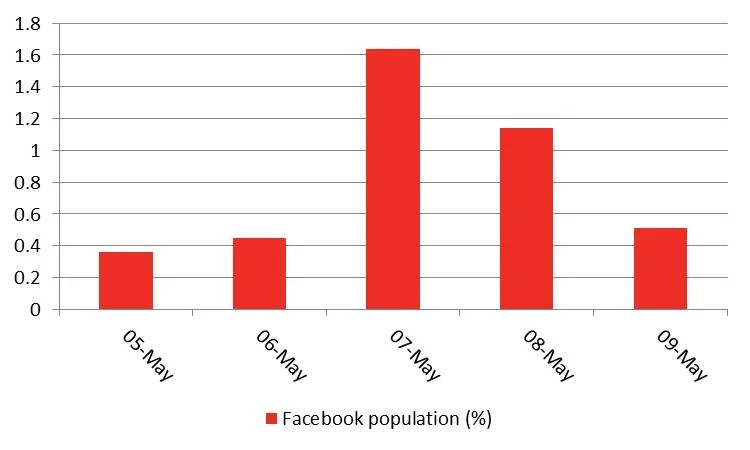 On Twitter the most popular words mentioned alongside Audi on this day were 'nimoy' and 'quinto', while on Facebook they were 'ad', 'new' and 'spock'. This indicates that the increased social media activity was driven by the advert's launch.
Therefore, using YouGov's brand perception and social media analysis tool, we can gain an insight into the effectiveness of Audi's advertising campaign. A month since the launch of the campaign, Audi has clearly distanced itself from both Mazda and Mercedes. Furthermore, using SoMA we can see the positive impact of the advert on social media, which could be used to explain Audi's improved Buzz score, particularly in relation to its rivals, Mercedes and Mazda.