Germany is seen by Europeans as the most hardworking nation and Greece the least – but might the opposite be true?
The results of YouGov's latest EuroTrack survey, which measures public opinion in Britain, Germany, France, Denmark, Sweden, Finland and Norway, are in.
As an average of the seven nations surveyed, Germany is seen as by far the most hardworking: 34% pick Germany when asked which country of all the 27 EU members "generally works the hardest" while just 2% say they "work the least hard".
By the same method, Greece comes out by far the least hardworking: just 3% say they are among the most hardworking while 34% say they are among the least.
Below is a chart of working hours over time of six nations, which was compiled by The Atlantic using OECD data from their 'Work-life Balance' study. Of the countries mentioned, the Greeks work the most hours per year per person while the Dutch and Germans work the least.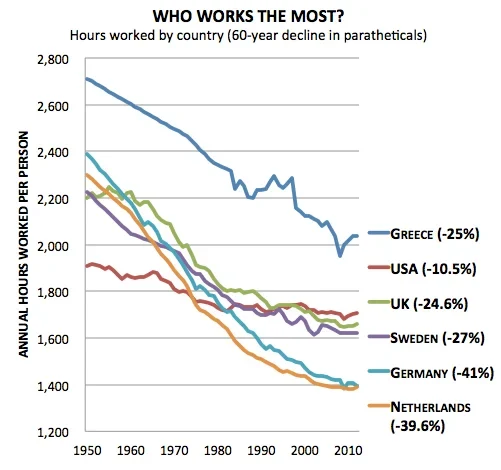 YouGov also asked the seven nations how many paid days of holiday they think they should receive at minimum, with the United Kingdom coming off the least entitled: GB adults on average say they should get 26 days paid holiday, which is two days less than their statutory entitlement. France and Finland say they should have the most days off per year of the polled nations, at 35 each.