Last week a British Airway's (BA) plane was forced to make an emergency landing after it appeared that black smoke was emerging from both of its engines.
Passengers and crew were forced to exit the plane via emergency chutes, and both runways were subsequently closed. The emergency landing also disrupted other traffic, including 192 flight cancellations – a majority of which were also BA flights.
Unsurprisingly, the emergency landing had a significant impact on consumer perception of British Airways. Using YouGov's brand perception tool, BrandIndex, and social media analysis tool, SoMA, we can see quite how severe this was.
First, we can look at BA's Buzz score, which measures whether consumers have heard anything positive or negative about the brand. On 23 May – the day prior to the emergency landing – BA had a robust Buzz score of 7.8.
This immediately plummeted to a low of -6.3 by 27 May. Since then, however, it has started to make a recovery, and has inched up back above the zero line, currently sitting at -0.4.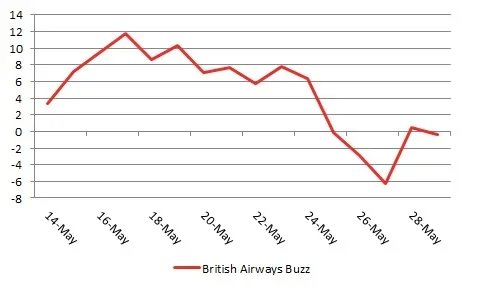 Using YouGov's social media analysis tool, SoMA, we can see how the news of the emergency landing played out on social networking sites.
First we can see that nearly four in 10 (39%) UK Twitter users heard about BA on 24 May, compared to 2.6% the previous day. Meanwhile, on Facebook, the amount of people who heard about BA rose to 4.6% of the Facebook population, compared to 0.3% on the day prior to the emergency landing. Although the Facebook numbers seem relatively small, the larger number of Facebook users (around 30 million vs 10 million Twitter users) makes them significant.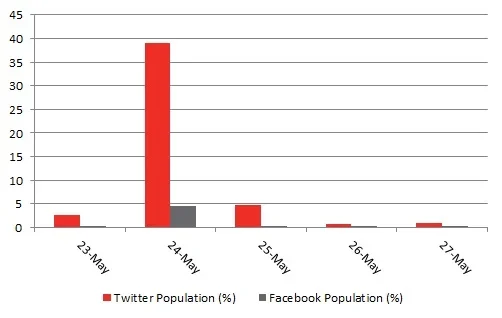 This indicates that BA has clearly suffered from the emergency landing, particularly in terms of Buzz. Worth noting is that while the hoopla on social media died down fairly quickly, BA's overall Buzz score continued to drop in the days following. Right now the brand does appear to be rebounding, but the speed of its recovery will be heavily influenced by BA's ability to reassure potential customers that its planes are safe.