German carmaker Audi's new advert starring Zachary Quinto and Leonard Nimoy, who both play Spock in the new and old versions (respectively) of the Star Trek film franchise, is no doubt causing some consternation at rival car brands Mazda and Mercedes.
The ad features the youthful Quinto and a decidedly less spry Nimoy making a bet that whoever arrives at the country club last must buy the other lunch. The two each take off in their luxury cards, Quinto in an Audi S7 sedan, and Nimoy in his Mercedes Benz CLS 550. This being an Audi ad, the young Spock arrives before his predecessor, but then Nimoy has the last laugh when he uses the Vulcan nerve pinch to render Quinto unconscious before strolling into the club.
While it's obvious why Mercedes' marketeers will probably not find the ad amusing, the story with Mazda is a little more complicated. Mazda is the official automotive partner for Paramount Pictures' new film Star Trek: Into Darkness, and the Japanese automaker has its own advert to cross-promote the film and its new 2014 Mazda 6.
Turning to BrandIndex, YouGov's brand perception tool, we see that on Buzz (which measures whether consumers have heard something positive or negative about a brand through the media, advertising or word of mouth) Audi and Mazda are tied at 4, while Mercedes (like Leonard Nimoy's car) is lagging behind, at 1.1.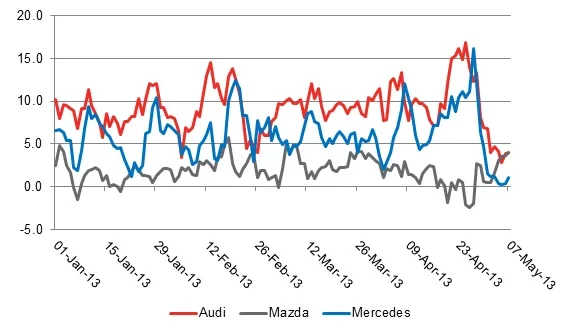 No doubt this advert will do nothing to improve Mercedes' Buzz score, but it may also lead to some awkward conversations between Paramount and Mazda.
The question of whether 'official' sponsorship is still worth it is one we raised around the time of the London 2012 Olympic Games, when Nike deployed a clever marketing campaign featuring athletes playing Olympics sports all around London under the slogan 'Greatness doesn't need a stadium'. The campaign was intended as a direct swipe at Adidas's £100m official Olympic sponsorship, and YouGov's social media analysis tool, SoMA, found that at least on social media Nike was able to soak up the brand benefits of being associated with the Olympics, without having to pony up the sponsorship fee. Mazda will have to decide whether its official parternship was worth the cash, or if it would have been better off just hiring Chris Pine and William Shatner.