On 24 April Virgin Media publicly apologised for sending a broadband bill to a deceased man, which included a fine for delayed payment. The man's son-in-law posted a picture of the bill on Facebook, which has since been shared over 50,000 times.
This incident came on the very same day that Virgin Media announced it had secured a deal with Sky Sports to carry Sky Sports 1 and 2 for next season. The deal secures Virgin Media's sporting presence for another year, while at the same time adding pressure on rival BT to secure a deal with Sky before the start of the 2013/14 season.
Using YouGov's social media analysis tool, SoMA, we can see that Virgin Media had a noticeable increase in reach on Twitter. On 23 April, 2.5% of the UK Twitter population heard about Virgin Media, which rose to 8.1% on 24 April. But which story contributed to this increase in reach – was it the bill to the deceased man, or the deal with Sky Sports?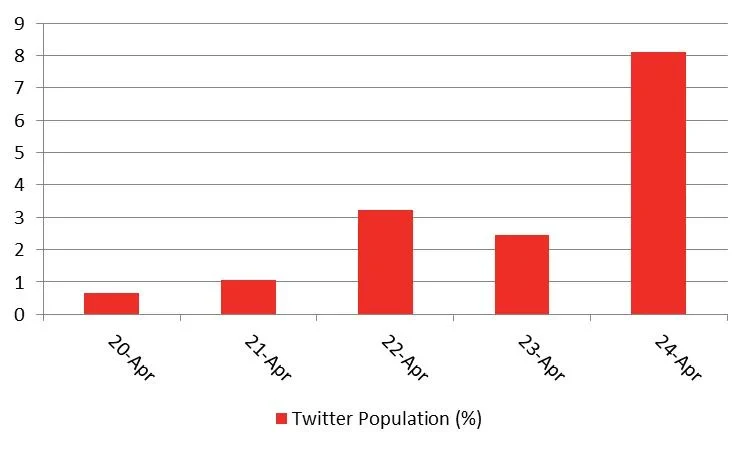 YouGov's SoMA measures exactly what is heard by the UK population on Twitter. This allows us to measure the relative contribution of each of these stories to the increase in reach on 24 April.
Unfortunately for Virgin Media, the deceased man's broadband bill was almost entirely responsible for the increase in reach. The most popular words tweeted alongside Virgin Media on this day included 'viral', 'facebook' and 'bill'. These popular words clearly refer to the fact that the picture of the broadband bill had gone viral on Facebook. Furthermore of the tweets that included the words 'virgin media' and 'viral', 42.8% also mentioned the 'BBC'. By looking at the verbatim comments, we can see that this story was also driven by an article on the BBC website.
Significantly, there weren't any noticeable references to the Sky deal in the popular words index.
Despite the significance of Virgin Media's deal with Sky, we can see that the picture of the broadband bill on Facebook dominated Virgin Media's coverage on Twitter. By looking at the most popular words, not only are we able to break down exactly what story was responsible for the uplift in Twitter reach on 24 April, but we can also understand this increase in social media activity in relation to other media channels.
SoMA also offers an insight into what demographic audiences heard about Virgin Media. For example on 24 April 59% of those who heard about Virgin Media were male, while 21% were from the north.
SoMA offers insights into what is heard as well as by whom it is heard. Combining these crucial insights could be used by Virgin Media to manage a PR crisis effectively and in real-time.