It was reported today that Singapore Airlines is calling on UK PR agencies to submit proposals to manage its communications in the UK and Ireland
Looking to YouGov BrandIndex, which measures brand perception daily, we see that the airline's Buzz score (which tracks whether consumers have heard something good or bad about a brand) is higher than its main rivals, Qantas Airways and Cathay Pacific Airways, but still far behind British Airways, which has the highest Buzz score of any airline amongst UK consumers.
Currently, Singapore Airlines has a Buzz score of 2.9, which because it is in positive territory indicates consumers are hearing more positive than negative news about the brand.
Meanwhile BA is soaring above with a Buzz score of 11.8, up from just 2.6 on 3 April when it was actually just below Singapore Airlines. The impressive uplift might be due to BA unveiling X-Factor judge Nicole Scherzinger as the 'brand ambassador' for its recently launched First Class route to Moscow.
BrandIndex Buzz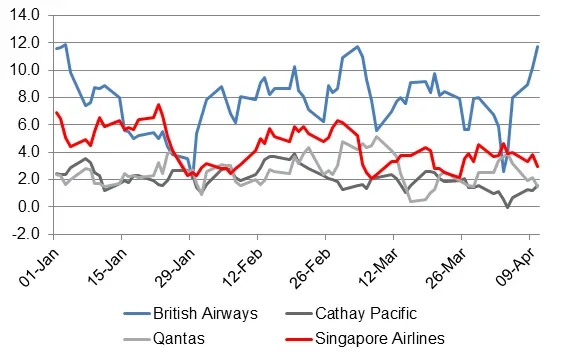 BrandIndex also tracks Reputation, and here we see a similar picture with Singapore Airlines besting Qantas and Cathay, but BA is still the star of the show.
BrandIndex Reputation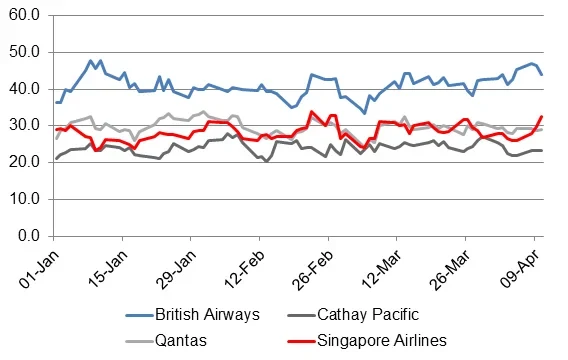 According to today's report, which appeared in PR Week, Singapore Airlines' current PR agency, Weber Shandwick, will be included in those agencies invited to submit proposals to handle its PR in the UK. It will be interesting to see whether the airline will look to build on its respectable success with the incumbent agency, or give another firm a go as it no doubt looks to catch up with BA in the UK market.