Debenhams' profit scare won't hit reputation for value, suggests YouGov CEO Stephan Shakespeare
Monday's profit warning from Debenhams saw its share price drop sharply. But is the retailer's situation a one-off blip caused by January's snow or is it facing deeper problems?
While we can't use consumer data to look for margin and cost issues that could handicap the brand throughout 2013, we can delve into YouGov's BrandIndex to assess how consumers see Debenhams and whether this perception has worsened over time.
Generally we look for upward and downward shifts in brand perception but in this case we are interested in a lack of change – and that is exactly what we get.
Over the past two years overall perception of Debenhams has remained remarkably stable. It had a slight dip through the first half of 2012 but soon recovered, and by the end of February 2013 the retailer had an Index score (a composite of six key image attributes) of +30, the same score it had on 1 March 2011. While this is well below high flyers such as John Lewis and Marks & Spencer, it is clearly above House of Fraser (+22).
Department stores always need to balance quality with value, and by looking at this issue among the four retailers mentioned previously two things leap out. Firstly, in terms of perceptions of quality John Lewis has chased down M&S and now leads. Secondly, Debenhams and House of Fraser essentially track each other in terms of quality but between the two Debenhams is clearly seen as the value brand (with a 16 point lead).
Quality chart: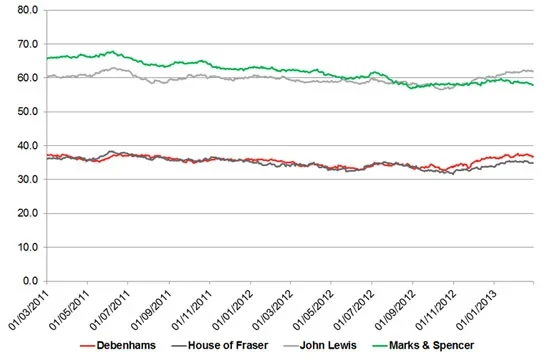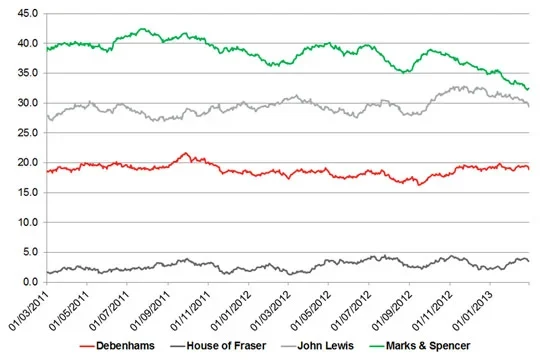 Debenhams has seen perceptions of its brand remain stable over the past couple of years. While it trails John Lewis and M&S, its reputation for value means it still has a clear lead over House of Fraser. I therefore don't see any underlying customer issues around the profit warning.
This article originally appeared in City AM