Aldi is becoming mainstream as customers seek value, analyses YouGov CEO Stephan Shakespeare
This time last year poor results at Tesco shocked investors and the grocery sector, although followers of YouGov's BrandIndex and this column would have been aware of their problems a month earlier.
With the all-important Christmas season now behind us I've taken a look back at 2012 to see what the big customer perception stories were last year.
Some of them I've touched on before.
The decline of Tesco continued to mid-year but has since stabilised, Morrisons saw a small but steady drop over the year, Sainsbury's remained top of the pile while Asda is now clearly winning the value battle among the big four.
Rise of the discounters
But the big story of 2012 was the rise of Aldi. It had already had a good 2011 with both BrandIndex Buzz and perception rising in line with fellow discounter Lidl and at the expense of other supermarkets.
In fact, by the end of 2011 both discounters had moved ahead of Tesco and Sainsbury's on value, as seen in the chart below, and were in a three-way tie for second place (with Morrisons, behind Asda).
That position was maintained throughout much of 2012 before a surge from October took Aldi from around +30 to +37 by the end of the year and into a clear first place as the best perceived supermarket for value.
Value scores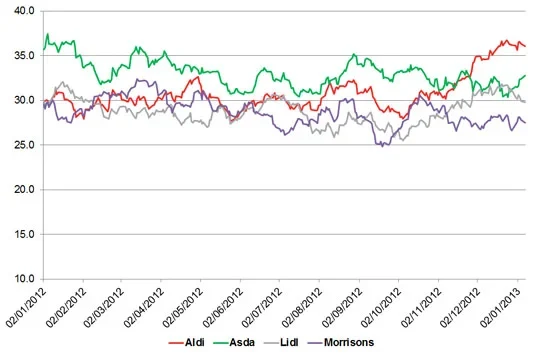 It's beginning to look a lot like Aldi
This pattern is repeated on BrandIndex Buzz where again Aldi held a consistent level through much of 2012 before climbing steadily from October onwards to move into the top spot above Sainsbury's by December.
Buzz scores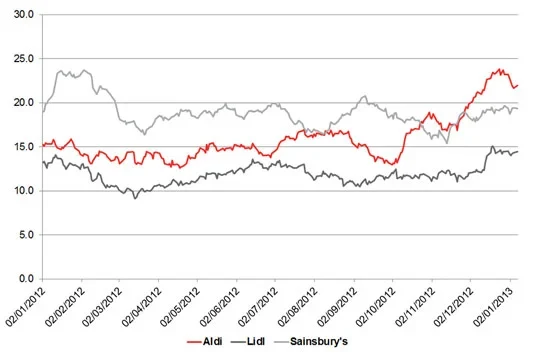 The difficult economic times continue and both Aldi and Lidl have benefited from that, but it is Aldi that has really taken advantage. Its latest advertising campaign ignores the discounters and compares its products with those from more upmarket stores.
"It's beginning to look a lot like Aldi" may be successfully transitioning into the mainstream of British supermarkets.
This article originally appeared in City AM