Only half as many Lib Dems have a positive view of the prime minister as did in late August
YouGov polling on 21-22 September finds Rishi Sunak's net favourability rating now stands at -45, his lowest score to date.
Some 68% of Britons currently have an unfavourable view of the prime minister (from 67% in late August), the highest figure since becoming prime minister, while only 23% have a favourable view (from 26%), his lowest to date .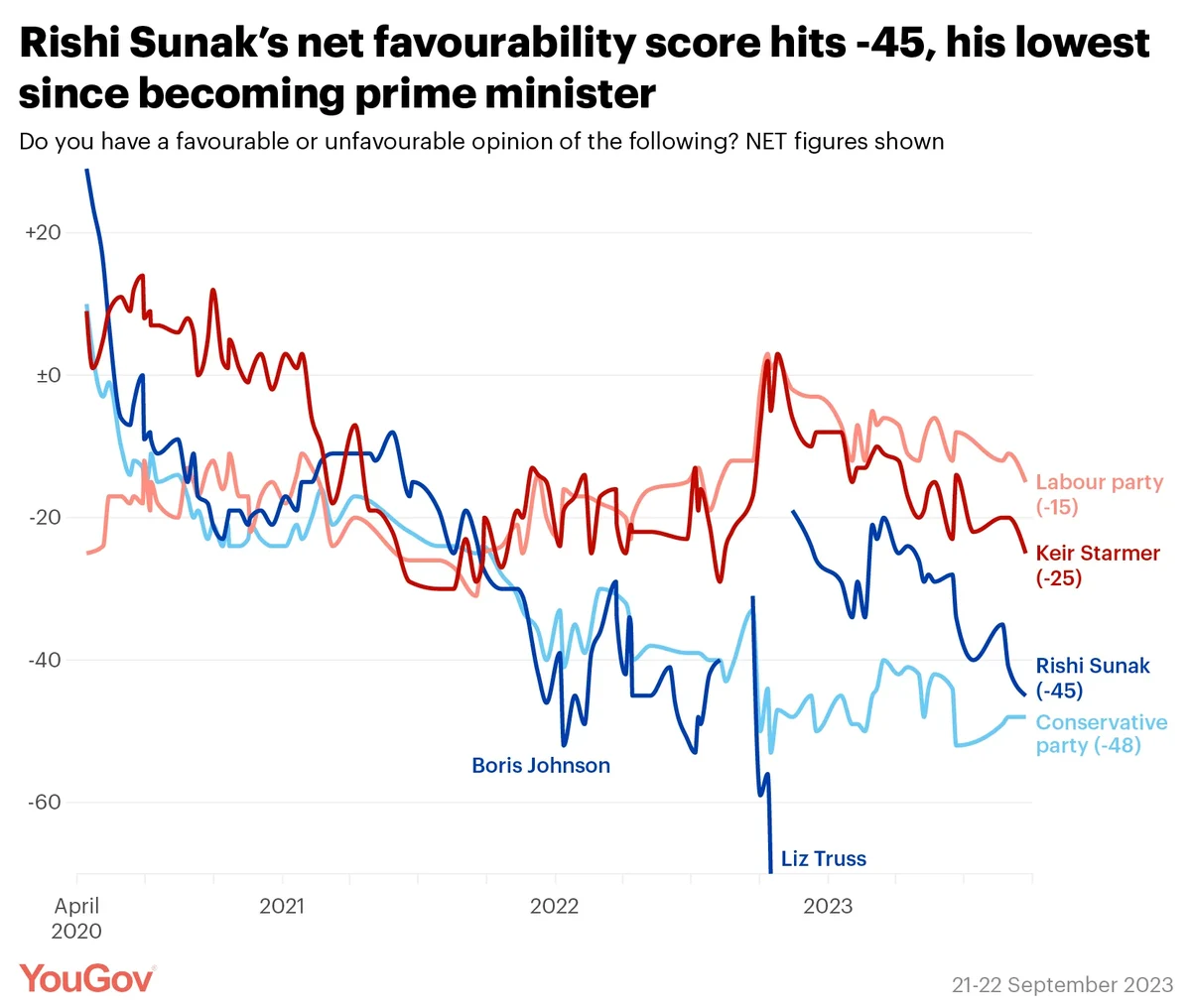 While the prime minister will have been hoping to receive some benefit from his net zero announcements, his reputation among Tory voters remains effectively unchanged (they continue to be divided on the party leader, by 48% to 47%) as well as with Labour voters (who continue to overwhelmingly dislike him, at 90%).
What is notable, however, is that the PM's recent actions seem to have taken their toll on his perception among 2019 Liberal Democrat voters. While already unpopular with this group (prior polls had only around a quarter thinking positively of him), this figure has plummeted, with now only 12% of Lib Dem voters holding a favourable view. Since the last poll, the number with an unfavourable view has risen from 73% to 85%.
Opinion towards the Conservative party remains unchanged, including among Liberal Democrat voters, had a negative view of the party than its leader. This latest poll brings Sunak's reputation among the Lib Dems almost into line with their views of his party.
Keir Starmer has not seen any benefit. Three in ten Britons have a favourable view of the Labour leader (30%, from 35% at the end of August), while 55% have an unfavourable opinion (from 54%). This gives the leader of the opposition a net favourability rating of -25.
Starmer continues to be less popular than his party, of which 37% of Britons have a positive view and 52% a negative one (a net score of -15).
Photo: Getty