Oliver Rowe, Director of Reputation Research at YouGov talks about new research which shows how the industry's reputation has fallen
After this summer's malaise for UK banks it is little wonder new research by YouGov shows how the industry's reputation has fallen. Yet its rehabilitation remains in its control as the public sees the banks as central to economic recovery.
Nearly eight in 10 people in Britain believe banks are critical to getting the UK economy growing again, but an equal proportion - 80 per cent - say the Barclays Libor scandal is symptomatic of a widespread problem of ethics in UK banks.
According to the study prepared for the annual YouGov-Cambridge forum held in September, 51 per cent think "British banks have lower ethical standards than other major UK businesses such as manufacturers, pharmaceutical companies or retailers", 70 per cent think "British banks are driven by greed" and 79 per cent don't believe UK banks see themselves as being "in this together" with the public.
For the public, the UK banking sector has moved further from the position of working for the common good than most and this summer's issues reinforce the public's view that banks have not learnt the lessons of the financial crisis.
It also reflects a public worry about big business that extends to opinion formers and politicians, with 42 per cent of the Westminster MPs sampled saying that CEOs of large British businesses are underperforming.
The report also shows how Barclays' reputation score amongst the general public during the Libor scandal sank below that of BP's during the Deepwater Horizon disaster, see chart below:
YouGov BrandIndex "reputation" of UK banks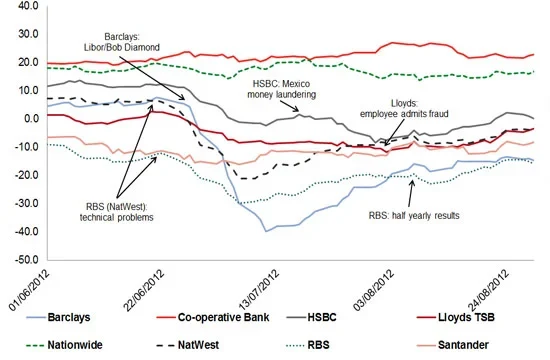 Sample: % of UK adults saying they would be proud or embarrased to work for the brand
Source: YouGov BrandIndex, sample size 1250 over two week period
The Reputation of Banking report is available to purchase now. Please contact Norrie Hernon for more details via email or contact via telephone on: 020 7012 6000.