A review of last week's Waitrose Twitter storm has once again revealed the mutually dependent relationship between social media and traditional media outlets for content and audience growth. Despite an apparent Twitter storm taking over the #Waitrosereasons campaign last Monday; it wasn't until this "storm" was reported by the traditional media that it reached the wider Twitter population.
On Monday September 17th, the grocery giant asked Twitter users to share their reasons for shopping at Waitrose with the hashtag #Waitrosereasons. The graph below shows the volume of Twitter mentions heard by our representative sample of UK Twitter users from the beginning of August. The data shows that the campaign quadrupled the volume of mentions of the brand on newsfeeds. Yet it was Wednesday 19th that proved the biggest day for Waitrose – when the Guardian published an article highlighting the ridicule Waitrose had attracted, which was then re-tweeted by those who had not yet heard about the storm.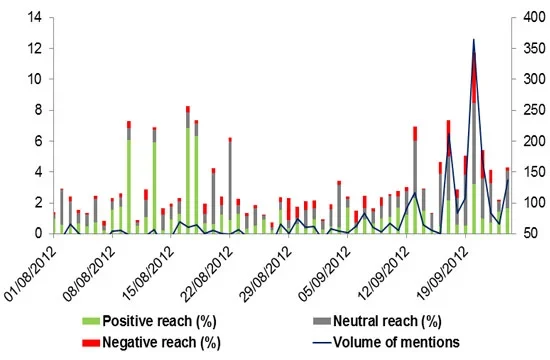 Using YoUGov SoMA, it is possible to measure the percentage of the Twitter population in the UK who had the opportunity to hear about Waitrose over this period. On the day of the #Waitrosereasons campaign (17th Sep) – only 7% of UK Twitter users heard a mention of Waitrose. The most frequent words associated with Waitrose appeared very much in line with the campaign: "waitrosereasons", "shop", "finish", "sentence", "one", "people" and "tesco". Bigger Twitter audiences heard about Waitrose on Twitter on August 17th when the Reading FC football club tweeted about the brand several times.
Yet on 20th Sep – the day after the Guardian published its coverage – 12% of the UK population heard about Waitrose. The most frequent words heard together with Waitrose on this day included: "shop", "twitter", "waitrosereasons", "hashtag", "ridicule", "invites", "campaign" and "guardian".
Audiences to the second spike were more heavily female than the first. On the day of the #Waitrosereasons campaign – 55% of those who heard about Waitrose were male, whereas following the Guardian coverage, this percentage decreased to 51%. Over half of those who heard about Waitrose both on the day of the campaign (17th Sep) and following the Guardian article earn over £30,000.
Prior to the Guardian article being published – Waitrose could have rest assured that their "ridicule" on the Monday had been limited to much more isolated group on Twitter. This story highlights how Twitter can drive mainstream media stories whilst still being reliant upon it to feed and build larger audiences online.