Support for further sanctions against Russia has fallen since the beginning of the invasion, however
Since the early days of the Russian invasion of Ukraine, YouGov has asked Britons whether or not they would be willing to impose further sanctions against Russia if it had an adverse effect on the cost of living.
Between March and June willingness to do so has fallen, with Britons now tending to say they would not support further sanctions, particularly if it meant a significant increase in energy prices (53% would oppose doing so in our latest study at the end of June, only 32% would support).
With concerns among war-watchers that public opinion for maintaining sanctions against Russia would wane in the face of increased financial hardship, we wanted to see whether Britons were not only unwilling to impose further sanctions, but to stand by current ones.
The results show, however, that Britons do tend to be willing to keep backing current sanctions against Russia in the face of rising costs. That being said, in no example do a majority of Britons take this view.
By 48% to 38%, Britons say they would support keeping the current sanctions against Russia if it means an increase in the overall cost of living. Additionally, by 49% to 34% Britons are willing to withstand oil and gas shortages in the UK, and by 47% to 38% are prepared to see an increase in taxes to cover defence costs.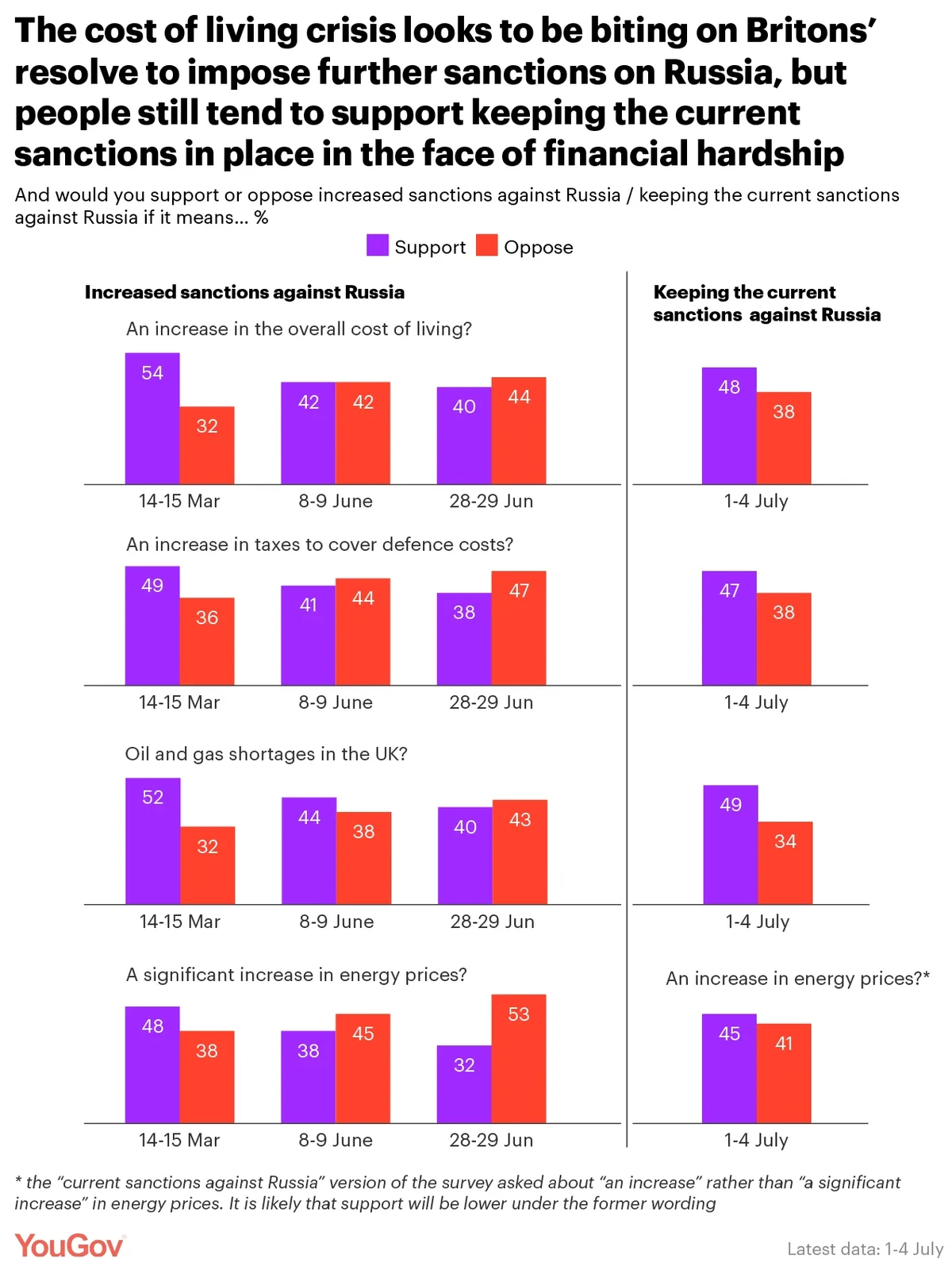 Britons are most split on fuel bills, with 45% saying they would support the current sanctions against Russia even in the face of "an increase in energy prices", but with 41% disagreeing. It should be noted that the tracker questions regarding further sanctions ask about "a significant" increase in energy prices, so it may be that had the question exactly mirrored this then public opinion will have been more negative.
Unsurprisingly, people's own financial situation influences the results. Those Britons in households with the lowest incomes (less than £20,000 a year) are less likely to support keeping current sanctions, and those in households with the highest incomes (£60,000 a year) are the most likely to support them.
Both Labour and Conservative voters tend to be willing to support sanctions despite the financial impact. However, age is a key divider: Britons under the age of 50 tend to say they would oppose keeping the current sanctions if it hit their wallets, while most of those aged 50 and over would continue to back them. This trend holds true even when accounting for income and past vote.
See the full results here and here