Most think that Starmer did breach lockdown rules
Following Durham police's decision to reopen its investigation into Keir Starmer for potentially breaching lockdown rules in April 2021, the Labour leader's position is being called into question.
Having said that Boris Johnson should resign for his own breaches of lockdown rules, many are speculating that the leader of the opposition could have to fall on his own sword if he himself is sanctioned by the police for doing the same.
But was Starmer's decision to have beer and takeaway at an MP's constituency office with colleagues during a by-election campaign – dubbed 'Beergate' by the press – a breach of COVID rules?
Most Britons tend to think so, with 24% saying he "definitely" broke the rules and a further 30% thinking he "probably" did so. Only one in five think he probably did not (16%) or definitely did not (5%), with the remaining 25% unsure.
Labour voters themselves tend to think he did not break the rules, by 42% to 33%. Conservative voters, by contrast, overwhelmingly believe that he did, by 83% to 6%.
In the event that Durham police come to the conclusion that Starmer did break the rules, and issue the Labour leader with a fine, Britons think he should resign by 46% to 32% who think he should remain.
Labour voters are similarly minded, with 48% saying Starmer should resign and 32% thinking he should stay in place. Conservative voters, on the other hand, are split. Four in ten (40%) who backed the Tories in 2019 think that Starmer should go if issued a fine, compared to 43% who think he should stay.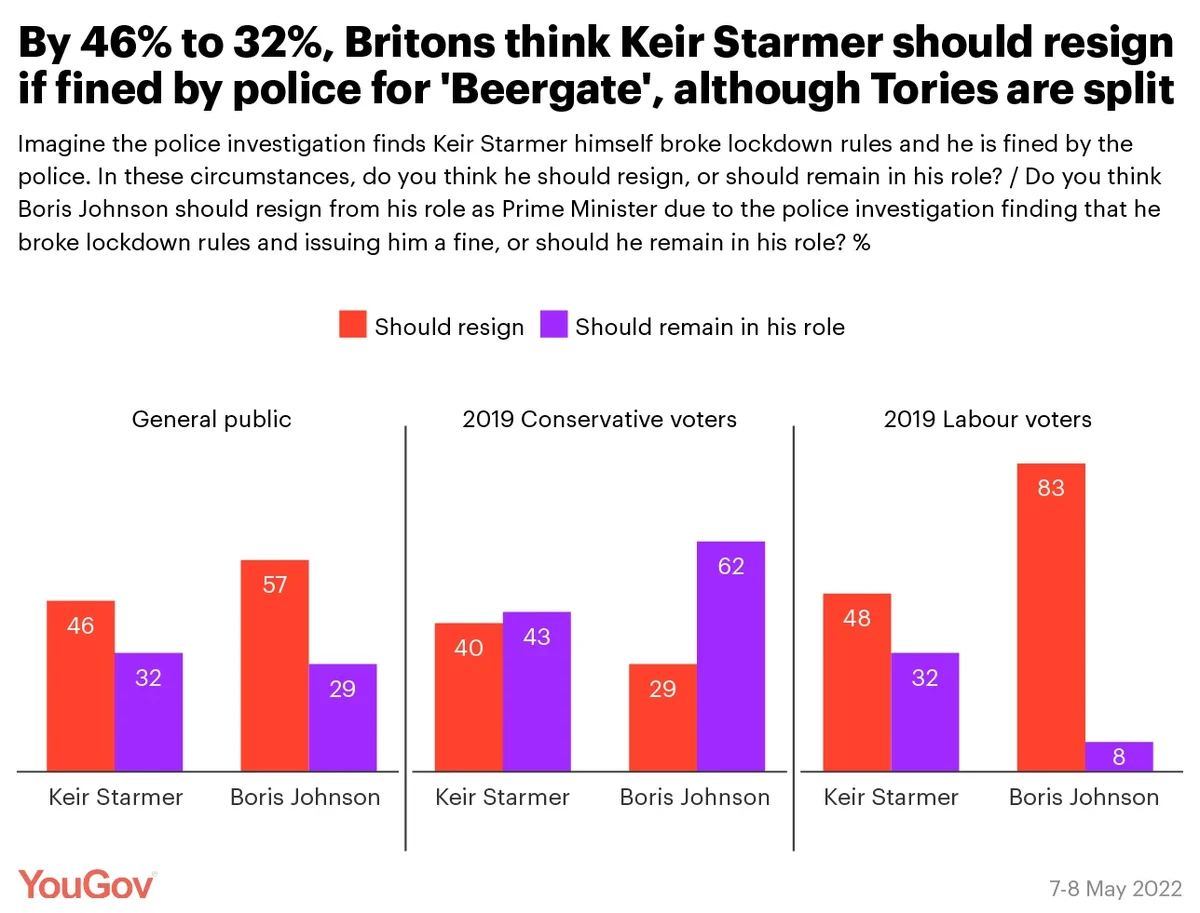 This may be in part because some Conservatives worry what it might mean for the prime minister if his opposite number resigns for an offence he himself has committed. Six in ten Tories (62%) say Boris Johnson should not resign following his fine for his own lockdown breaches, with 29% saying he should go.
Nevertheless, most Britons are of the opinion that the prime minister should stand down for his rulebreaking, by 57% to 29%. Labour voters want to see him go by 83% to 8%.
There is as yet no discernable impact on Starmer's standing with the public as a result of the Beergate saga. In mid-April, 31% of Britons had a positive impression of the Labour leader, compared to 54% with a negative view. As of this weekend, those figures are unchanged: 32% have a favourable view and 54% an unfavourable one.
See the full 'Beergate' results here and latest favourability figures here