Labour look set to win seats across the country, but at a slower pace in the North than elsewhere
Tomorrow, voters up and down the United Kingdom will head to the polls in a series of local authority, parish, and mayoral elections. On top of this, elections to the Northern Ireland Assembly will take place on the same day.
The last time the vast majority of current council seats up for contest tomorrow were fought was in 2018. In May of that year, the Conservatives were neck-and-neck in national polling, and the UK's exit from the European Union was dominating headlines.
Ahead of what will be a stern mid-term test for Boris Johnson's beleaguered government this year, YouGov has polled voters in 16 key battleground English councils to establish current voting intention – and how it has changed since 2018.
Labour need to make serious gains and show strong progress in council elections if they aim to take power in Westminster at the next general election.
But how do their prospects line up in battleground areas?
Our councils, split and modelled in three separate groups, are the councils of Hillingdon, Wandsworth, Westminster, Croydon, and Barnet in London, Bolton, Bury, Wirral, Calderdale, Kirklees, and Hull in the North, and Southampton, Hastings, Worthing, Milton Keynes, and Crawley in the South.
The councils are a mixture of marginal administrations, no overall controls, and 'all out' electoral contests each happening on Thursday.
Our models suggest that while Labour will make gains up and down England, they will find their pace of growth to be much slower in some areas of the country than others.
Overall, the story is fairly consistent - we expect swings of varying sizes from the Conservatives to Labour in all areas, and also some notable improvements for the Greens and independent/smaller party candidates. However, the Conservative vote seems to be holding up better in some areas of England than others, and this will impact the pattern of results on the night.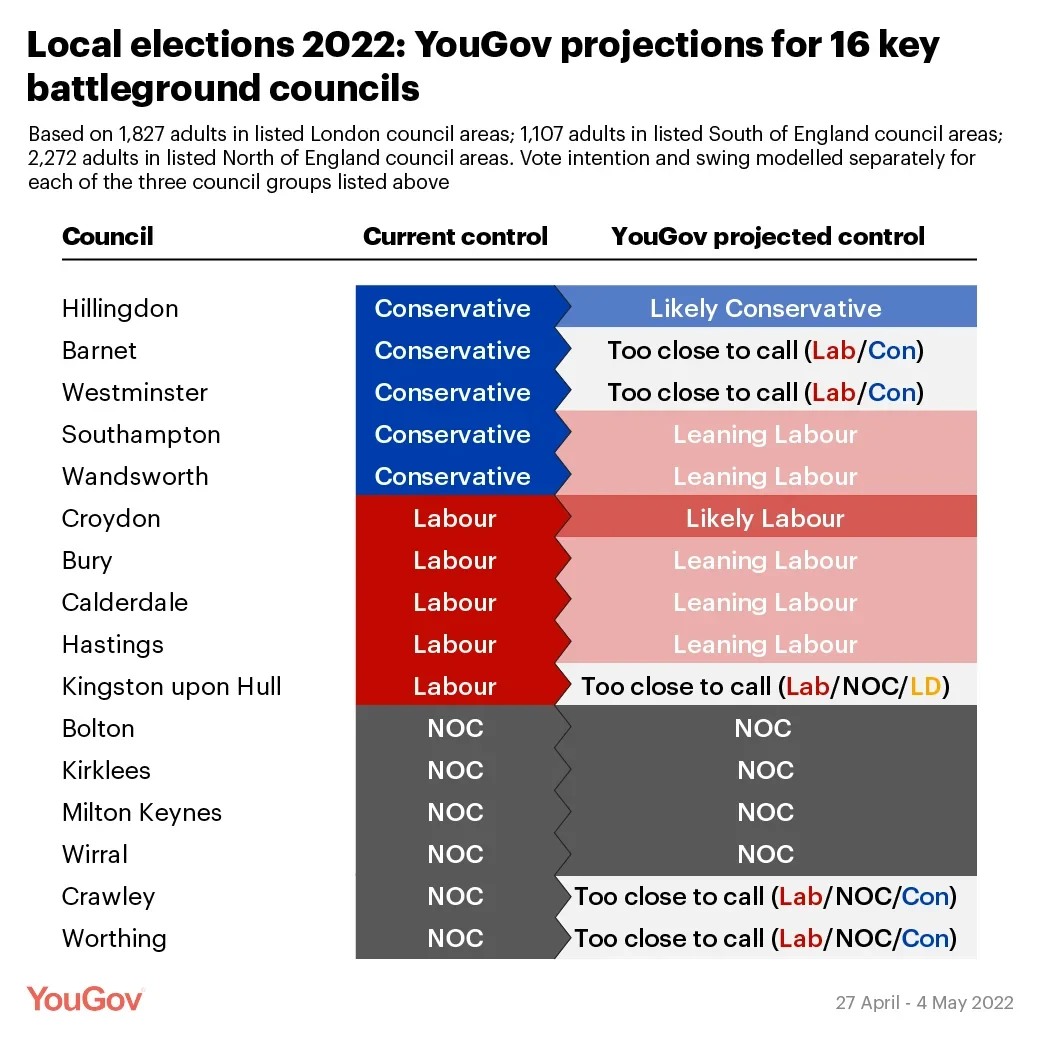 London
Labour are defending a very strong set of local election results in London, with Jeremy Corbyn leading his party to 44% of the vote and over 1,100 councillors last time round. But despite this high baseline, our data suggests that Labour will improve further still in the capital.
Not only are they likely to keep hold of and increase their presence on Croydon council, but Labour have a good chance of taking Wandsworth – once described as a 'flagship' Conservative council.
Elsewhere in London, their progress will bring them within striking distance of taking both Barnet and Westminster councils, but the result there is too close to call.
Meanwhile, Hillingdon is likely to remain under Conservative control, despite Labour advances.
The South
Elsewhere in the South of England, Labour will also be making progress on 2018 but are less likely to be winning key battleground councils.
While we expect Milton Keynes to stay firmly in No Overall Control (NOC), Labour look to be defending the ultra-marginal Hastings and may well win Southampton from Conservative control.
Meanwhile, Crawley and Worthing remain on an absolute knife edge.
On a good night, Labour could win four out of five of these Southern battlegrounds, but patterns of both council and seat contests, and an anticipated smaller Con – Lab swing, mean opportunities for gains are somewhat restricted.
The North
Finally, our Northern group of key councils highlight the difficulties Labour face in winning back voters (and councilors) in many areas we've come to know as the 'Red Wall'.
The councils of Bolton Wirral, and Kirklees look set to remain in No Overall Control, with strong independent presence and a more stubborn Conservative vote hampering Labour progress there.
Looking further afield, Labour's prospects of holding on to wafer-thin majorities on Bury, Calderdale, and Hull councils are promising, though they face a fierce battle with the Liberal Democrats to maintain majority control of the latter.
Overall, we expect the Conservative to Labour swing to be much less in and around these councils than in other battlegrounds further South in the country.