The gap between support and opposition to British airstrikes against Russian targets in Ukraine has narrowed
The latest intelligence points to a Russian invasion stalled and bogged down amid fierce resistance. With little hope of a quick end to the conflict, YouGov's latest data shows that the public remains in favour of interventions and support for the Ukrainian forces.
As the government continues to roll out new sanctions, the public remains of the opinion that they should keep turning the screw. Some 79% of people support further economic sanctions on Russian interests, similar to the 83% in the previous survey on 3-4 March.
Despite continued threats from Russia against those arming Ukraine, support for sending weaponry to embattled Ukrainian forces also remains high at 74% (no change versus 3-4 March).
A further 66% (no change) continue to say they would support media campaigns in the Russian-speaking parts of Ukraine urging people to not comply with the Russian leadership. Additionally, 58% (-3) would back the British government supporting Russian dissidents and opposition figures inside Russia against the Putin regime.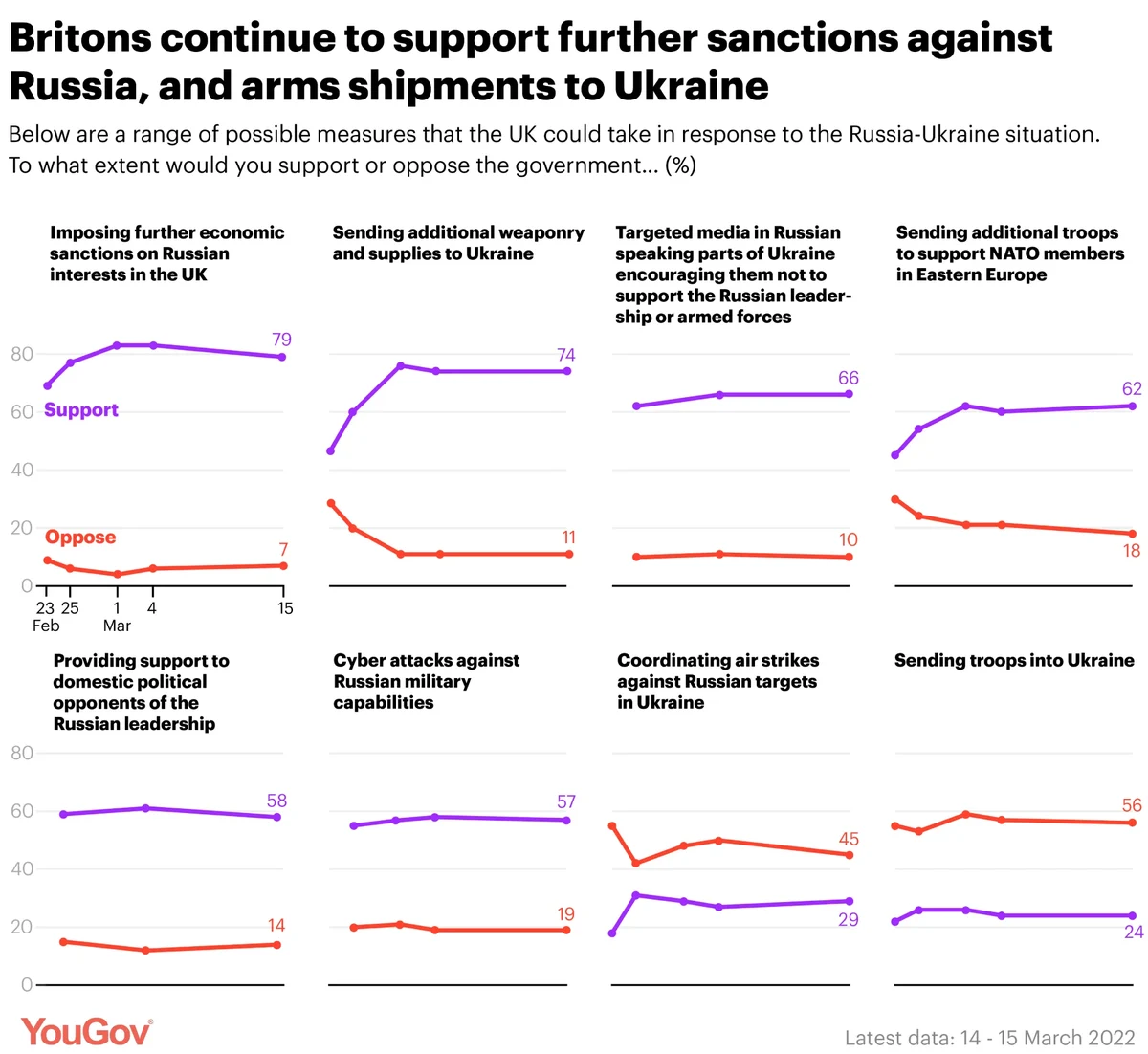 British troops, tanks, and aircraft are still bolstering the defences of NATO allies in Eastern Europe, something six in ten (62%, +2) continue to support. Britons also remain in favour of using cyberwarfare against Russia, with 57% (+1) thinking the UK should conduct cyber attacks on Russian military capabilities.
People remain opposed to the use of airstrikes on Russian targets in Ukraine, however, the gap between support and opposition is narrowing – with nearly three in ten in favour (29%, +2) versus 45% opposed (-5).
Finally, around a quarter of people (24%, no change) remain in support of sending troops to fight in Ukraine, with (56%, -1) opposed.
Britons are still willing to bear the costs of sanctions
The cost of living crisis could worsen for some families as the Bank of England ups interest rates in an attempt to counter rising costs – something it partially blames on the war in Ukraine.
Despite the mounting costs at home, Britons are still generally willing to bear the burden to maintain sanctions on Russia. YouGov's latest data shows 48% would support sanctions that lead to increased energy prices (+3) on the previous survey. Another 49% would support sanctions leading to increased taxes to cover defence costs (+1).
Even with petrol and diesel prices soaring in recent days, 52% would support sanctions leading to oil and gas shortages in the UK (+2). Another 54% back the use of sanctions that ultimately increase the overall cost of living (+3).