The chancellor remains Britain's most popular senior politician
Rishi Sunak has had a meteoric rise to Chancellor of the Exchequer. Elected to his Yorkshire constituency in 2015, within five years he found himself in the second-most important political office in the country, following the resignation of his predecessor Sajid Javid.
Sunak has been seen as Boris Johnson's heir apparent, although his star has faded with the faltering economy. Currently the British public are divided on the chancellor, with 43% seeing him favourably and 44% unfavourably, for a net score of -1.
While this is a far cry from his peak of +49 at the beginning of the pandemic, and indeed from his residually high popularity through to the summer of 2021, it is a minor boost compared to recently, following scores of -8 in late January and -9 in early February.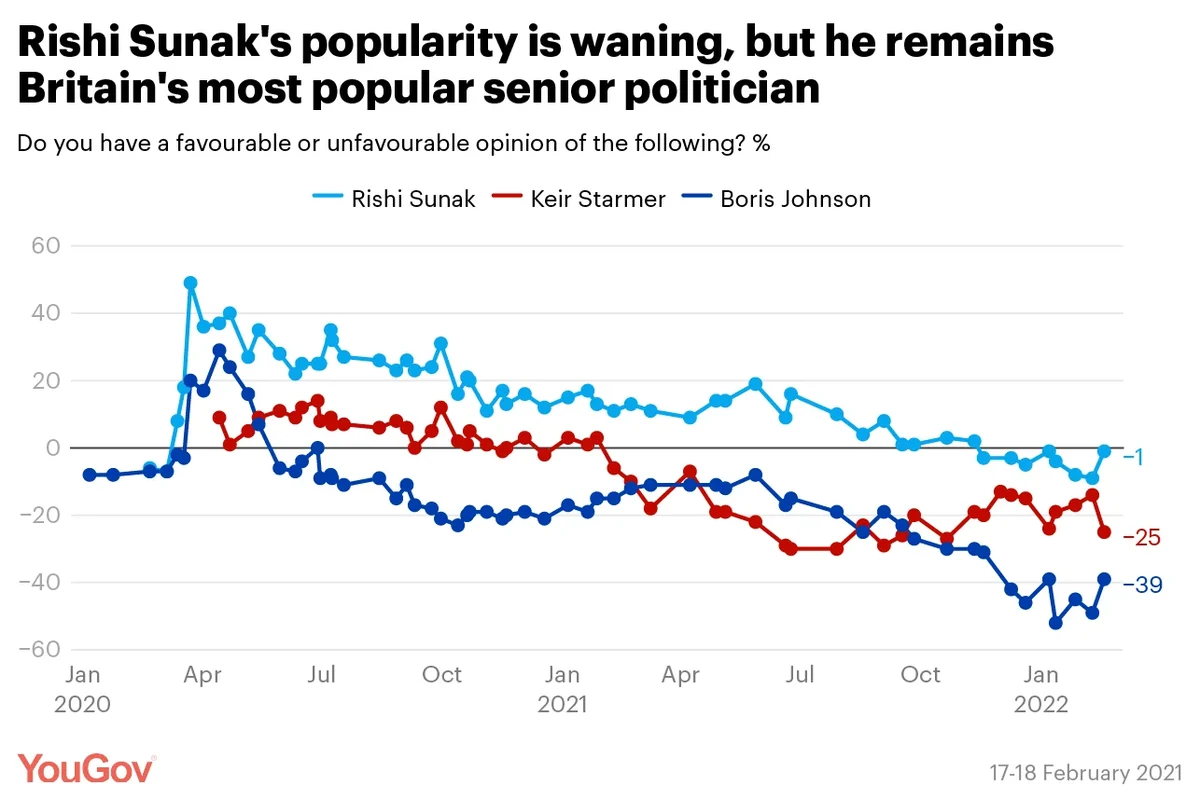 Separate YouGov tracking data shows that approval of Rishi Sunak as chancellor has fallen slightly since late January, from 34% thinking he was doing a good job to 30% now. Set against the 33% who think he is doing a bad job, this gives a net score of -3 – comparable to his favourability score, although people are far more likely to answer don't know on the question of his job performance (37%) than they are on the generic favourability question (13%).
Nevertheless, Sunak's favourability score still makes him the most popular senior politician in in the country. His boss, Boris Johnson, currently languishes on -39 following the partygate scandals, while Labour leader Keir Starmer stands at -25.
With Sunak still standing head and shoulders above other top politicians in the popularity stakes, a new YouGov survey explores attitudes to the chancellor.
What sets Rishi Sunak apart from Boris Johnson?
We put nine different policy areas to the public and asked Britons how much confidence they had in both Rishi Sunak and Boris Johnson to make the right decisions on those matters. On five areas their scores are very similar: the pandemic, Brexit, law and order, education, and climate change.
However, there are clear differences in four areas. Three of these are economic, with Sunak leading by wide margins. Britons are more likely to trust the chancellor with "the economy in general" (at -7 to the prime minister's -41), he leads on the cost of living (-38 vs -70), and Britons also have more confidence in him to deliver Boris Johnson's key 'levelling up' agenda than they do the prime minister himself (-42 vs -63).
The final difference is defence, on which Johnson has a strong lead: -35 to Sunak's -51.
What is Rishi Sunak most known for?
Most fundamental to Sunak's popularity seems to be residual respect for the furlough scheme. Sunak's net favourability rating vaulted a full 31pts following its announcement, outpacing the 23pt increase the Prime Minister received over the same period.
The furlough scheme is still the thing the chancellor is most closely associated with – to a greater extent than he is actually associated with government economic policy in general. While 43% most associate the government's general economic policy platform with Rishi Sunak – and 25% with Boris Johnson – fully 58% most associate the furlough scheme itself with the chancellor.
Similarly high on the list is the Eat Out to Help Out scheme, at 57%. Close to one in five (18%) associate these schemes instead with Boris Johnson, while 16-17% are unsure.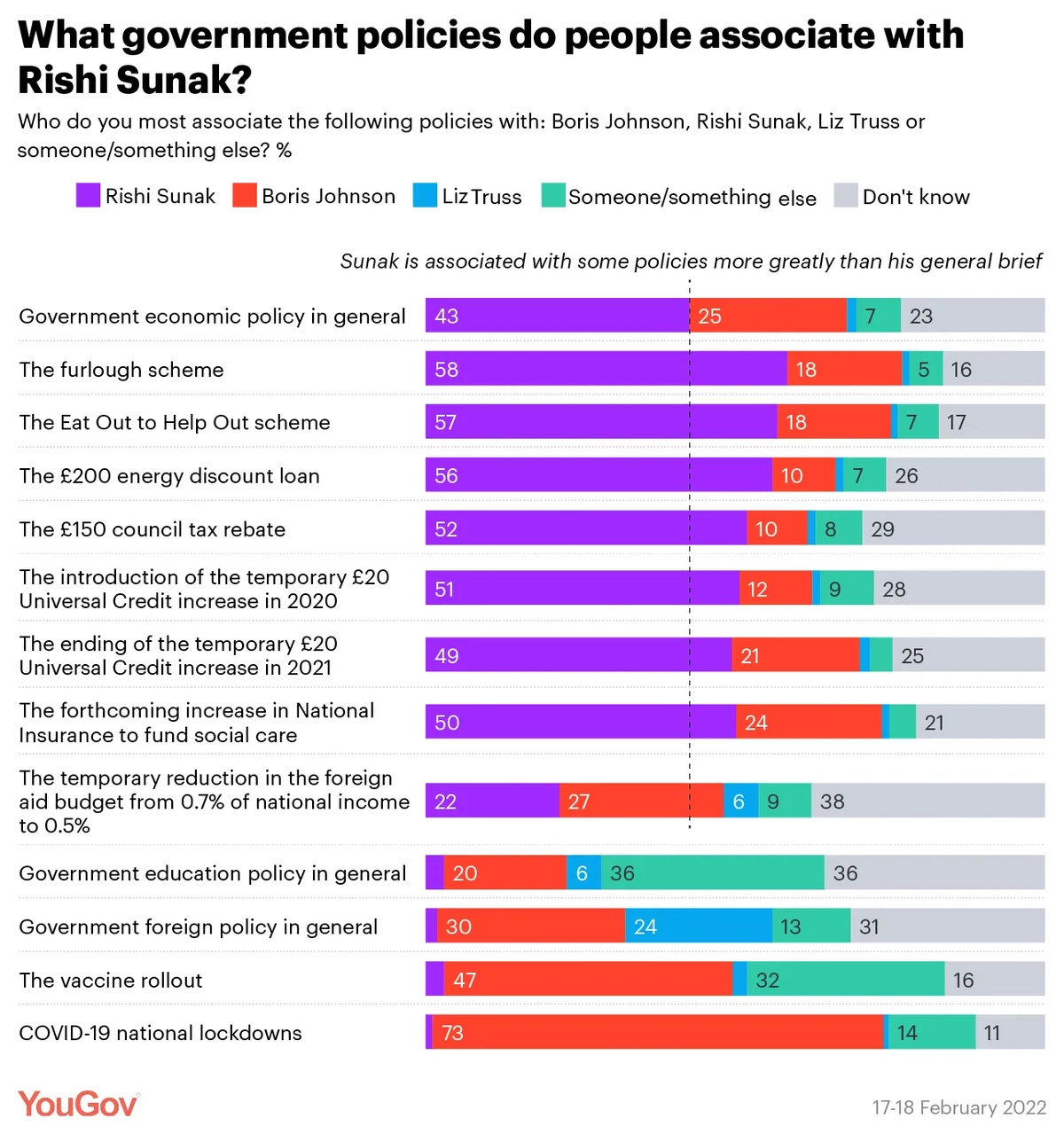 Similar numbers also most associate the recent £200 energy discount loan scheme with Rishi Sunak (56%), as well as the accompanying £150 council tax rebate (52%). In both cases, Boris Johnson gets less of a look-in (10%), and don't know responses are higher (26-29%).
The forthcoming increase in National Insurance to fund social care is also most closely associated with Sunak, at 50% to Johnson's 24%.
The same number of people give the chancellor the credit for both the introduction of the £20 Universal Credit uplift in 2020, and its subsequent withdrawal in 2021 (51% and 49% respectively). Notably, however, Britons are more likely to associate the prime minister with taking away the £20 in extra benefits (21%) than handing it out (12%).
What is notable, however, is that Sunak is not so associated with the decision to cut the foreign aid budget from 0.7% of national income to 0.5%. Only 22% most associate the chancellor with this move, compared to 27% for the prime minister and 6% for the foreign secretary. This also received the highest number of don't knows, at 38%.
Few, however, associate the chancellor with the COVID-19 national lockdowns, or the vaccine rollout (1-3%). These are the prime minister's domains, with 73% most associating him with the lockdowns and 47% the vaccine rollout (vs 32% for "someone/something else", presumably the NHS).
What is clear from these results is that while Rishi Sunak is seen as more economically competent than Boris Johnson, he is also bound to the public opinion mast for the government's domestic economic policy decisions. The chancellor is clearly associated with unpopular decisions like the £200 energy discount loan (which only 34% approve of), the removal of the £20 universal credit uplift (28% approval) and the forthcoming increase in National Insurance (25% approve).
With the cost of living crisis set to bite for the immediate future – and bearing in mind that, although better than Boris Johnson, Sunak still scored a poor -37 on confidence to handle the issue – the residual goodwill of the cash the chancellor splashed during the early days of the pandemic is likely to dissipate, as seems to have been happening already.
Was Rishi Sunak pro- or anti-lockdown?
When discussions were being had about introducing lockdowns, or bringing existing ones to an end, Rishi Sunak has noted that was more reluctant to see lockdowns introduced. This is not a stance that aligned him with the public, who have generally been more cautious, but do the public recognise this?
The answer is mixed. When asked the chancellor's general stance on lockdowns, 47% of Britons were unsure. One in eleven (9%) think Sunak wanted to go into lockdowns sooner / keep them going longer, while 44% think he wanted to either enter them later / end them sooner (29%) or not have them altogether (15%).
This lack of certainty might be a blessing for the chancellor's future political ambitions, not least in comparison to public perceptions of Boris Johnson's stance – 63% think the prime minister leaned more towards lockdown scepticism, including 27% who think he was totally anti-lockdown.
Rishi Sunak: tax and spend, or cut and save?
The chancellor's popularity seems to be based on his initial willingness to firehose cash at the early stages of the pandemic, yet Sunak has been clear that he wants to be seen as a more traditional fiscal conservative.
This message has not necessarily cut through to the public. Asked what they think the chancellor would prefer, 39% say they think he prefers to raise taxes and/or borrowing and increase public spending, compared to 30% who reckon his preference would be to cut taxes and/or borrowing and reduce public spending.
The prime minister is even more likely to be seen as a tax/borrow and spender, by 45% to 32%. This means that as many people think that Boris Johnson wants to increase public spending by these means as they do Keir Starmer (43%).
Ironically, despite the chancellor's instincts, he now finds his image to be on the wrong side of public opinion. The survey found that Britons themselves would prefer taxes and borrowing to be cut, and public spending reduced, by 44% to 28%. It is possible that the cost of living crisis has Britons concerned about their pay packets, and are keen to see their tax burden reduced.