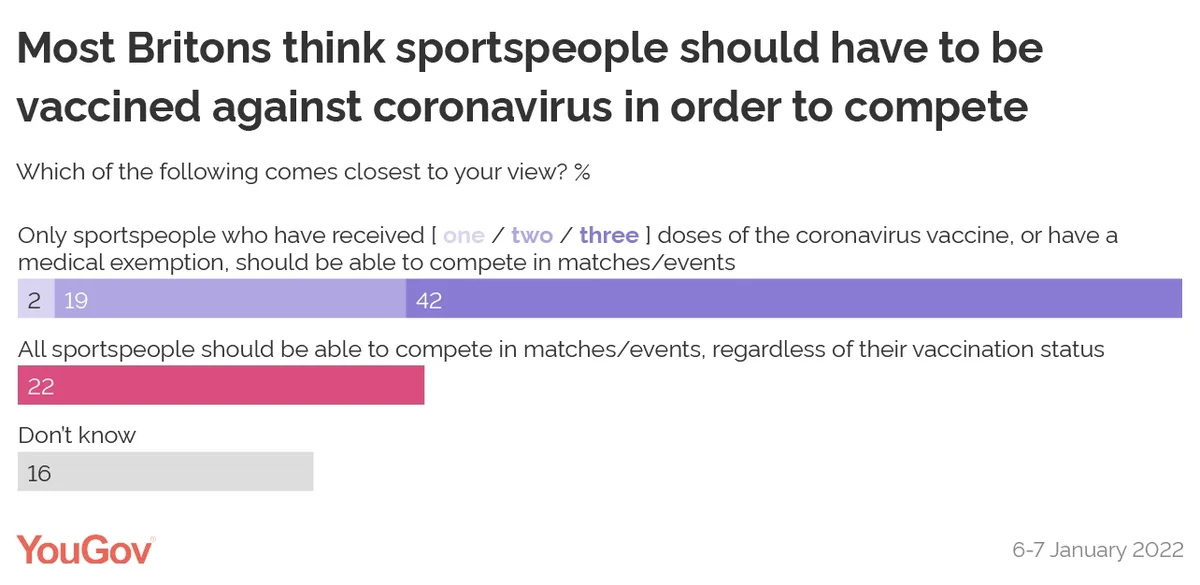 There are, however, a significant proportion who feel that vaccination status should not be a factor at all in deciding who can participate in professional sports events – one in five (22%) say that all sportspeople should be able to compete, regardless of their vaccination status.
Who, if anyone, should sportspeople have to disclose their vaccination status to?
Much has been made of the vaccination status of sportspeople in recent weeks, with cancelled football fixtures, covid outbreaks amongst the Ashes squad's coaching staff, as well as the Djokovic saga. This has put pressure on sportspeople to disclose their vaccination status publicly, but the British public are split on whether this is necessary. Approaching half (46%) say that sportspeople should have to disclose their vaccination status, compared to 41% who say they should not have to do this.
The public's attitude to this issue is strongly correlated with age – just a quarter (25%) of 18-24 year olds say that sportspeople should have to make their vaccination status public, with half (50%) saying it is not necessary. At the other end of the age spectrum, opinion is reversed – two thirds (68%) of Britons aged 65 and over say athletes should have to disclose this information publicly.
While many Britons don't think the public has a right to know sports stars' vaccination status, do they think they should have to provide it on a confidential basis to others in their field? Djokovic was initially given a medical exemption by Australian Open organisers (although this was then superseded by the Australian authorities), but the majority of those who don't think players should have to publicly disclose their vaccine status believe players shouldn't have to inform match officials/organisers either (56%). A similar number say the same of team-mates (55%) and competitors (59%).
They are more evenly split on whether team management should be made aware of this information, with 45% saying they should and 48% saying they should not. The only group that those who oppose requiring public vaccine status disclosure tend to think should be told is their medical team, with 53% saying they should be given this information (although even here 42% continue to disagree).
What about the fans?
As of 15 December, sports fans in England have been required to show a COVID PASS to gain entry to a sports stadium – the PASS is proof of two doses of the vaccine, or a recent negative test. Three quarters (75%) of English people support this system, although they are sceptical about how effective it has been in controlling the spread of Omicron at sports events – 31% say it has been effective, compared to 45% who say it has not.
Currently, in legal terms 'fully jabbed' is defined as receiving two doses of the coronavirus vaccine. When asked whether the COVID PASS should be amended to show proof of three doses of the vaccine, the majority of English adults support such a move (62%). This is in line with other YouGov polling, which has found that the majority of Britons now disagree with the definition, with 76% saying it should be updated to include two jabs AND a booster.