The percentage of the public thinking positively of Charles, Prince of Wales, is up six points since August
Positive opinion of Prince Charles rose by six points over the last three months, according to new YouGov royal favourability data, from 54% at the end of August to 60% now. The Prince of Wales has seen the largest increase in favourability among the Royal Family over that period.
The Prince of Wales's popularity is higher among older Brits. While the same percentage of 18 to 24-year-olds have a positive opinion of Charles as have a negative one (43%), 73% of those aged 65 and over see the Prince in a positive light vs 31% a negative one.
Prince Charles's wife, Camilla, Duchess of Cornwall, has not seen the same rise in popularity as her husband. Positive opinion of her was at 43% in August, compared with 45% now, while 42% have a negative opinion of her.
Prince Harry's favourability has been dropping steadily over the past two years, taking a 9 point hit from April to August. But our latest survey shows opinion of the Duke of Sussex is starting to recover – it's up five points and now stands at 39%. Meghan, Duchess of Sussex, has not seen her favourability improve over the same period – 27% of the British public have a favourable opinion of her, compared with 26% in August.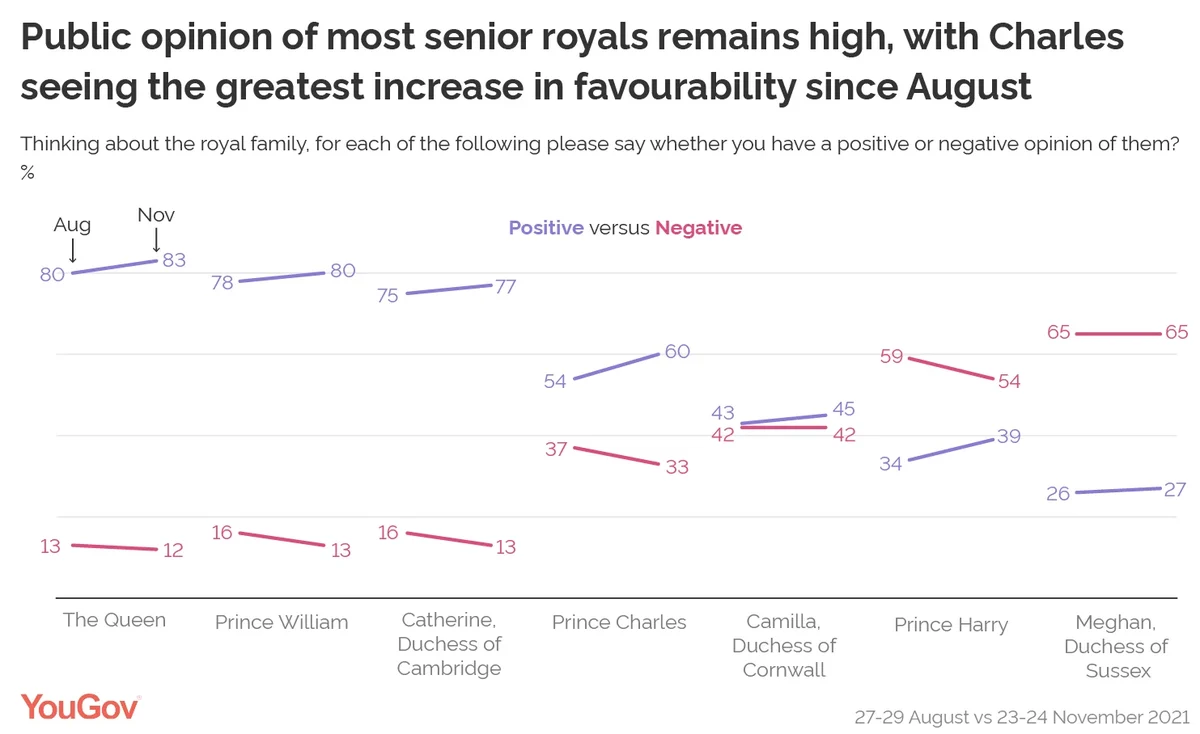 The three most popular royals – the Queen, Prince William and Catherine, Duchess of Cambridge – have maintained consistently high favourability, with the Queen retaining her top spot as most popular royal (83%). The proportion of Britons who say they have a 'very positive' opinion of the monarch has increased by six points to 57%.
Prince William is twice as popular (80%) as his brother Harry, and Kate is nearly three times as popular (77%) as Meghan.
Charles's younger sister Princess Anne is more popular than him – with two-thirds (68%) of the British public saying they have a favourable opinion of her – and ranks at number 4 in the list. His younger brother Prince Edward is less popular, but also less well-known, with around half (48%) of the British public having a favourable opinion of him and 29% saying 'don't know'.
Prince Andrew has consistently remained the least popular senior royal, with four in five (81%) Britons having a negative opinion of him, compared to just 8% who think of him positively.