The proportion of the public thinking positively of Prince Harry is down 10 pts
As Ofcom clears Piers Morgan of any wrongdoing over his criticism of Meghan the Duchess of Sussex, new YouGov royal favourability data shows public opinion of Harry and Meghan continues to slip.
Positive opinion of Prince Harry has seen a decrease of 9pts, from 43% in April to 34% now. Meghan, Duchess of Sussex has also seen a further decline in her public rating, with positive opinion falling from 31% in March, to 29% in April and to 26% now.
Since the last iteration of YouGov's royal favourability trackers, Harry and Meghan have faced continued fallout from their interview with Oprah Winfrey, as well as poor responses to their statements surrounding the COVID-19 pandemic and the withdrawal from Afghanistan.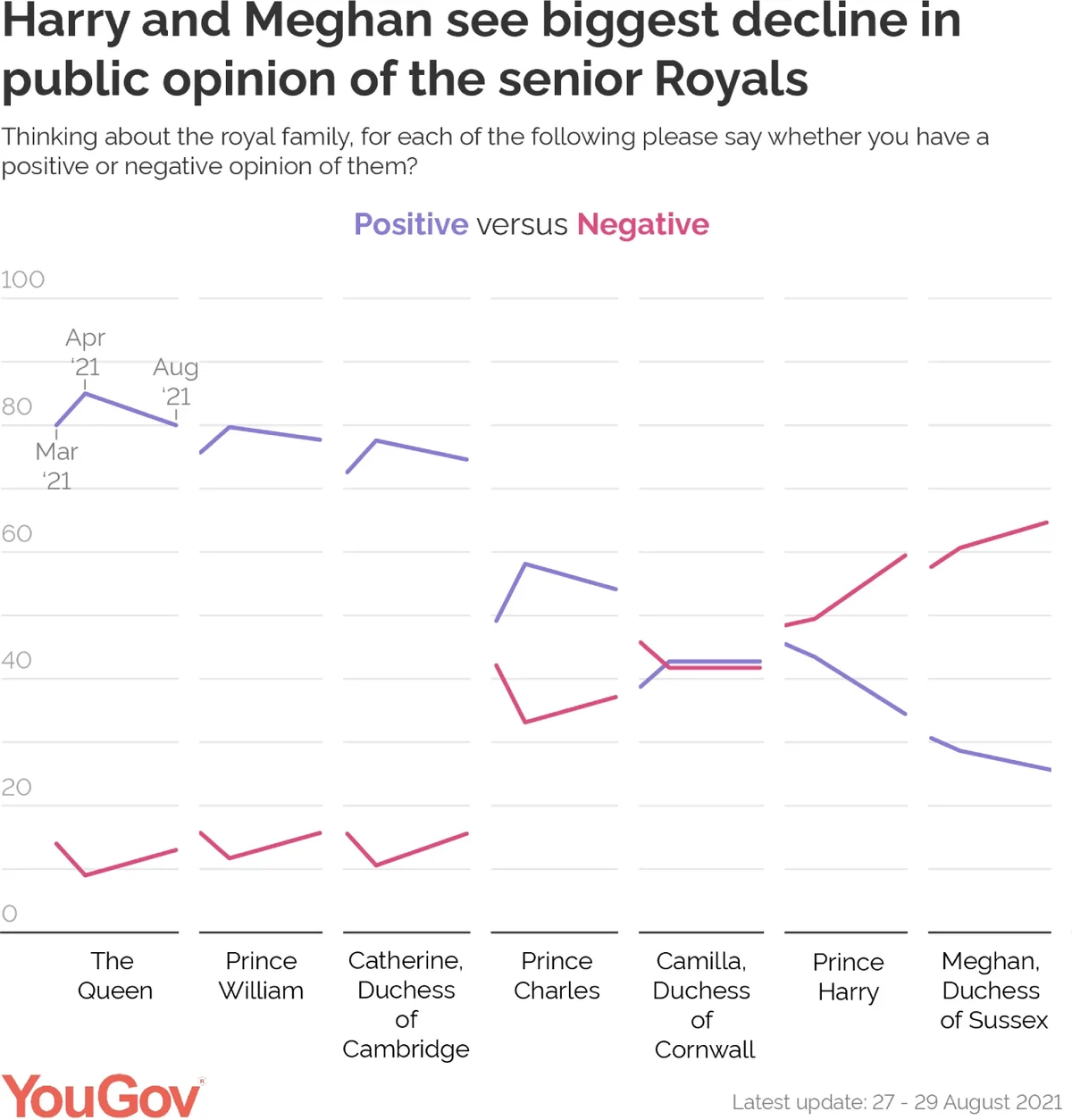 Age is a dividing factor when it comes to Harry and Meghan, who prove most popular among the young. Those aged between 18 and 24 are split over Harry (47% positive vs 44% negative) and tend to think positively of Meghan (50% vs 40%). By contrast, only 13-18% of people aged 65 and over think of Harry and Meghan positively.
Elsewhere, the Queen continues her reign as the most popular royal family member, with 80% of the public holding a positive opinion of the monarch.
The Queen is closely followed in popularity by the second in line to the throne, Prince William, who is more than twice as popular (78%) as brother Harry. Catherine, Duchess of Cambridge is held in similarly high regard (75%).
Half of the public currently take a positive view of Prince Charles (54%). His wife. Camilla, Duchess of Cornwall, is divisive among the public - some 43% of people have a positive opinion of her, while 42% hold a negative opinion.
Prince Andrew remains the least popular royal family member. Some 83% of the public have a negative opinion of him, compared to only 6% who think of him positively.
See full results here