Half of those who voted Tory in 2019 are worried about immigration
Every week, YouGov tracks the most pressing issues facing the country according to Britons. Unsurprisingly, concerns over health have consistently topped the tables since the beginning of the pandemic, along with fears for the economy.
Our latest survey has 50% of Britons putting health as one of their top three national concerns, followed in second place by the economy on 44%.
Among Conservative voters, however, immigration is the most pressing concern right now. Half (53%) of Tory voters say they immigration is a top issue facing the country, about the same as the number concerned about the economy (52%). Conservatives are notably less worried about health, which only 42% chose, placing it third overall.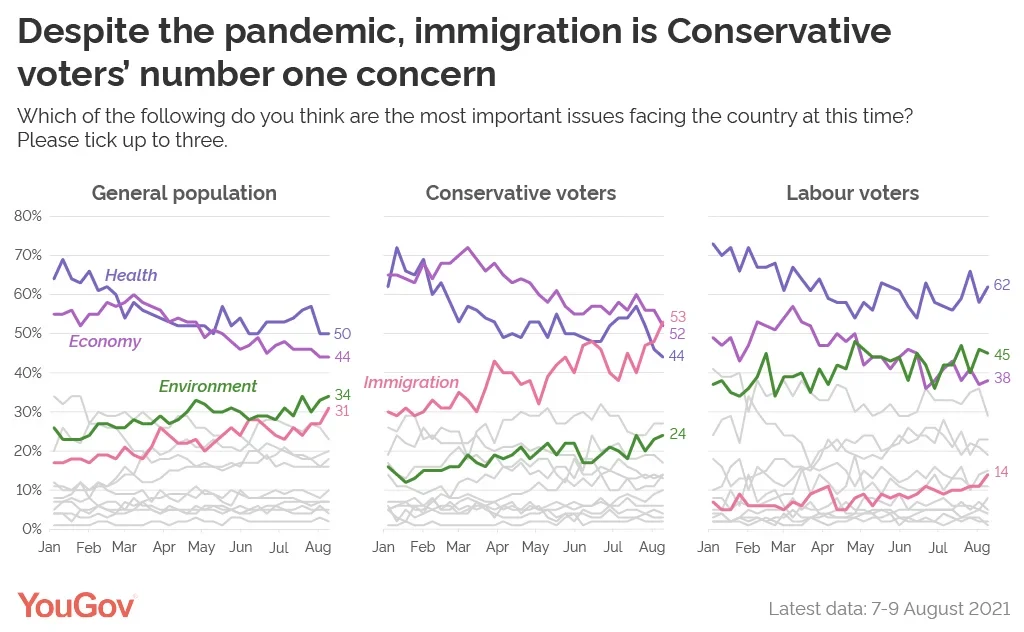 Tory concern about immigration has been on an upward trend since the spring, with only around a third having put it in their top three from January to late March.
The general population currently puts immigration fourth on their list of concerns, at 31%, behind the environment at 34%.
Labour voters prove to be much more concerned about health than their Tory counterparts. More than six in ten (62%) say it is one of the top issues facing the country, 12pts higher than the population as a whole, and ranking first among Labour backers.
The environment is actually the second most worried about issue for Labour, at 45%, followed by the economy on 38%. Immigration ranks eighth for Labour voters, at 14%.