Labour candidate set to win comfortably once second preferences are taken into account
Our final voting intention figures before polls open on Thursday show Sadiq Khan leading the contest to be Mayor of London by 12 points in the first round, and comfortably winning in the second round.
The first round mayoral voting intention figures are: Sadiq Khan 43% (-4 since April), Shaun Bailey 31% (+1), Siân Berry 10% (+1), Luisa Porritt 5% (-2).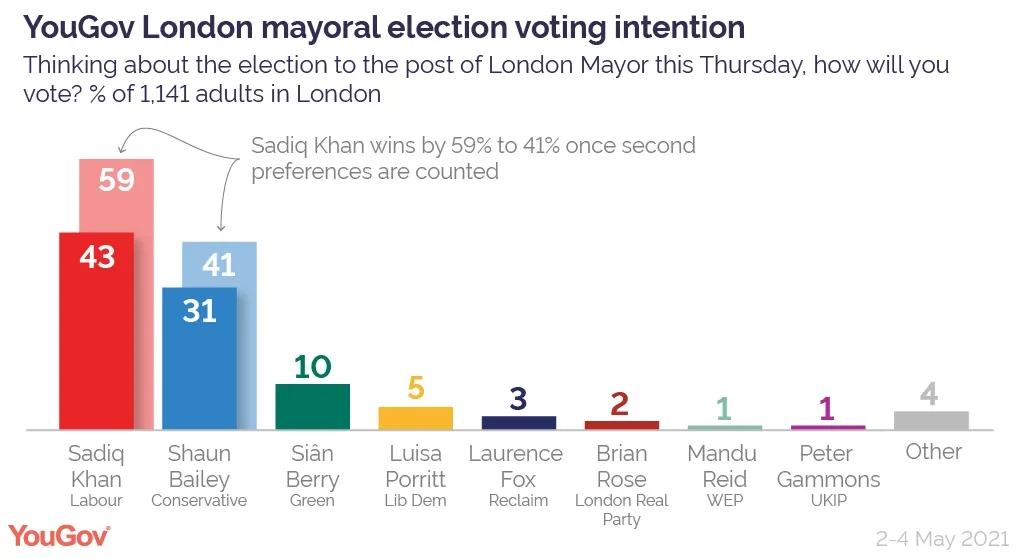 Our current polling suggests then Khan won't win on first round votes alone. However, polling on a second-round run-off between the Labour and Conservative candidates has Khan on 59% and Bailey on 41%.
Khan's lead over Bailey has narrowed since our last poll in April for Queen Mary University of London, from 19 to 12 points. Some of this seems to be from 2019 Conservative voters shifting from "don't know" in April to back Bailey now. A quarter of 2019 Tory voters (23%) didn't know how they would vote in April – that's almost halved to 13% now.
It is worth noting that all polls come with a margin of error of around 3%, which means the actual figure for each candidate could be three points higher or lower than the figures in our final poll.
Given the chance to reflect on Sadiq Khan's term as Mayor, Londoners are split, with 46% thinking he's done a good job while 42% think he's done a bad job. It's better news for Khan in terms of his rating compared to his predecessor. Four in ten (41%) think Khan has been a better Mayor than Boris Johnson, compared to 32% who think him worse. One in seven (15%) said they thought they had performed about the same.