Party members think the Conservatives would be victorious if an election were being held now, but are more optimistic about a Labour win in May 2024
With the Conservatives enjoying a consistent lead in voting intention polling, it is perhaps unsurprising that the latest YouGov polling of Labour party members shows that 84% think the Tories would win the most seats if a general election were held in the immediate future.
This includes almost a third (29%) who believe that the Conservatives would win a "large" majority if an election were happening tomorrow. Four in ten (40%) believe that the result would be a "small Conservative majority", while a further 15% think that it would be a "hung parliament, with the Conservatives ending up forming a government".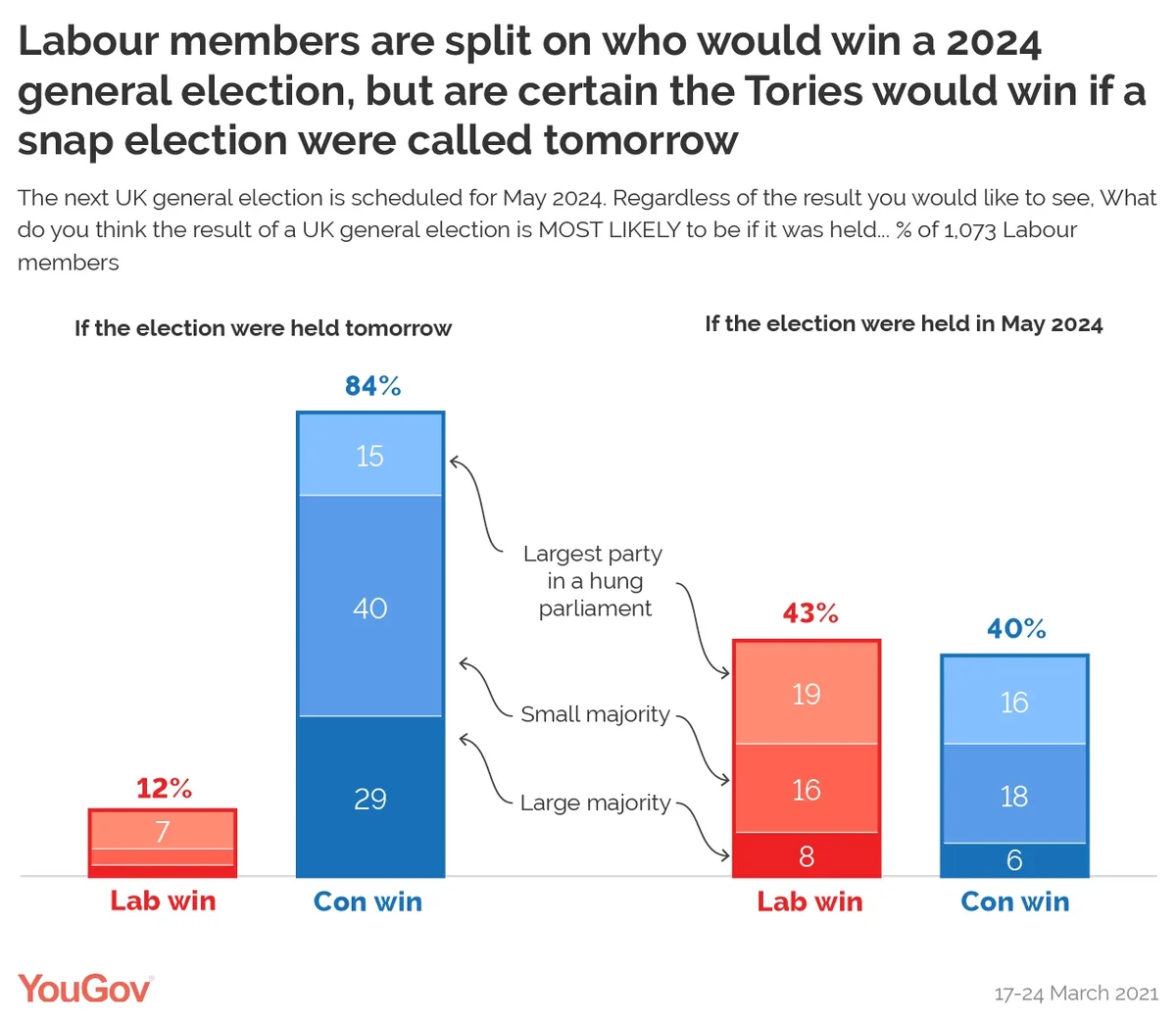 Only 12% of party members think that Labour would win some form of victory. Younger members are most optimistic in this regard, with 19% of 18-24 year olds and 15% of 25-49 year old members believing that their party could secure a Labour victory in an election happening now. Just 8% of members aged 65 and over hold the same view.
Labour members are much more cheery about their party's prospects for an election held in May 2024 – which is, under the Fixed Term Parliament Act (2011), the next planned date for a general election. Around two in five members (43%) feel that Labour would emerge as the largest party in an election held then, including 24% who believe the party could win some sort of majority.
Equally, however, around the same amount (40%) think that even by 2024 their party will not be in a position to win a general election, but instead lose out once again – for the fifth time in a row – to the Conservatives.
The key dividing factor in estimations of Labour prospects at a 2024 general election appears to be 2020 leadership election vote. Almost half (47%) of those who voted for Keir Starmer in last year's contest believe that Labour will win the most seats, while only 31% of Rebecca Long-Bailey voters think the same. On the other hand, again, almost half (47%) of those who voted for Long-Bailey think that the Conservatives will emerge victorious in 2024, compared to 36% of those who voted for Starmer.