Drakeford's personal ratings hold up despite Labour losing ground in Welsh Parliament vote
Our latest voting intention figures for the Senedd (Welsh Parliament) show Labour's lead over the Conservatives drop to just 2 points in the constituency vote and 3 points in the regional list vote. This gap has been narrowing over the past few months and is the lowest Labour lead since last April.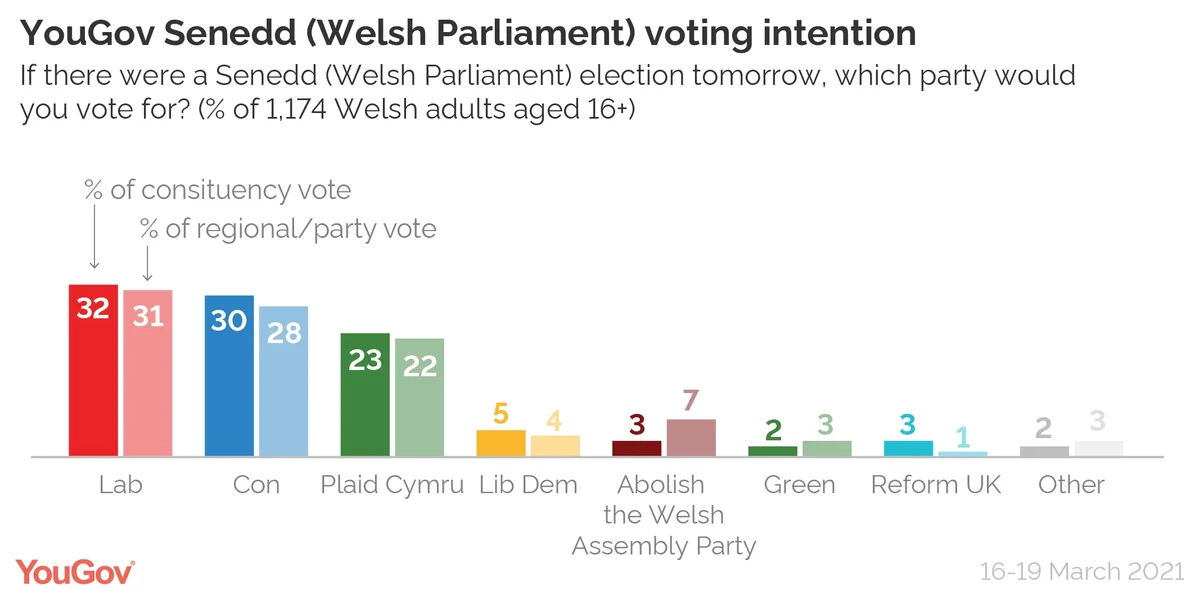 In the constituency vote, Labour are on 32% (-1 since February), Conservatives 30% (+2), Plaid Cymru 23% (+1) and Lib Dems 5% (+1).
The vote shares for the regional list vote are Labour 31% (-2), Conservatives 28% (+3), Plaid Cymru 22% (-2) and Lib Dems 4% (+2).
At the last election, the Labour party narrowly missed out on a majority, gaining 29 of a possible 60 seats. If our latest voting intention figures are repeated when the Welsh public head to the polls this May, we would likely see Labour lose seats, largely at the hands of the Conservatives.
Labour are also losing votes to Plaid Cymru, who are sitting reasonably comfortably in third place. One in five (21%) of those who voted Labour in the 2019 Westminster election say they intend to give their vote to Plaid Cymru in the Senedd. In the constituency vote, Labour are currently holding on to just 69% of those who voted for the party in the 2019 UK-wide election, compared to 78% for the Conservatives, and 85% for Plaid Cymru.
What makes this particularly intriguing, is that Labour's drop in vote share comes despite the First Minister himself remaining popular with the Welsh public. By 57% to 34% Mark Drakeford is seen as doing well at his job, noticeably better figures than Boris Johnson (39% well, 54% badly). Close to three quarters of 2019 Labour voters (72%) think Drakeford is doing a good job, compared to 20% who think he is doing a bad one, and he is almost as popular with Plaid Cymru voters (71% well, 26% badly).
When it comes to handling of the coronavirus specifically, Drakeford also has the support of the Welsh public, who by 52% to 39% say they trust him to make the right decisions. By more than four to one (59% to 13%) Welsh people also prefer the pandemic approach taken by the nation over that across the border in England. For both these measures, 2019 Plaid Cymru voters support the First Minister at similar levels as Labour voters, yet just 7% of them are currently planning to switch to Labour for the Senedd election.
Relatively unknown pre-pandemic, the Mark Drakeford has found himself front and centre of crucial decisions in tackling COVID-19, with the devolved government having responsibility over many health matters. While his own and his government's handling has been received positively, it is possible that some of this approval of the "Welsh approach" has translated into support for Plaid Cymru, the most vocal champions of further devolution, rather the Labour party themselves.
Additionally, the vaccine rollout has already boosted Conservative support UK-wide, and if this continues, it could mean that Welsh Labour will need to be looking over both shoulders to avoid a poor performance at the Senedd in just six weeks' time.
See full results here