Majority of TV viewing now 'on demand' for 1 in 4 Brits, finds new Smart TV research
YouGov's new syndicated 'Smart TV' tracker has revealed that just over one in four (26%) Britons claim to spend more time watching TV through 'on-demand' services, such as BBC's iPlayer and YouTube, than they do watching traditional 'linear' broadcast TV.
Usage of on-demand is even more pronounced amongst people aged 18 – 24 years; 41% of whom say the majority of the TV they watch is now 'on demand'.
The tracker, which is conducted quarterly, dives deep into Smart TV ownership patterns by examining 1000 owners of Smart TV taken from YouGov extensive proprietary panel of 400,000 UK consumers.
Among people who own Smart TVs (ones that connect directly to the Internet without requiring any other device) over a third (35%) say that the majority of their TV viewing is 'on demand'. This is also the case for over half (53%) of 18-24 year olds with a Smart TV and half (51%) of Smart TV owners with pre-school children.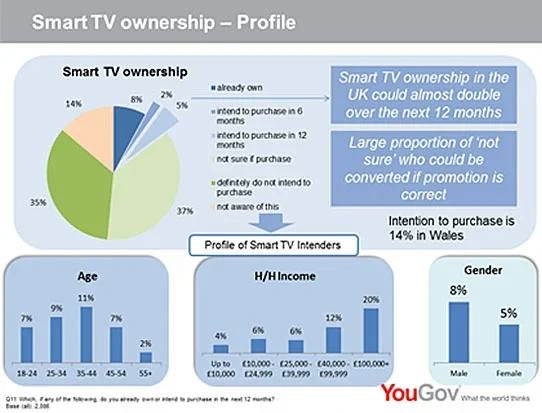 These figures show that Britons are entering into a new paradigm in the way that TV is consumed – 'TV 2.0'. Whilst it is known (from industry sources such as BARB) that linear TV is still growing, alongside this there is a huge growth in on-demand consumption.
TV 2.0 is all about consumers rather than schedulers deciding what to watch and when; whilst linear TV is still at the core of most things that most people watch, the next generation who are growing up with the internet's new mode of serving and searching content will increasingly focus their viewing attention to on-demand services.
The results also show that the rapid growth of the Smart/Connected TV market has the ability to disrupt many of the business models taken for granted by media and brand owners. The increased convergence of media and technology, alongside the consumer desire for on-demand and 'social' TV services mean that whole new digital media eco-systems as well as new patterns of video/television consumption are being created at a breathtaking speed.
See the full Press Release and additional details here