Latest YouGov poll shows boost for Shaun Bailey after Rory Stewart drops out, but current Mayor Sadiq Khan still heading for victory
The first Mile End Institute at Queen Mary University of London/YouGov poll of Londoners on the Mayoral race since March shows that, despite Conservative candidate Shaun Bailey enjoying greater first round support than before, Sadiq Khan maintains a 21-point lead over his competitors.
Latest first round voting intention figures for the city show Sadiq Khan could pick up just over half of first round votes (51%, +2 since March), with Shaun Bailey on 30% (+6). This is the first poll of Londoners since Rory Stewart – the former Conservative minister standing as an independent candidate – dropped out of the race, with Bailey seemingly the main beneficiary.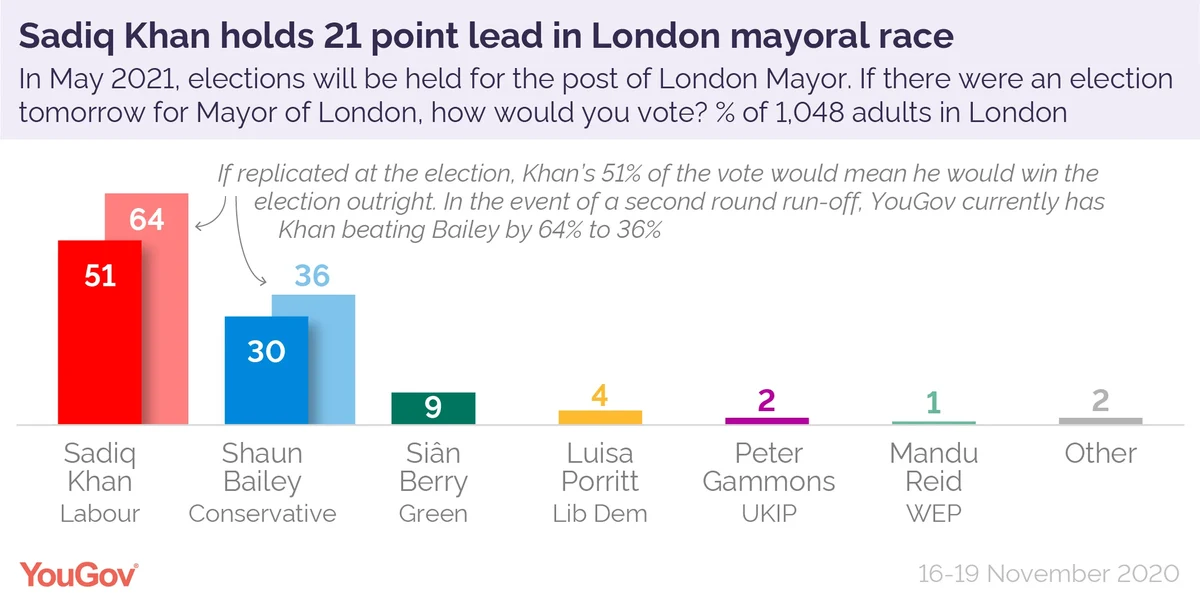 If Khan were to replicate his 51% vote share at the election he would be re-elected without a second round of counting. This slim majority, however, is within the poll's margin of error.
Polling on a second-round run-off between the Labour and Conservative candidates currently has Khan on 64% to Bailey's 36%. Support for both Khan and Bailey follows party lines, with 81% of those that voted Labour in the 2019 general election backing Sadiq Khan and the same percentage of 2019 Conservative voters favouring Shaun Bailey.
Khan also has the majority backing of 2019 Liberal Democrat voters, with 56% expressing their intent to vote for him. The recently announced Lib Dem candidate Luisa Porritt (following the withdrawal of Siobhan Benita) has the support of just 20% of 2019 Lib Dem voters. Porritt currently polls at 4%, behind Green Party contender Siân Berry on 9%.