The move has cross-party backing
In 2015, then-Prime Minister David Cameron enshrined in law the UK's commitment to spending 0.7% of GDP on foreign aid. The figure had been adopted as a target in principle as early as 1974, although it wasn't until 2013 that it was met for the first time.
In light of the damage caused to the public finances by the coronavirus crisis, Chancellor Rishi Sunak announced today that foreign aid spending will be reduced to 0.5% of GDP – a reduction of £5bn.
Such a move is controversial in political circles. Baroness Sugg, a Foreign Office minister whose brief included overseas development, resigned in protest at the news, describing it as "fundamentally wrong". David Cameron and fellow former Prime Minister Tony Blair have both described the move as a "strategic mistake", while former international development secretary Andrew Mitchell has said the cuts will cause "100,000 preventable deaths, mainly among children".
One group among whom the cut is not controversial, however, is the British public. New YouGov research conducted in the run-up to the announcement shows that two thirds (66%) say that reducing the amount spent on overseas aid is the right decision. Only 18% think it is the wrong call.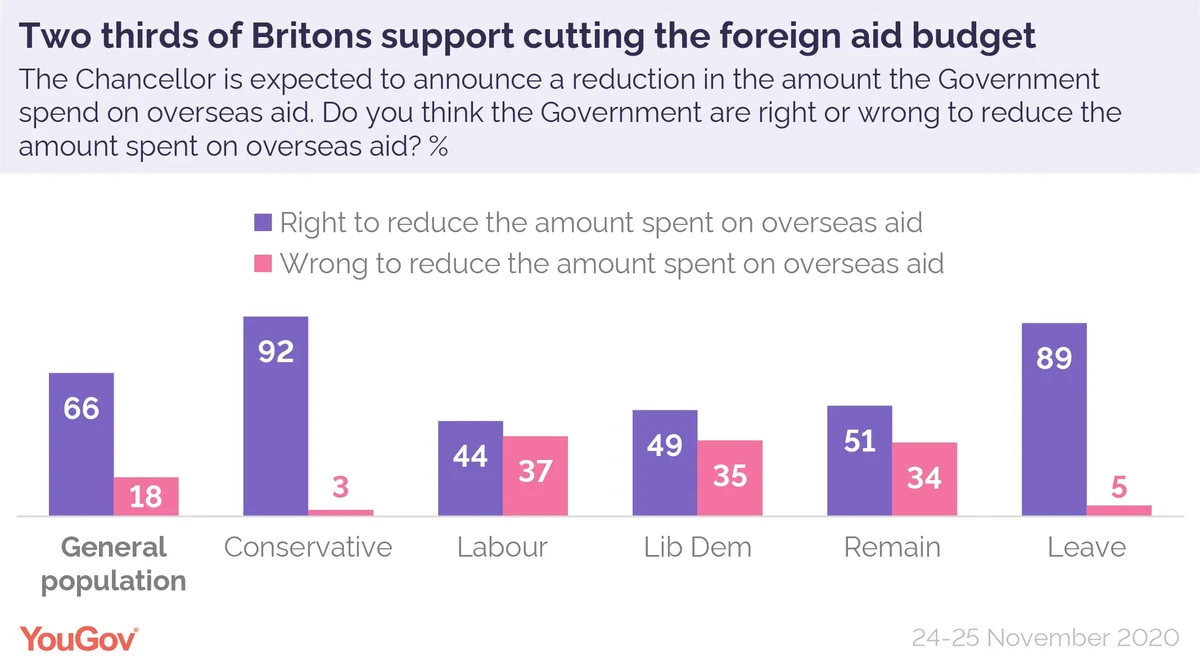 The move is near-universally popular among Conservative voters, 92% of whom are in support. Support is lower among Labour and Lib Dem voters, but the move is still more popular than not: Labour voters back it by 44% to 37% and Lib Dem voters do so by 49% to 35%.
Foreign aid spending levels have long been consistently unpopular with the British public, topping our tracker on what sector people think the government spends too much on by a wide margin.