Despite this, they are split on whether anyone could have done a better job than Boris Johnson
Five months after the Government's coronavirus honeymoon period came to a screeching halt, the public continue to think that the COVID crisis is being handled badly. Just 32% of people think they are handling the response to the pandemic well, barely above the 30% they recorded at their lowest ebb in September, and still one of the worst ratings internationally.
In our latest polling for The Times we looked in more detail at where people think the Government are succeeding or falling short.
First, we asked the public how well the Government are doing at various elements of their response to the disease. There are only two areas in which a majority think the Government are doing well: making sure children continue to receive education (65%), and ensuring those people who catch COVID-19 receive good healthcare (56%).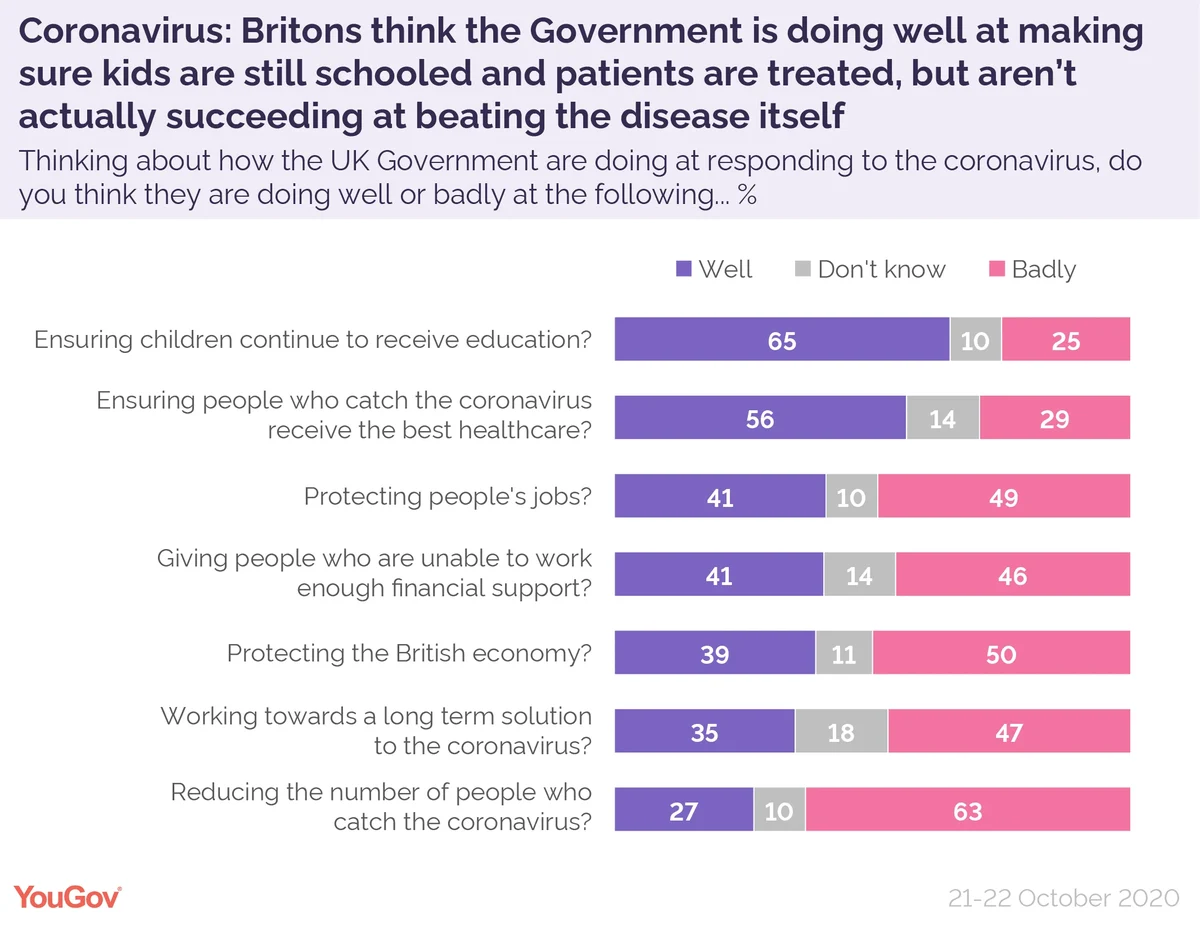 Government ratings are moderately negative when it comes to the economy. By 46% to 41% people think the Government are doing badly at providing financial support to those unable to work; by 49% to 41% they think they are doing badly at protecting jobs; and by 50% to 39% they think they are doing badly at protecting the economy itself.
Where the Government score worst is on actually limiting the outbreak itself. By 63% to 27% people think they are doing a bad job of reducing the number of people who catch coronavirus, and by 47% to 35% people think they are doing badly at working towards a long term solution.
Even fewer people think the Government's overall approach has been good – although it is not clear that anyone else could have done better
That all being said, so often in politics it isn't the details that matter - whether people agree with this policy or that offering - but the public's perception of the overall package. Unfortunately for the Government, the whole is actually rated worse than the sum of its parts.
Only 35% of people think the Government has made the right decisions in combatting the disease, just 20% of people see them as being in control of events, and a mere 17% think they have a clear plan or that their strategy is being effective.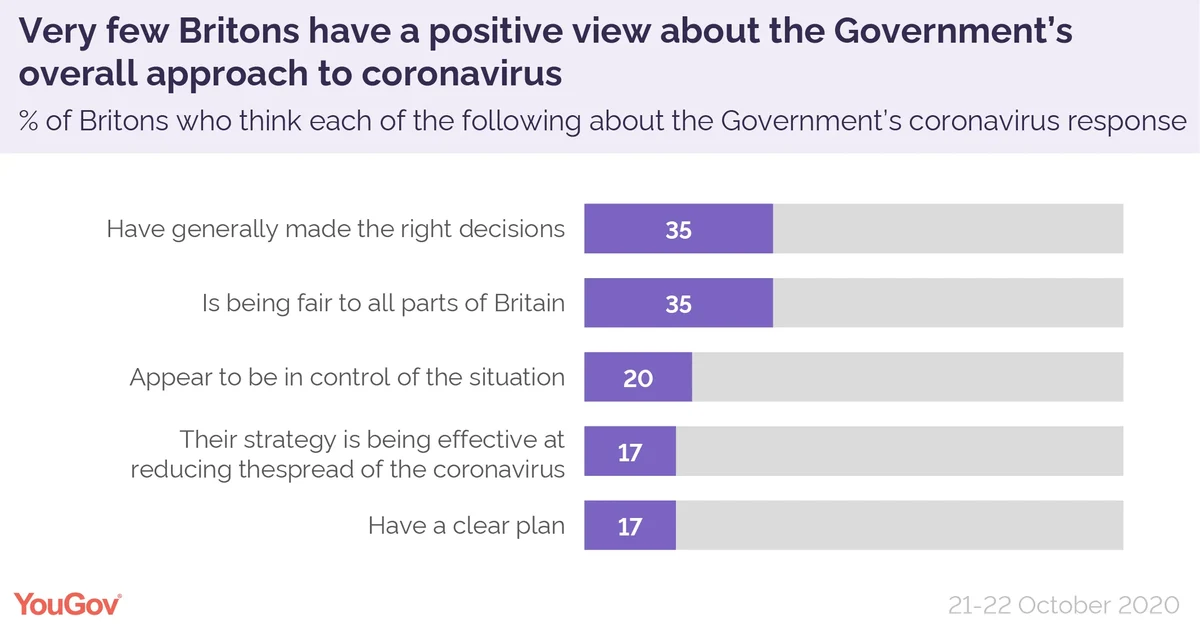 But could anyone else have done better? On this front there is some sympathy for Boris Johnson. While a paltry 4% think he has done a good job and made all the right decisions, 46% think that while he has made mistakes, he's done as well as he reasonably could have done under the circumstances. A similar proportion (45%) think he has made mistakes that could have been avoided.
There is no indication that the public thinks that a Starmer Government would have performed better. One in three think case numbers would be the same (35%) had the Labour leader been in charge. A quarter think that fewer people would have caught the disease (26%), while 15% think more people would have succumbed. The remaining 25% aren't sure.
When it comes to the economy, Starmer performs less well. Three in ten think the economy would have been in a worse place if the Labour leader were running the show, compared to 19% who think it would be better. Another 28% think it would have made no difference, and 23% aren't sure one way or the other.