The public also rank universities and restaurants as top priorities to remain open while pubs come last among the ten types of establishments we asked about
The UK's top scientists have previously warned that trade-offs such as closing pubs to keep schools open may be necessary to limit the spread of coronavirus. As restrictions increase across the country, a YouGov survey reveals how Britons would prioritise among ten types of institutions.
More than half of Brits (57%) say keeping schools and nurseries open should be the Government's number one priority. Another 13% list them as their second choice.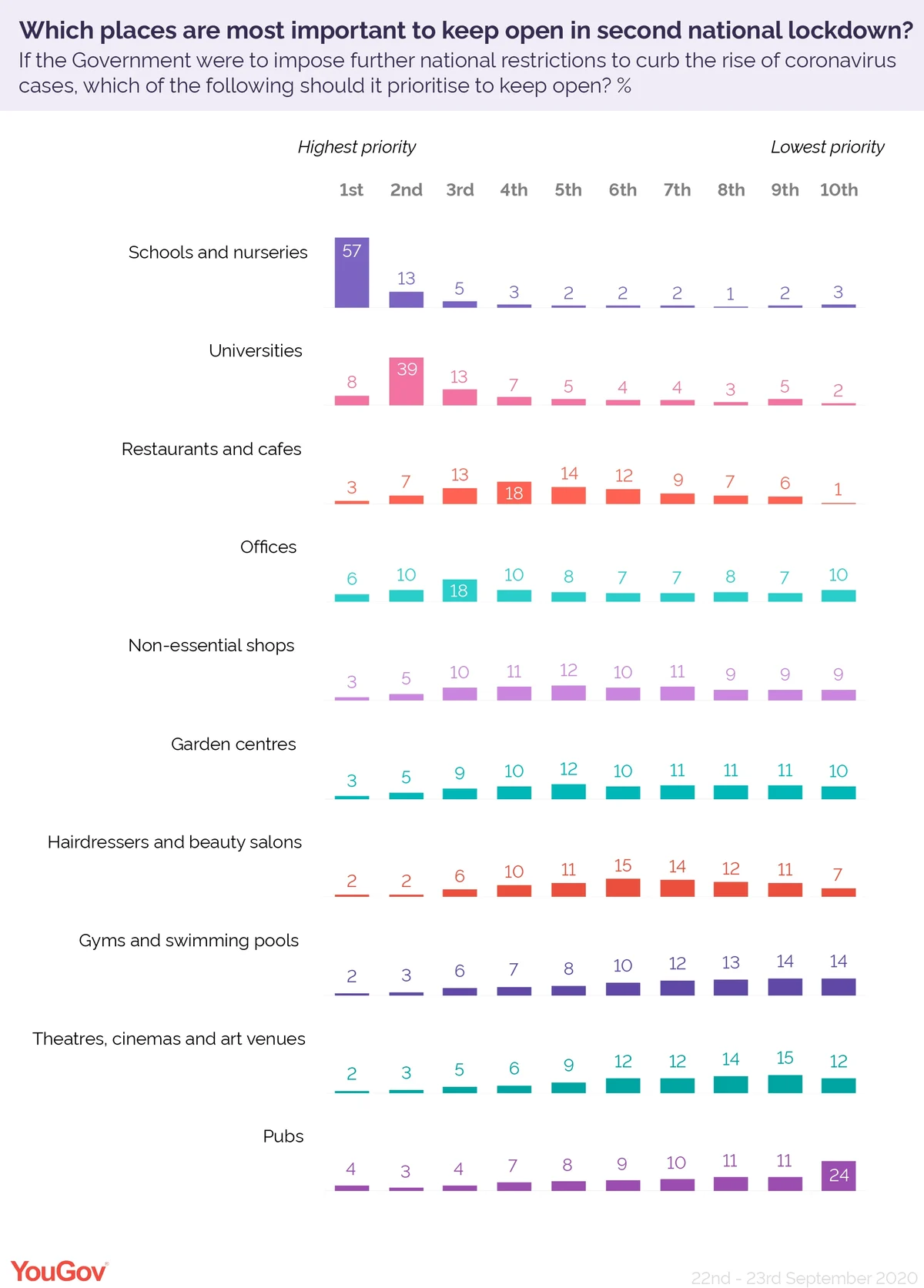 Two thirds of households with children (66%) are adamant that schools and nurseries should come first. Child-free Brits are less bothered, although support is still high at 55%.
Men, who did less homeschooling than women during the last national lockdown, are not as concerned about keeping schools and nurseries open. Fewer than two thirds (63%) list them as their first or second choice, compared with nearly three quarters of women (76%).
Universities, restaurants and offices rank highly
Only 8% of the public say the Government should prioritise universities above the other types of establishments. But two in five people (39%) rank them as their second priority, making it the most popular choice after schools and nurseries.
People aged 18 to 24 are twice as likely as the wider public to rank universities highest at 16%. However, students in high-risk areas across the country might be less convinced, as weeks into their first term many have already been banned from socialising, going to the pub and may have to spend Christmas in their student accommodation.
Restaurants and cafes compete closely with offices. A third of the public (34%) rank offices among their top three priorities, compared with just under a quarter for restaurants and cafes (23%). But the overall distribution means restaurants and cafes are a slightly more popular choice. One in ten Brits (10%) say keeping offices open should be the Government's last priority, while only 1% said the same about restaurants and cafes.
Keeping pubs open bottom of the list for a quarter of Brits
Pubs, which are already having to close at 10 pm as a result of the latest round of coronavirus restrictions, only make the top three among 11% of Brits. In contrast, close to half of people (46%) say they're among the three least important places to keep open. This includes a quarter (24%) who rank them last.
Men are more reluctant to say goodbye to their watering holes in another lockdown - 18% rank pubs last compared with 30% of women.