Talk of changing leaders doesn't wash with Tory members, the vast majority of whom approve of Johnson's record to date
It has now been over a year since the Conservative Party membership delivered Boris Johnson a landslide victory over Jeremy Hunt in the leadership election, and ultimately the keys to Downing Street. To see what they think about that decision with the benefit of hindsight, YouGov has surveyed party members.
The polling shows the membership still overwhelmingly back the Prime Minister, with 85% thinking he is doing well in the job and just 15% believing he's doing a bad job. Even 69% of those who voted for Jeremy Hunt are supportive of his performance.
Likewise, despite increased discussion about the Prime Minister potentially being replaced at some point in the future, there is currently no appetite for that among the membership. Just 9% think he should stand down and be replaced by someone else, with 89% thinking he should currently remain leader.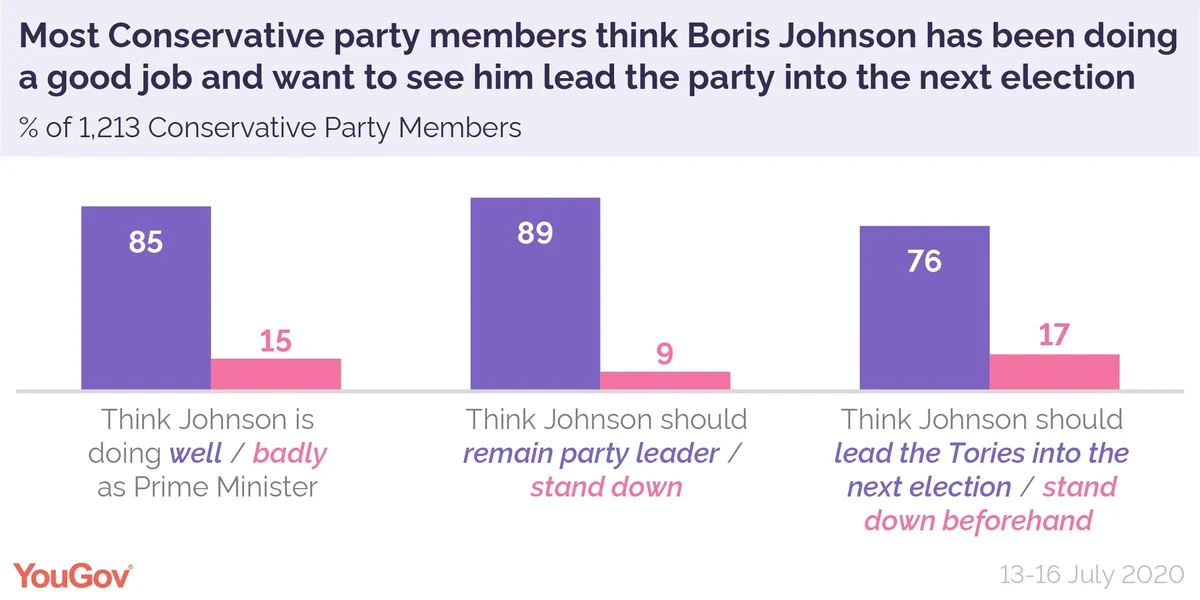 Even thinking into the future, the vast majority (76%) think he should lead the party into the next election, with just 17% thinking he should let someone else fight the campaign instead.
Ultimately that decision will not be made by Conservative Party members, but MPs in the House of Commons, who could be spooked over the coming years if polling turns against them and they start to fear losing their seats. If that were to occur they would then decide on two candidates who would be on the ballot paper for the full membership.
We modelled 36 of these head-to-head battles, with nine of the bookies' favourite candidates, to see how a hypothetical leadership election might play out.
One candidate stands head and shoulders above the others. Rishi Sunak would win by a landslide against all of the other eight candidates we tested. His strongest rival would be Dominic Raab, who stood in for the Prime Minister while he was hospitalised, but even then Sunak is currently 50 points ahead, beating him 75% to 25%.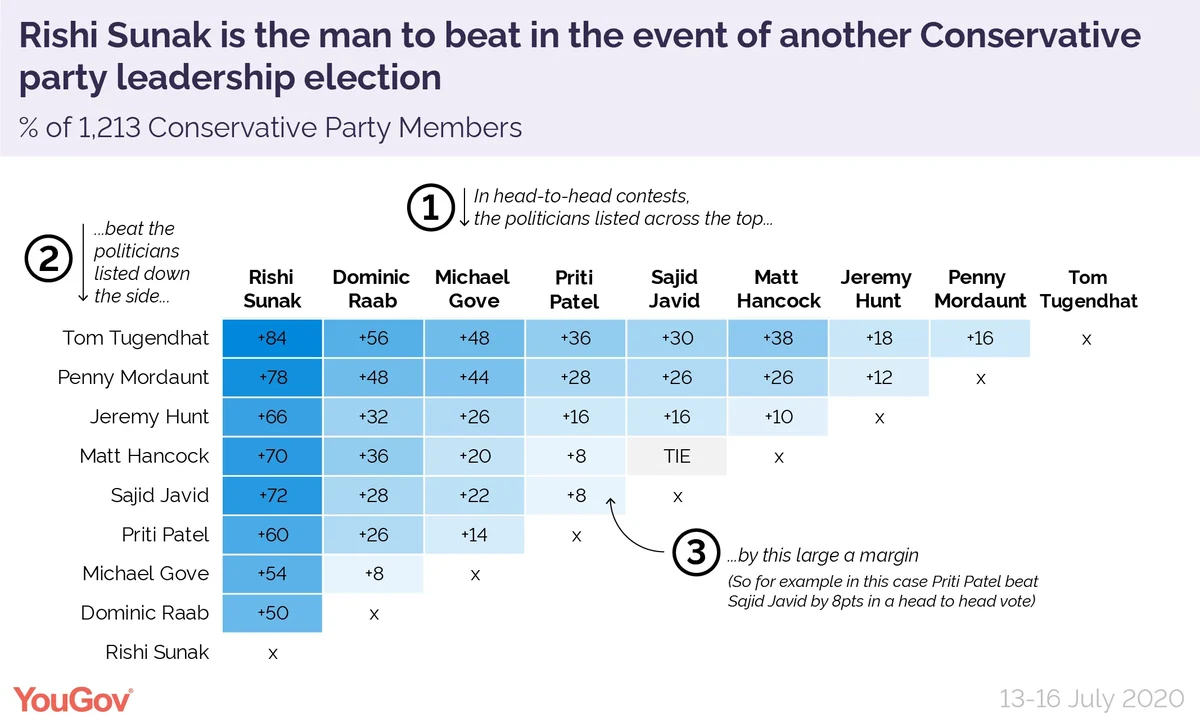 Raab wins in seven of the matchups, with Michael Gove winning six, Priti Patel winning five, and Sajid Javid and Matt Hancock both winning three and drawing against each other. Penny Mordaunt wins in two and Jeremy Hunt wins in only one scenario. Tom Tugendhat, who is less well known that the others, is currently behind against all other candidates.
It goes without saying that there is a lot of room for these numbers to change before any future leadership election, and Boris Johnson spent most of his time behind in polls of Conservative Party members before going on to win last year. But such a significant lead for the current Chancellor marks him out as a very strong favourite as Johnson's successor.