YouGov's 'top issues tracker' finds worry over the two concepts marching in lockstep
In late May YouGov highlighted how concerns over the economy were beginning to rival fears over health in our 'most important issues tracker'.
As of mid-June the two issues seem to have become conjoined in the public mindset. On 13-15 June the proportion of Britons naming the economy as one of the three most important issues facing the country gained parity with health for the first time, at 61% and 60% respectively.
Since that point concern over the two issues has moved in lockstep, to 58-59% the following week, 54-55% the week after and now to 57% apiece in the latest survey conducted on 4-6 July.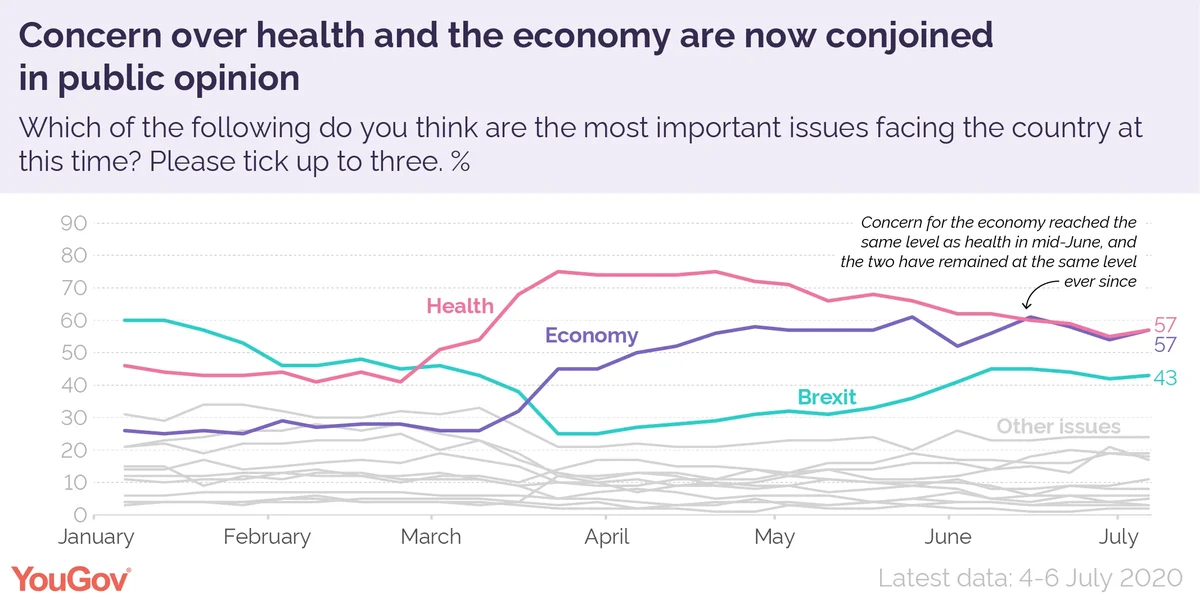 This represents a significant decline in concern over health since it peaked at 74-75% in March and April. Concern over the economy is still at a comparable level to the highest figure of 61% - first reached in late May, and again in mid-June.
The third most worrisome issue for Britons is Brexit, although still some way behind at 43%. Coronavirus pushed fears over Brexit out of Britons' minds, with the number citing it as one of the top three issues facing the country falling from 43% in early March to 25% two weeks later. Over the course of May and early June these figures began their climb back to previous levels.
As was already the case by late May, Conservative voters are now more worried about the economy than they are health. Currently two thirds (67%) of Tories place the economy in their list of the top three issues facing the country, compared to 55% who do the same for health.
These figures are effectively the reverse of Labour voters' priorities: 66% of those who backed the party in 2019 include health among their top three issues, versus 53% who say the same of the economy.