Apple's new iPad 3 has had an impact on consumers even before it is unveiled.
The product's overall Buzz score on YouGov's BrandIndex has increased by two points since the announcement of its release less than a week ago.
Looking at longer term trends over the last year, we have seen the uninterrupted rise in its recommend scores and – most surprising – it has moved from a luxury product to a value product, rising from -6.4 on 7 March 2011 on that metric to +1.1 today.
This doesn't compete with the value score of, say, Android at 16 points, which, despite being available on both smartphones and tablet, hasn't moved more than one point in the last 12 months. If the new price is right, we could be seeing substantially more colleagues wandering in with an iPad under their arm.
More surprising results this week came out of a YouGov Report, which indicated that the shopping catalogue remains a firm favourite for UK consumers. Just under one quarter ordered an item direct from a company after browsing a printed catalogue in the last 12 months.
Argos was shown to be winning the race on catalogue shopping, with 58% of respondents saying they have an Argos catalogue at home.
Competitors Tesco Direct, Next and Littlewoods were trailing behind in terms of coverage, reaching %, 11% and six% of UK homes respectively. Over a quarter of those who buy from shopping catalogues use three channels to complete their purchase – using their catalogue to browse, going online to order and visiting their local store for collection.
Such research highlights the new role of the catalogue, moving from its original mail-order purpose to that of catalyst for online sales.
Recommend scores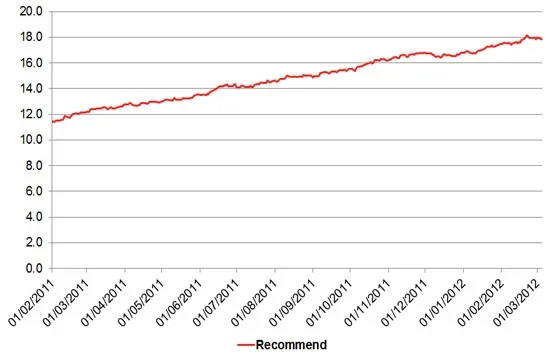 Value scores