Salt, vinegar, ketchup, mayo, brown sauce, gravy…Does your favourite match your local region?
When it comes to the mighty chip, the majority of Britons prefer to eat theirs with salt or vinegar, and nearly half the population plumps for both, our poll on this most crucial of issues has found, as National Chip Week sweeps the country.
Tomato ketchup is also a favourite across the nation, with almost half of respondents picking it as an option.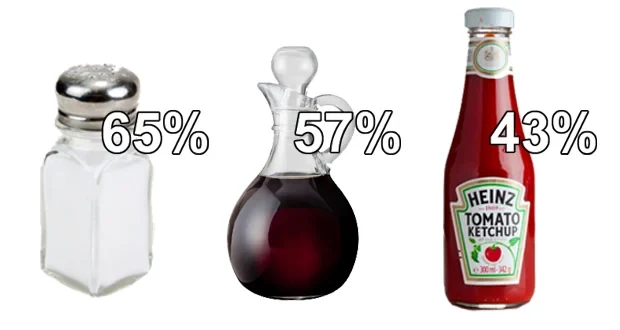 5,334 British adults 18+, Fieldwork 5th-14th February 2012
Salt tops our list with two thirds (66%) of the British public saying they sprinkle it on their chips
Vinegar comes just behind (57%), with almost half of respondents (46%) favouring both salt and vinegar together
A large minority (43%) also cover their chips in tomato ketchup, although 18-24 year olds are twice as likely as the over 60s to prefer the red stuff (62% to 31%)
On a national scale, no other condiments come close. However, delving deeper into the chip-eating habits of the nation reveals some interesting regional preferences...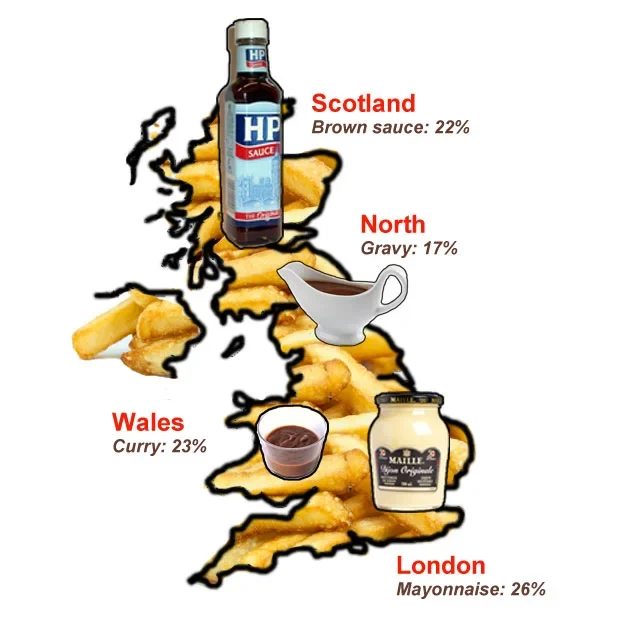 5,334 British adults 18+, Fieldwork 5th-14th February 2012, regions North, Midlands, East, London, South, Wales, Scotland
Mayonnaise – London loves
Mayonnaise has been a popular accompaniment to many dishes throughout Britain since the 19th century, but when it comes to chips, Londoners are more eager to dollop on the mayo than those living in other regions.
The popularity of the egg-based condiment depreciates the further you get from the capital, in which over a quarter enjoy it on their chips. 22% of people living in the South, the East and the Midlands opt for mayo, but less than 17% favour it in the North, Wales or Scotland.
Brown sauce – The Scottish choice
Twice as popular in Scotland as anywhere else in Britain, brown sauce is known for its dark fruity taste and is a popular addition to the full English breakfast as well as a complement for fish and chips.
22% of Scots choose the brown stuff, sometimes referred to as "chippie sauce", on their chips compared to 13% in the North, the region where it is next most popular.
It is far less popular in the southern regions of the UK with only 10% of people from the South and London choosing brown sauce.
Despite its popularity up north, however, HP sauce (the original and most popular brown sauce brand) has its roots in the Midlands, where it was invented at the turn of the 20th century.
The name 'HP' originates even further south, in Westminster, because of its popularity in a restaurant near the Houses of Parliament – which also helps explain the iconic bottle's instantly recognisable label.
Brown sauce also provokes a serious gender divide on a national level, with twice as many men liking it than women.
Curry sauce – Welsh wonder
It's the Welsh who opt for a more edgy addition to their chips, with one in four dipping their chips in a pot of the creamy spicy sauce.
It is also an option in the North and the Midlands, where 16% and 15% of people respectively choose this option.
It proves very unpopular in the capital however, with only 6% of Londoners choosing to have curry sauce on their chips. There is also an age split, with three times as many under 40s favouring the Asian inspired accompaniment than the over 60s.
Gravy – Nice up North
The finishing touch to a perfect Sunday roast, gravy has branched out in the North to become a perfect topping to chips.
Almost a fifth of Northerners pour it over their chips, compared to just 4% of Londoners.
This accompaniment is also reportedly common across the pond, where a combination of gravy, cheese curds and chips make up a Canadian dish called 'Poutine'.
Back to basics
None of these regional favourites however, came close to challenging good old fashioned salt and vinegar as the nation's favourite accompaniment to their chips.
Salt, once a luxury only consumed by the rich, now has a comfortable place on most British dining tables ‒ and there may also be a bottle of vinegar lingering not too far away.
Fish and chip shops across Britain regularly present punters with the inimitable choice of 'salt and vinegar?' – a question posed to which 46% of you would simply say yes.
Ketchup proves to be the nation's favourite sauce on their chips, beating its closest rival mayonnaise, two to one.
Whatever the topping, chips ‒ or more specifically fish and chips ‒ have been a British favourite for decades. Originally a working class meal from the North Sea coast, it didn't take long to spread to all parts of the country and become the popular meal it is today – indeed, only 3% of Britons surveyed claim that they never eat chips.
See the survey details and full results here
National Chip Week runs from 20th-26th February