Majority of Conservative voters support letting representatives from other parties join the Government for the duration of COVID-19 outbreak
With Britons housebound for the third week now as a result of the unprecedented coronavirus crisis, the results of a new YouGov survey reveal that almost two thirds of Britons want to see the main parties come together and form a national unity Government.
The survey, conducted on April 6th and 7th*, asked "would you support or oppose a Government of national unity, in which representatives from all the main political parties form a Government together, for the duration of the COVID-19 (coronavirus) crisis?
Some 63% say they would support such a Government, including 31% who say they would "strongly support" one. Only 17% of Brits are opposed (with only 7% "strongly opposed"), while the remaining 20% unsure.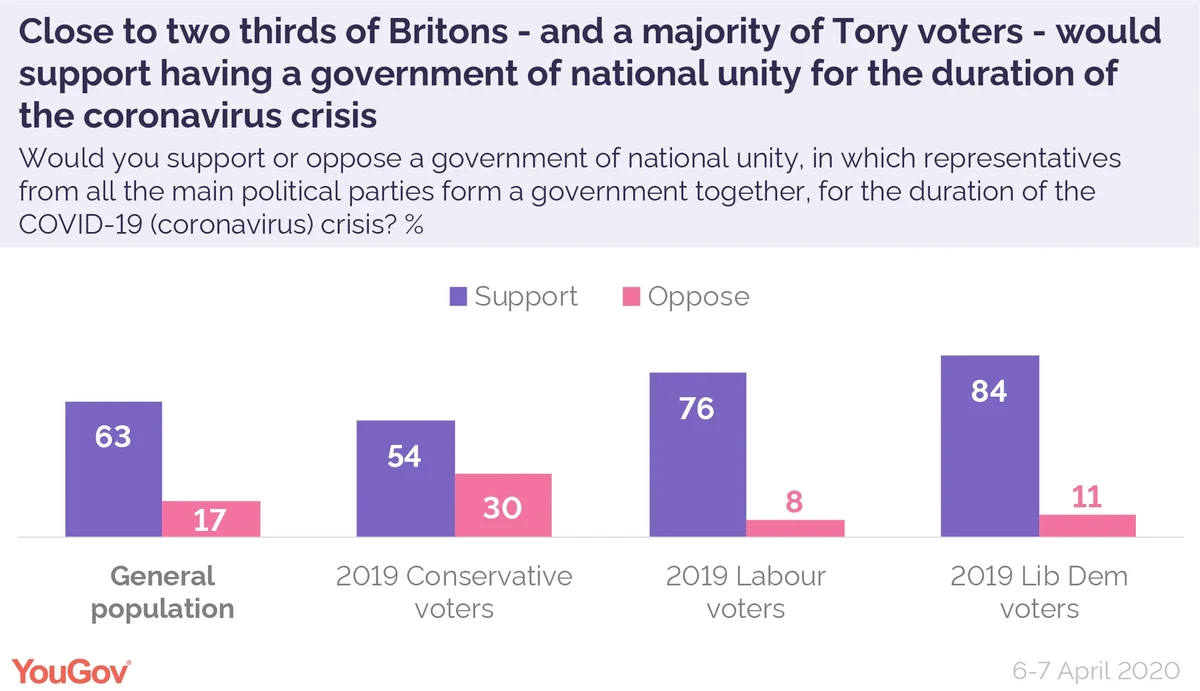 Even a majority (54%) of those who voted Conservative in 2019 are happy for the party to forgo its large Commons majority for the sake of governing in unison at this time of crisis. Relatively few are very enthusiastic, however, with only 15% saying they would strongly support the formation of such a Government.
Nevertheless, only 30% of Tories are opposed to a cross-party Government for the duration of the COVID-19 outbreak.
Unsurprisingly Labour and Lib Dem voters are more enthusiastic still about their parties being brought into the Government. Three quarters (76%) of those who cast a ballot for Labour last year, and 84% who did so for the Lib Dems, say they support forming a Government of national unity.
These figures include 43% to 46% of Lib Dem and Labour voters who are strongly in favour of a national Government.
Just 8% of Labour voters and 11% of Lib Dems are in opposition to the suggestion.
*All fieldwork took place after Keir Starmer had become Labour leader
Photo: Getty