Latest YouGov polling puts current Mayor Sadiq Khan well ahead of the competition
As the clock counts down to the 7th of May the various candidates running for London Mayor are stepping up their campaigns. However, polling of Londoners by YouGov shows Sadiq Khan having a 25-point lead over the competition.
Voting Intention
The latest voting intention figures show Sadiq Khan could secure just under half (49%) of first round votes, with Conservative candidate Shaun Bailey picking up 24% of the vote. Independent candidate Rory Stewart is currently polling at 13% of the vote.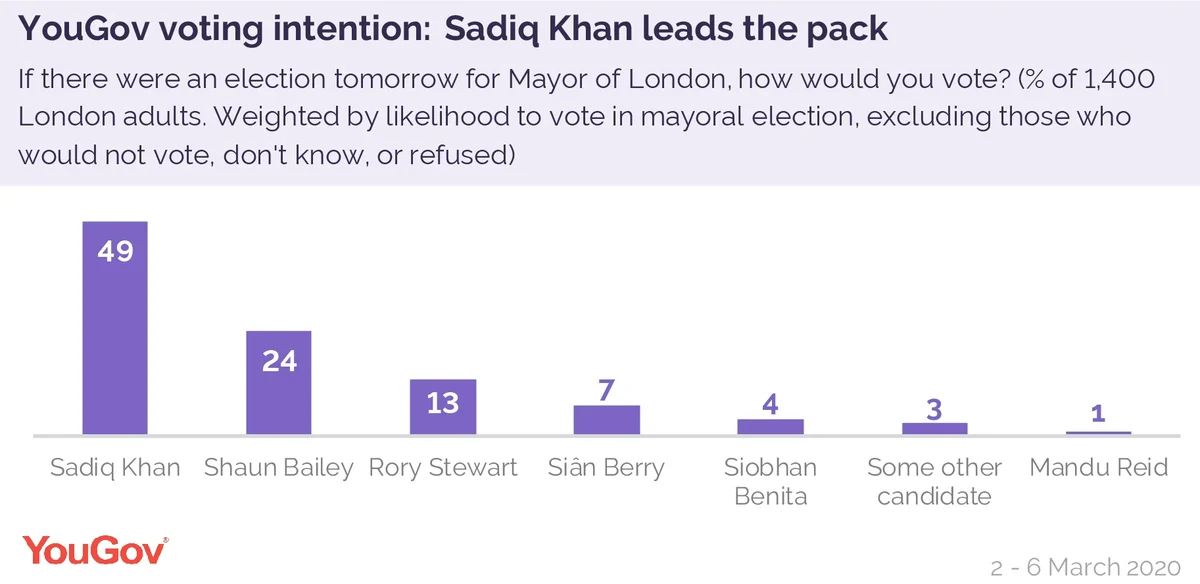 In the second round of voting, Sadiq Khan could pick up two thirds (67%) of the vote, with Shaun Bailey winning 33%.
The data shows that voting patterns for the mayoral candidates largely follows party lines, with 79% of Londoners who voted Labour in the 2019 general election backing Sadiq Khan, and 74% of 2019 Conservative voters backing Shaun Bailey.
Interestingly, 14% of Conservative voters say they back former-Tory now independent candidate Rory Stewart, however only 8% of 2019 Labour voters say they plan on backing Stewart over Khan.
Stewart is also splitting the Liberal Democrat vote, with 25% of 2019 Lib Dem voters planning on backing Stewart. Only 20% of 2019 Lib Dem voters say they are planning on backing the Lib Dem candidate Siobhan Benita, who is currently polling on 4%.
How do Londoners view independent candidates?
Despite Rory Stewart's best efforts to distance himself from party politics to appeal to voters by running as an independent candidate, Londoners say they aren't particularly more likely to trust independent politicians as opposed to other party politicians.
A quarter of Londoners (25%) say the trust politicians who do not represent any political parties. Interestingly, trust in independent politicians is highest among Londoners from AB social backgrounds (35%) and is lowest among those from DE backgrounds (18%).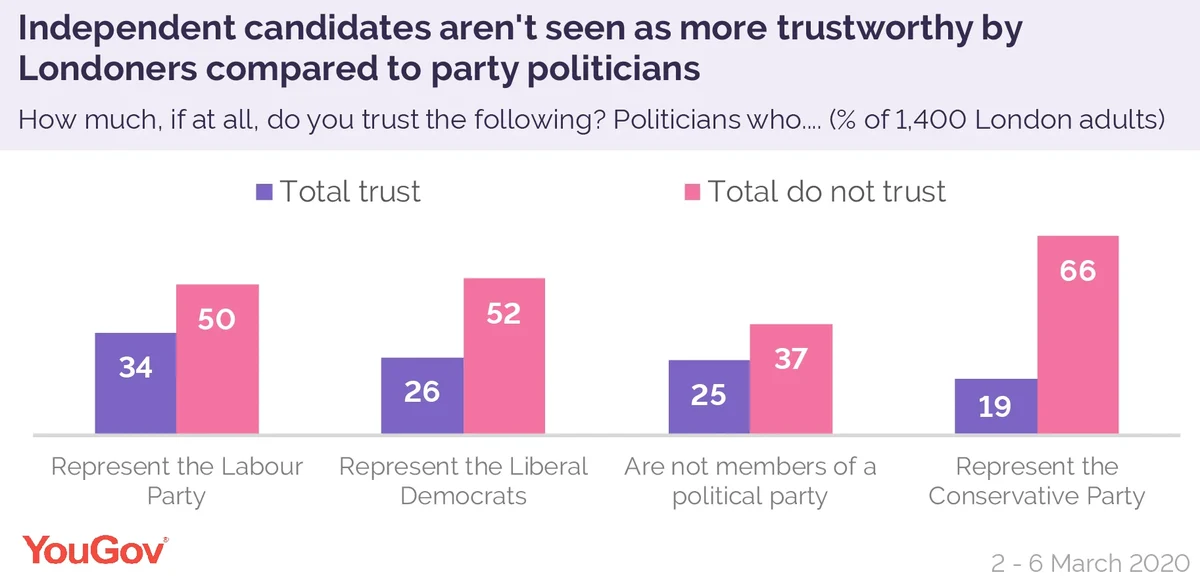 However, politicians representing the Labour party are seen as most trustworthy by Londoners, with 34% saying they trust them, compared to 19% of Londoners who trust politicians representing the Conservative Party. Londoners aged between 18 and 24 are most trusting of Labour politicians (46%) compared to 21% of Londoners over 65.
Londoners are also split over whether having more independent candidates not tied to political parties would be of benefit. Just under three in ten (28%) say Parliament would more effective with more independent MPs, however 25% say it would make no difference.
Image: Getty