Brits largely support the Government's new immigration policy but disagree with what is and isn't "skilled work"
The Government recently promised to "end the reliance on low-skilled labour coming into the country" with its new points-based immigration system. But how popular are the measures with Britons?
Our research shows that the public is overwhelmingly in favour of immigrants having to speak English to a certain standard (84%) – the most popular of the new requirements.
Working in a shortage occupation is not essential under the new system but will be rewarded with extra points. But it has wider support among Brits (73%) than other minimum criteria, such as having a job offer from a Government-approved employer (64%) and having a job at an appropriate skill level (54%).
Brits are less concerned with immigrants meeting certain salary thresholds. The Government will not accept any salaries under £20,480 – a measure just under half of Brits support. Meanwhile, 42% of Brits support the higher salary threshold of £23,040 and 38% support the £25,600 threshold, which most applicants without a PhD or who don't work in shortage occupations must meet.
While voters of all parties agree on stricter language requirements, other measures which will exclude low-paid workers are unpopular with Labour and Lib Dem supporters. While 76% of Brits who voted Conservative in the last election support immigrants having to take jobs at the appropriate skill level, only 37% of Labour and Lib Dem voters agree. Similarly, nearly three in five Tory voters support a salary threshold of £25,600, in contrast to 24% of Labour voters and 22% of Lib Dems.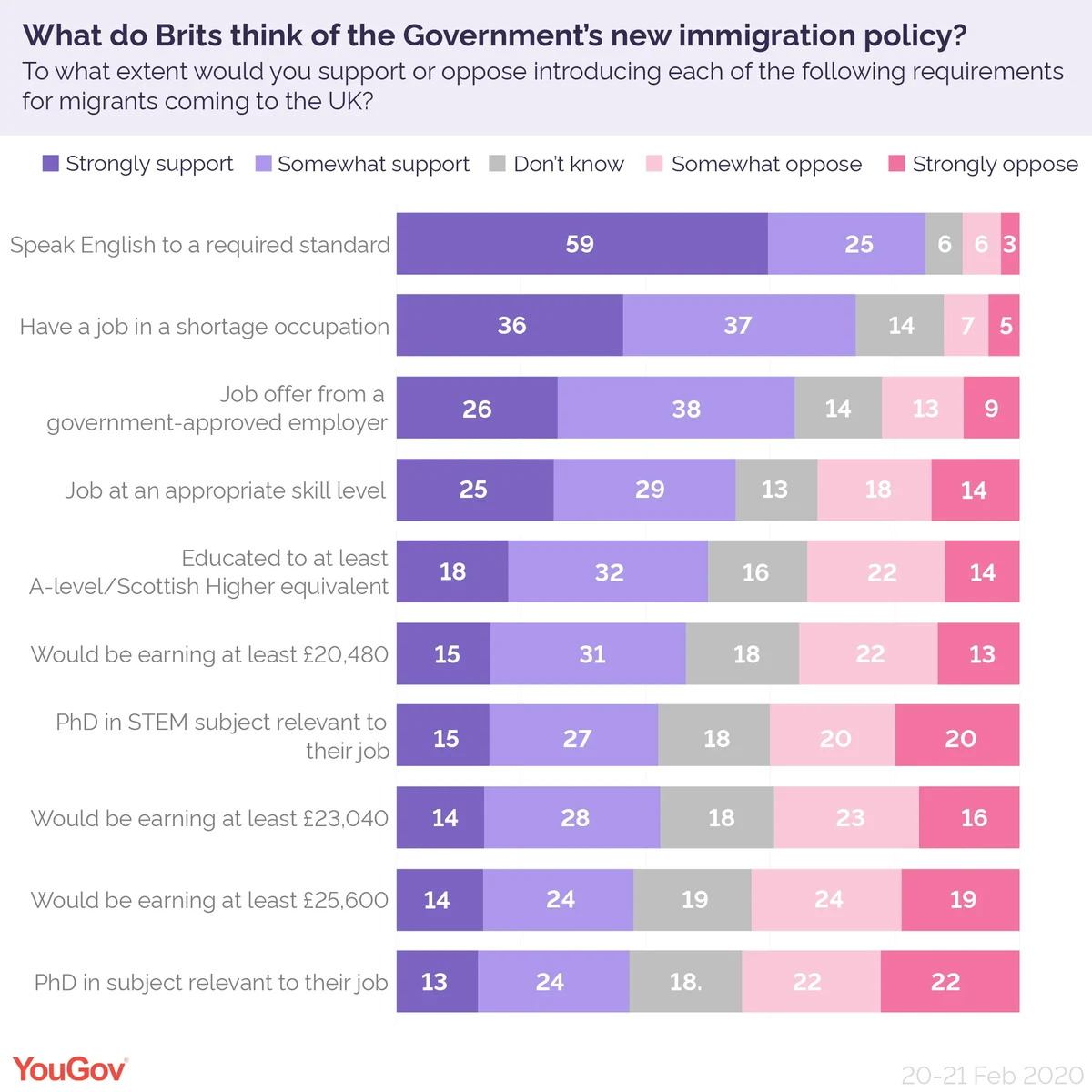 Who are the "lower-skilled" workers?
The Home Office has said it will not provide a route for "lower-skilled" workers into the UK. As a minimum all immigrants must be educated to A-level equivalent to be considered skilled, and earn at least £25,600 - unless they work in a shortage occupation, where a salary of no lower than £20,040 may be accepted.
But many of the workers who will most likely be rejected under the new scheme are skilled, according to Brits.
Two thirds say care workers, who in some cases earn less than supermarket cashiers, are skilled. The Government does not consider it a shortage occupation despite a shortage of 110,000 staff. And even if it did, many workers would fail to meet the salary threshold or be rejected if they didn't have A-levels.
Most Brits (73%) also think HGV drivers are skilled although the Government classes them as unskilled workers.
Other workers who Britons see as skilled are butchers (84%) construction workers (77%) and farm workers (58%). The Government is likely to reject many immigrants in these occupations from 2021 because of their skill level.
Several senior industry figures have raised concerns that the new measures will create job shortages in sectors such as care work, agriculture and hospitality.
Three in ten Brits think these claims are realistic and expect shortages to have a serious impact, while 28% said they are realistic but the impacts will not be severe. Another 27% said the claims are exaggerated.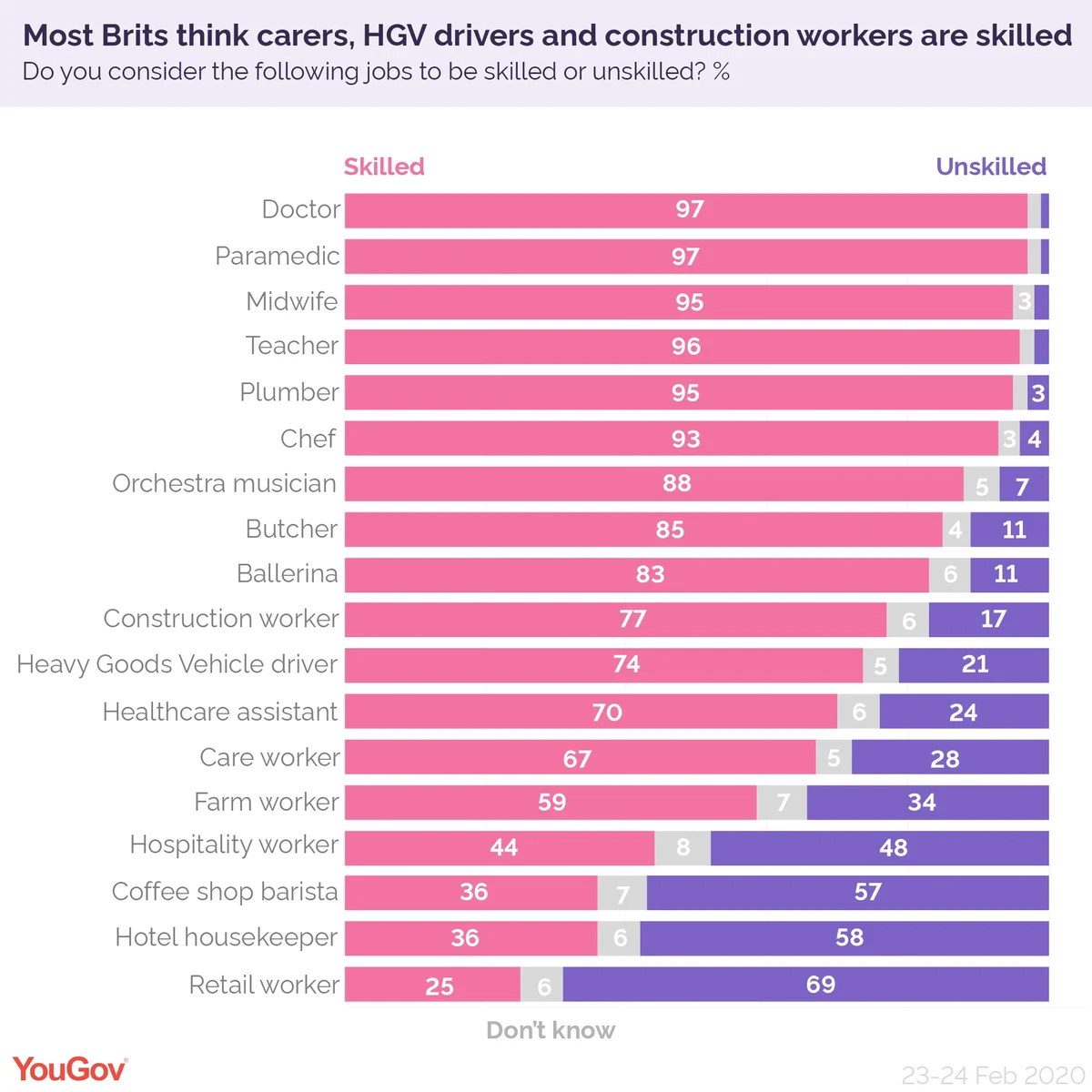 More Brits think immigration has been negative for the nation than their local area
While the Government says its new policy is a result of listening to the British public, YouGov data shows that public opinion on immigration is complex. People have more polarised views when considering the impact of immigrants on the UK as a whole compared with their local area.
About a quarter of Brits believe immigration has been negative for their local area, while 36% say it has been negative for the UK as a whole.
In contrast, nearly two thirds of Brits think immigration has either been positive (30%) or had no impact (34%) on their local area. And 35% think it has been positive for the UK as a whole, while 19% say it has neither been positive nor negative.