Members want to keep Labour on the Corbyn path, but wouldn't vote for him again as leader
Ballots for the Labour leadership election having been sent to voters, and our latest survey of the Labour selectorate showing that Keir Starmer is still the firm favourite to win.
Alongside this survey, YouGov also took a look at how members feel about other matters that have come up over the course of the campaign. Here are eight more things we've learned about what the party's members think.
Keir Starmer is seen as a fresh broom…
The overwhelming majority of members see Keir Starmer (92%) and Lisa Nandy (81%) as clear breaks from Corbyn.
It is a different story for Rebecca Long-Bailey, however. Long seen as the continuity-Corbyn candidate, just 24% of members say that she would be very or fairly different from her predecessor.
By contrast, fully seven in ten members think that Long-Bailey would represent little to no change from Jeremy Corbyn.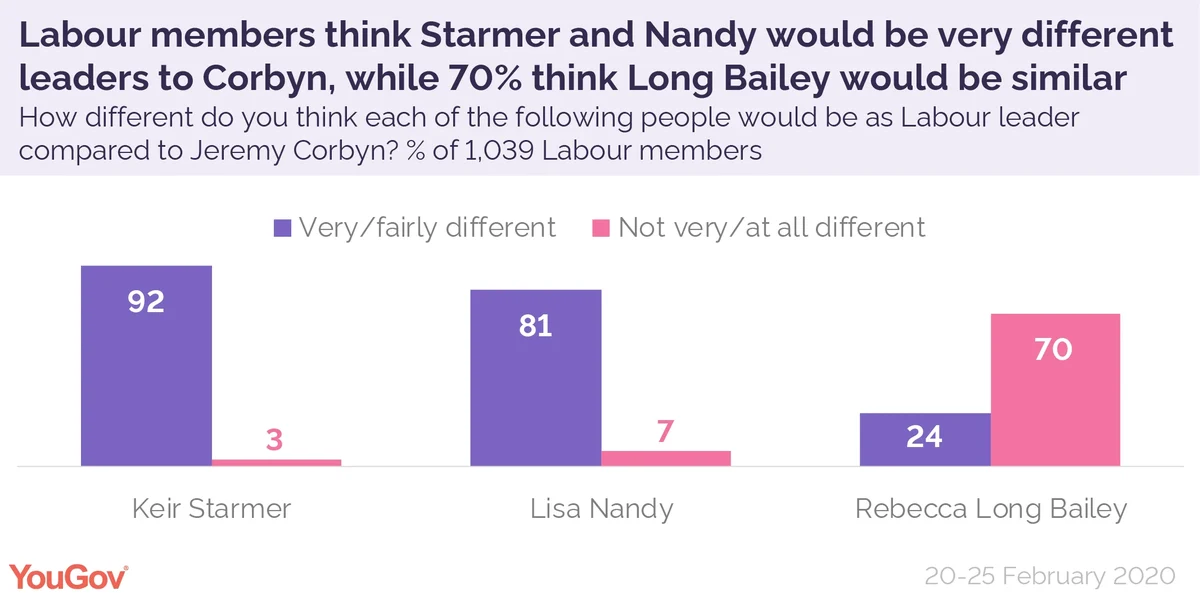 …yet most members want to keep the Labour ship on the same course plotted by Captain Corbyn
Despite the party's resounding defeat a couple of months ago, most members still want to keep the party on the same course it charted under Corbyn. A majority of 54% said "The next Labour leader needs to broadly keep the same policies and direction as the party had under Jeremy Corbyn".
Four in ten members took the opposing view, saying that "The next Labour leader needs to change the policies and direction of the party".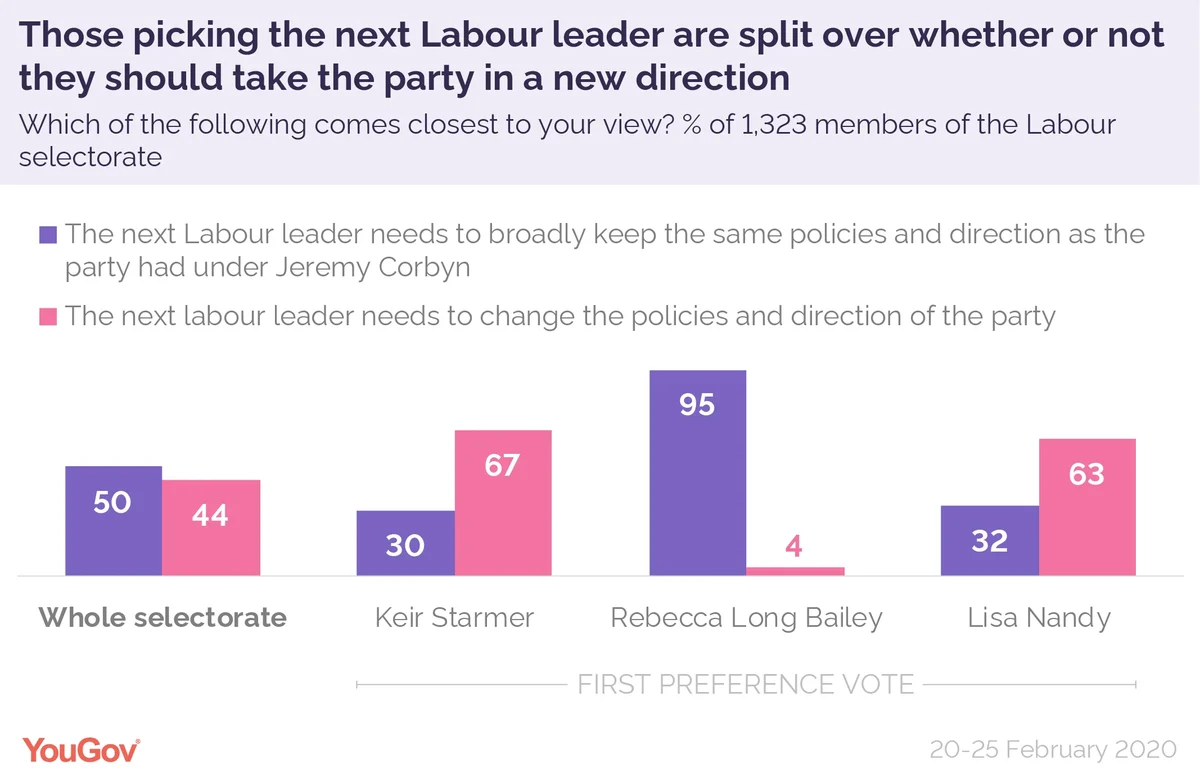 In fact, a quarter of those with a vote would back Corbyn if he stood again (but Starmer would still win)
If Jeremy Corbyn had decided to stand for leader again he would have received 28% of voters' first preferences. His votes come primarily from Rebecca Long-Bailey supporters – she receives just 8% of first preferences when Corbyn is in the contest, compared to 27% when he is not.
Corbyn's 28% is enough to put him in second place on first preferences, although he still trails Keir Starmer's 40% of the vote by a wide margin.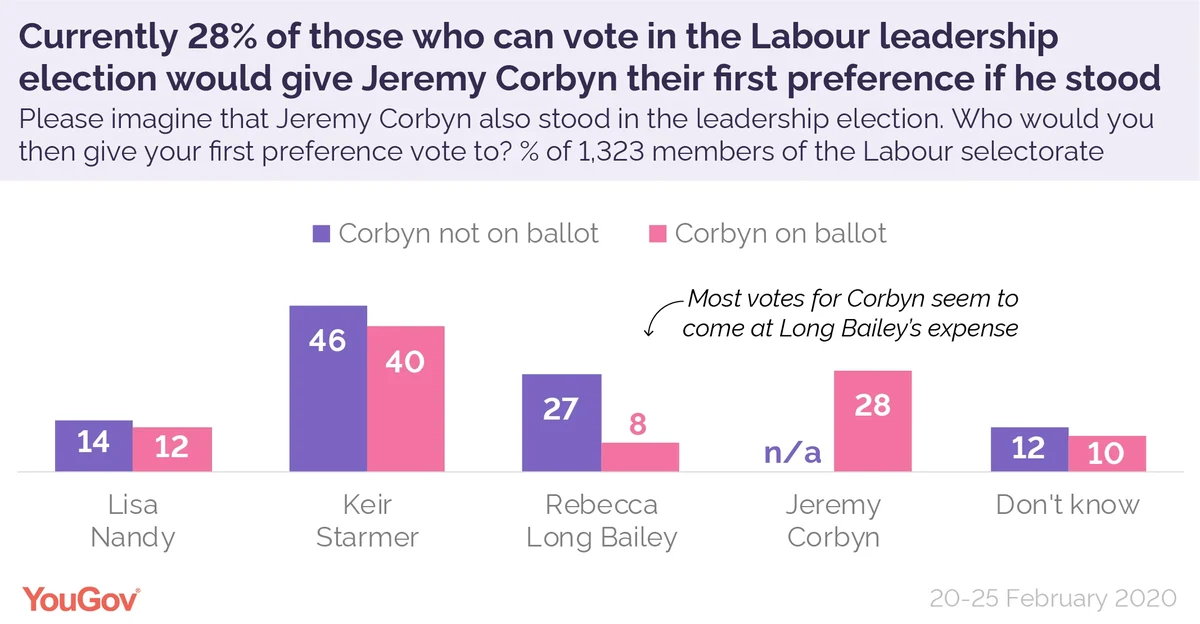 Members are highly attached to the 2019 manifesto, and would only scrap the broadband policy
Frontrunner Keir Starmer has laid part of the blame for Labour's defeat last year at the feet of its "overloaded" manifesto.
It is therefore implied that Starmer would streamline the next manifesto, so we asked party members which of 14 policies they might be willing to jettison.
The answer is: only one. Just four in ten members want to keep the nationalising broadband policy that caused such a stir during the 2019 election campaign. That is not to say that the policy is unpopular with members – the 51% of members who would jettison the policy is made up of 33% who would do so despite liking it, and the 18% who disagree with it in the first place.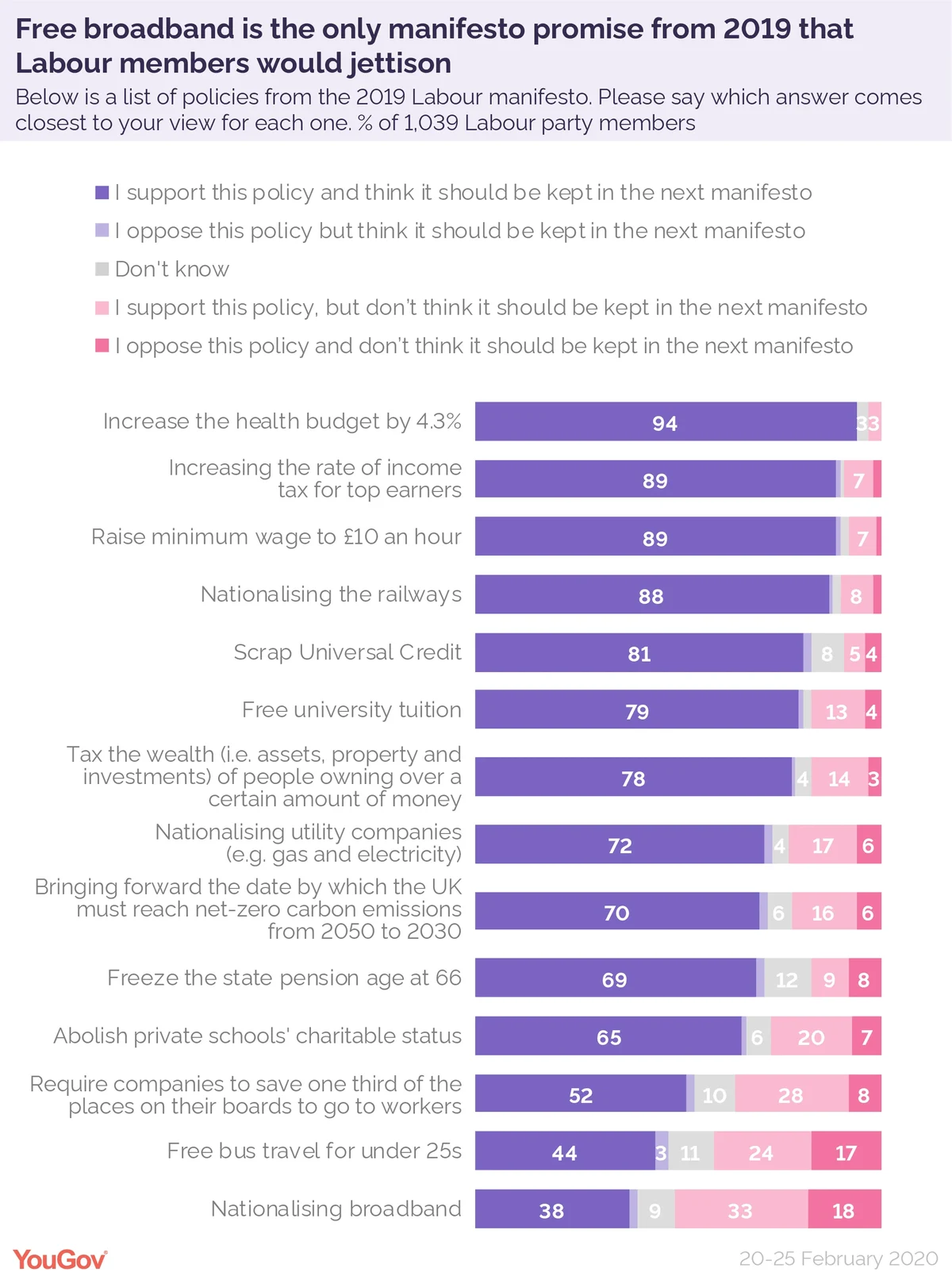 Members wanted to keep all 13 of the other policies we asked about. The most popular are increased health spending (94% support and want to keep in), higher tax rates for top earners and raising the minimum wage to £10 (both 89%).
Members would be happy to see Ed Miliband in the shadow cabinet, but not Jeremy Corbyn
Keir Starmer, in his role as expected winner, has said there would be a place in his cabinet for rivals Lisa Nandy and Rebecca Long-Bailey. Members are overwhelmingly in favour of their inclusions: 68% think Nandy should be in the Cabinet, as do 65% of Long-Bailey.
There has also been speculation that Ed Miliband could be Starmer's shadow chancellor in the event that he won. Most members would be happy for him to be given a senior post, at 59%.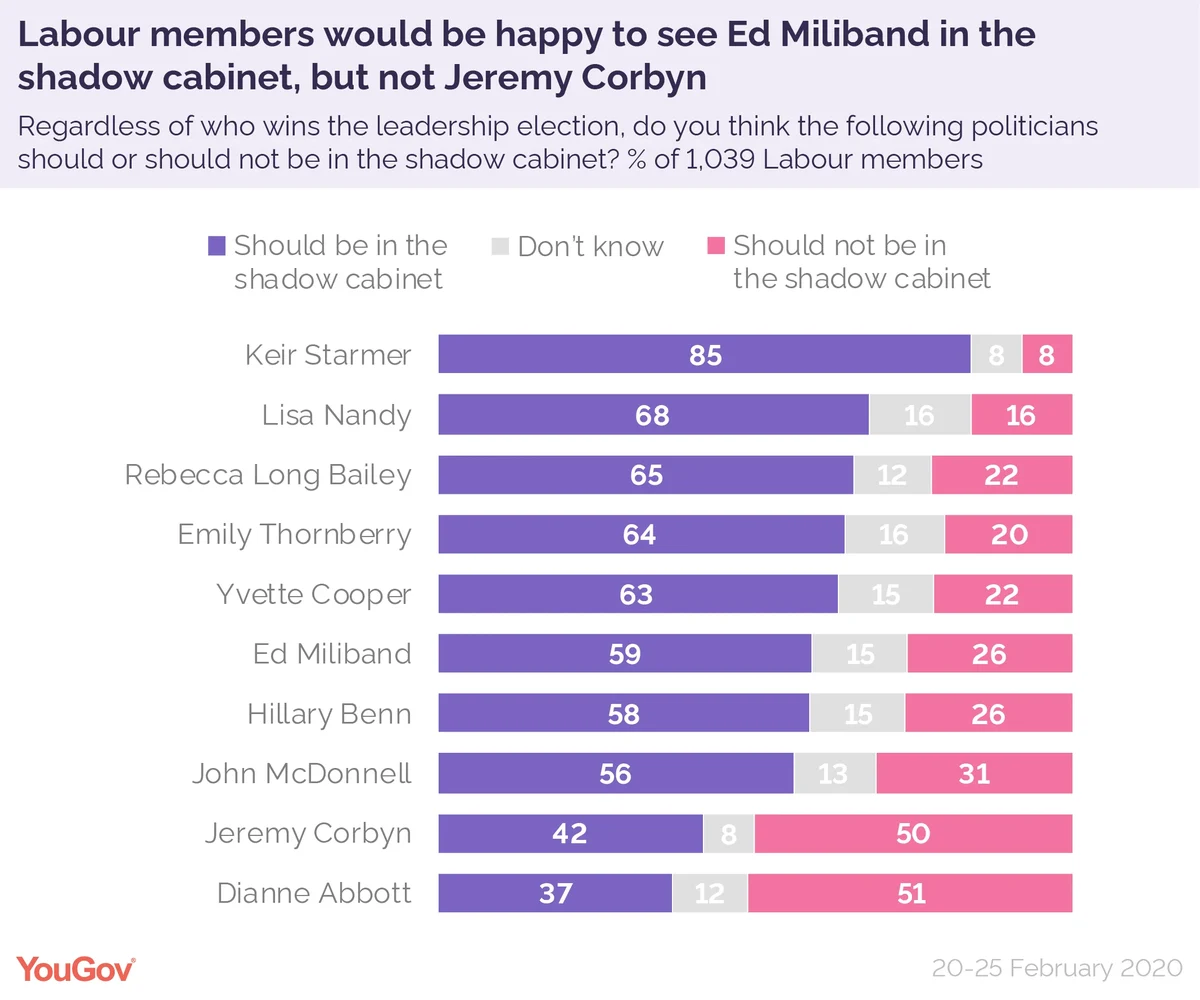 Rebecca Long-Bailey and Richard Burgon have both said that they would offer Jeremy Corbyn a role in the shadow cabinet. Corbyn, for his part, seems willing to accept such an invitation. Members are less convinced – only 42% think the outgoing leader should feature in his successor's shadow cabinet, compared to 50% who think he should not.
Members think electing Starmer would pay off, saying he is likely to beat Boris Johnson
Most members (58%) believe that, should Keir Starmer be crowned the next leader of the party, that Labour would likely win the next election. Only 15% of members think Starmer would be "very likely" to lead the party back to power.
Nevertheless, he is doing far better than Nandy and Long-Bailey. Only a quarter of members (27-28%) believe either candidate would be likely to beat Boris Johnson at the next election.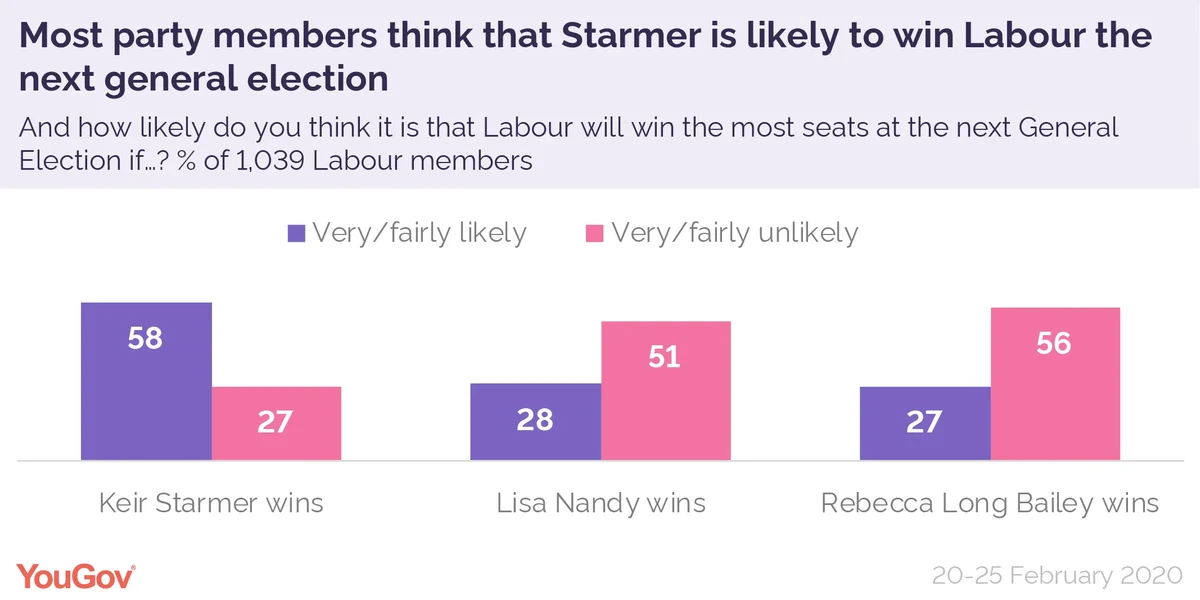 Members are split on whether New Labour economics was just continuity Thatcherism
During the campaign Lisa Nandy expressed a not-uncommon view among Labour members that the economics of Tony Blair and Gordon Brown represented a continuation of Margaret Thatcher's own economic policies.
Members are divided on the truth of this belief. About 45% of members agree with Nandy that New Labour's economic underpinning was Thatcherism. A further 42% dissent, saying that the two economic approaches were completely different.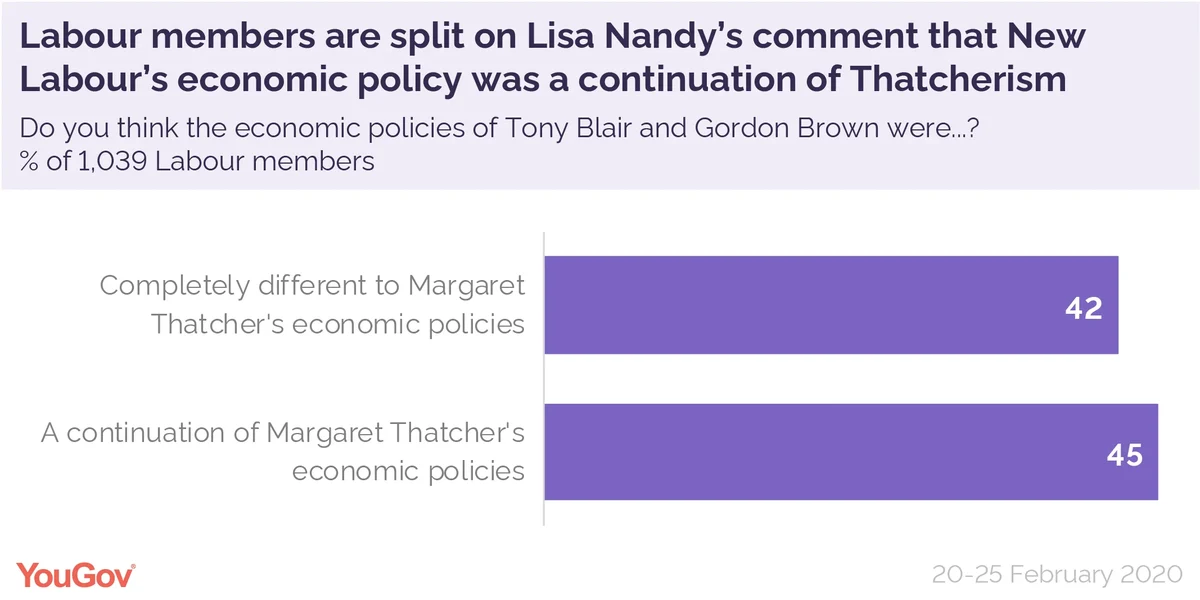 Most members back the Burgon 'peace pledge'
Deputy leadership candidate Richard Burgon was widely mocked for proposing a policy that would prevent the party leadership from supporting British military action unless the Labour membership agreed. When asked about the policy in full – which specifies that it is only in instances where the UK is not in immediate danger – we found that the majority of members (57%) support the measure.