New poll shows Starmer holds a comfortable lead over nearest rival Rebecca Long-Bailey, although it is touch and go whether he will win on the first or second round
Ballot papers are dropping for the Labour leadership and deputy leadership election, and the first YouGov/Sky poll of the full 'selectorate' shows that Keir Starmer is now on 53% of the first preference vote, which would just be enough for him to win on the first round.
He is 22 points ahead of Rebecca Long-Bailey, who is on 31%, with Lisa Nandy in third on 16% of the first round vote.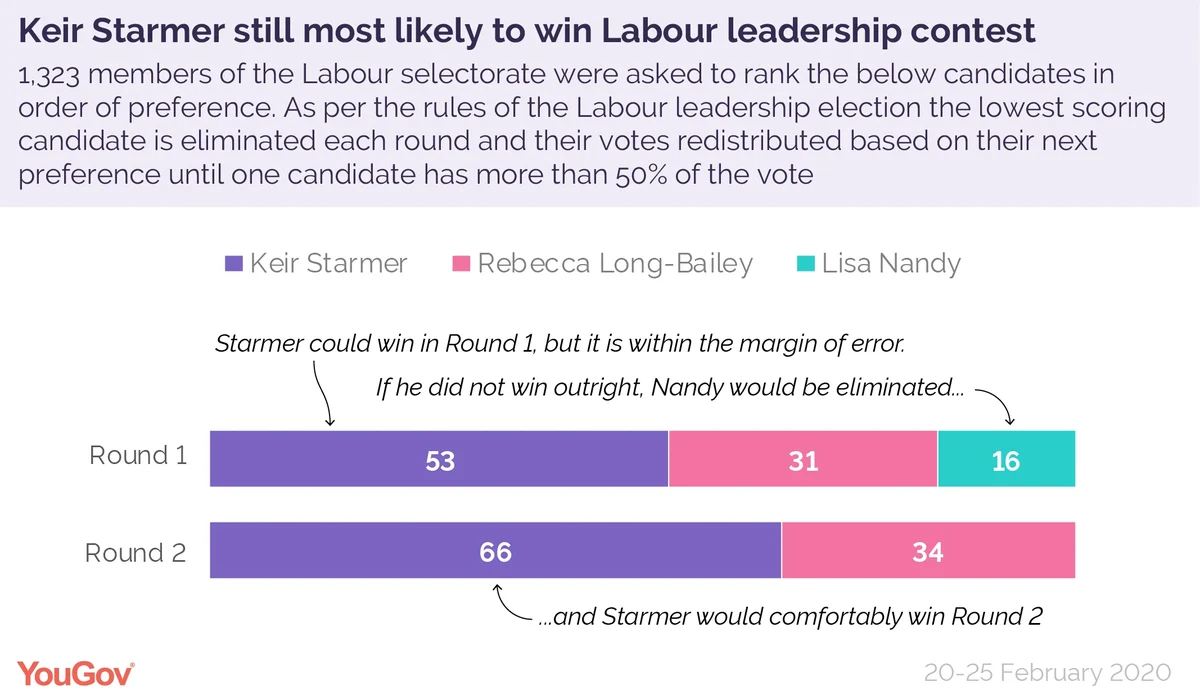 If Keir Starmer doesn't quite make it over the 50% threshold on first preferences, then Lisa Nandy will get knocked out and her second preferences reallocated. The polling indicates that these preferences break overwhelmingly for Starmer, putting him ahead of Long Bailey 66% to 24% in a second round runoff.
The polling includes everyone who is eligible to vote in the leadership election, including full Labour party members, affiliated members of trade unions, and a small number of registered supporters who could pay £25 in January to get a vote.
While Starmer is comfortably ahead among the full Labour party members (51% to 31% in the first round) he has an even bigger 61% to 21% lead among trade union affiliates.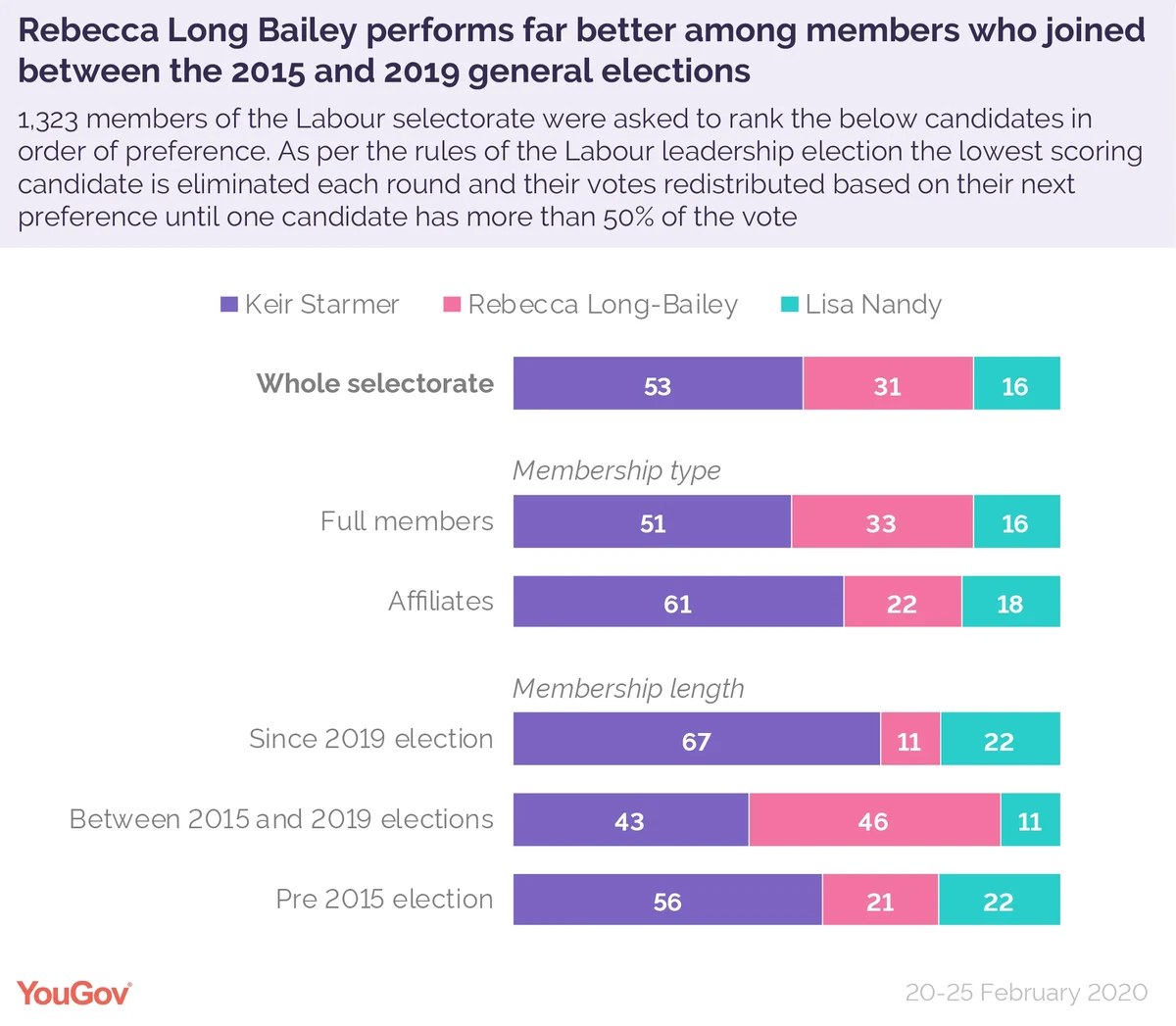 Among full members, his lead mostly comes from those who have been members since before 2015, where he leads Long-Bailey by 56% to 21%, or among those who have joined since the 2019 election, where he leads by 67% to 11%. Among those who joined during the Corbyn era, RLB holds a small lead of 46% to Starmer's 43% in the first round.
Considering how late we are in the race, will ballot papers landing in inboxes, there are still a surprising number of people who say they might change their mind. While the majority (57%) claim they will definitely vote for the candidate they currently support, a sizeable minority (37%) say they might change their mind. However, given the commanding lead that Starmer currently holds, and how little time there is left, this is highly unlikely to change the final result.
When it comes to the deputy leadership election, Angela Rayner is still the runaway favourite. She polls 47% of the first preference vote, giving her a 28 point lead over second place Richard Burgeon, who is on 19%.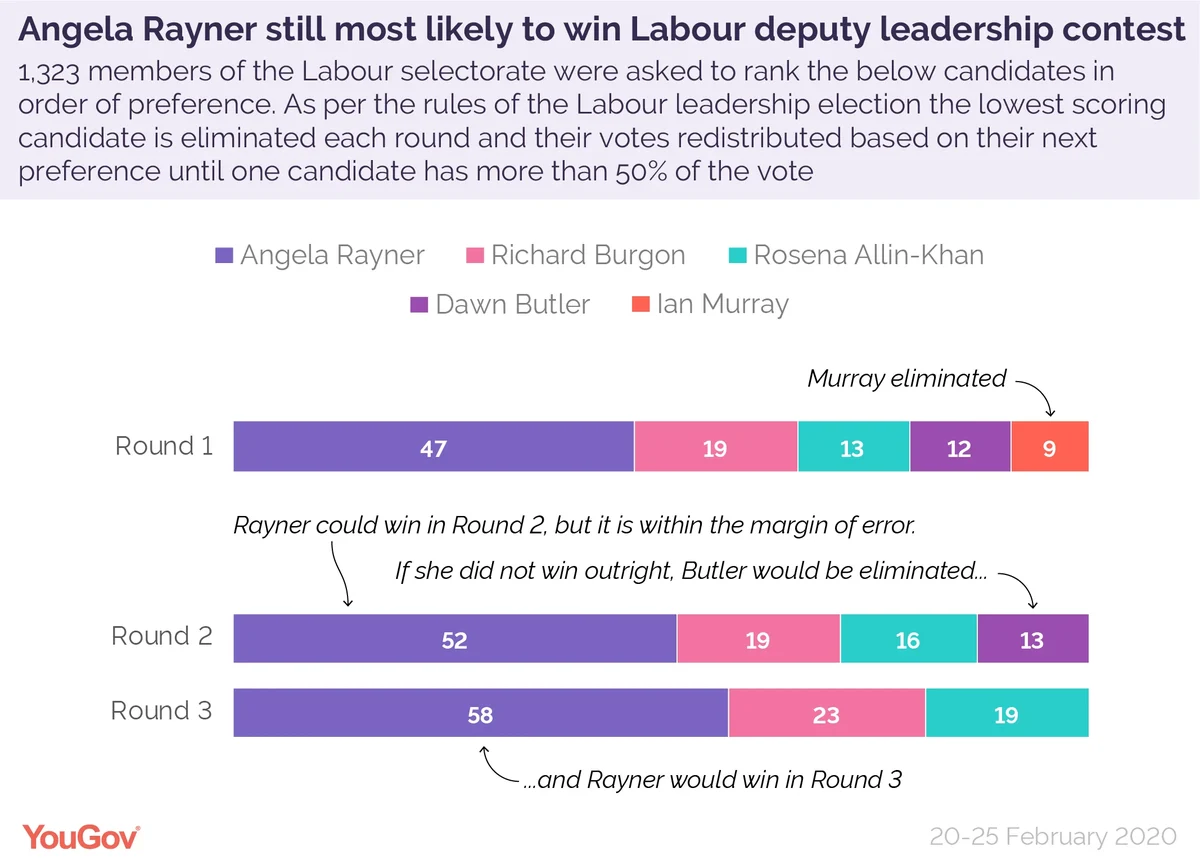 Working through the rounds, she looks set to get above the 50% threshold in the second round, after knocking out last places Ian Murray, or possibly in the third round, after also knocking out fourth place Dawn Butler.
Photo: Getty