The shares of the vote in our final published MRP model were close to the final result - we were within two points of the Conservative share, within one percentage point for Labour and the Brexit Party, and were exactly correct for the Liberal Democrats and Greens. Our Welsh polling for ITV Wales and London polling for Queen Mary University of London were also extremely close to the final tally.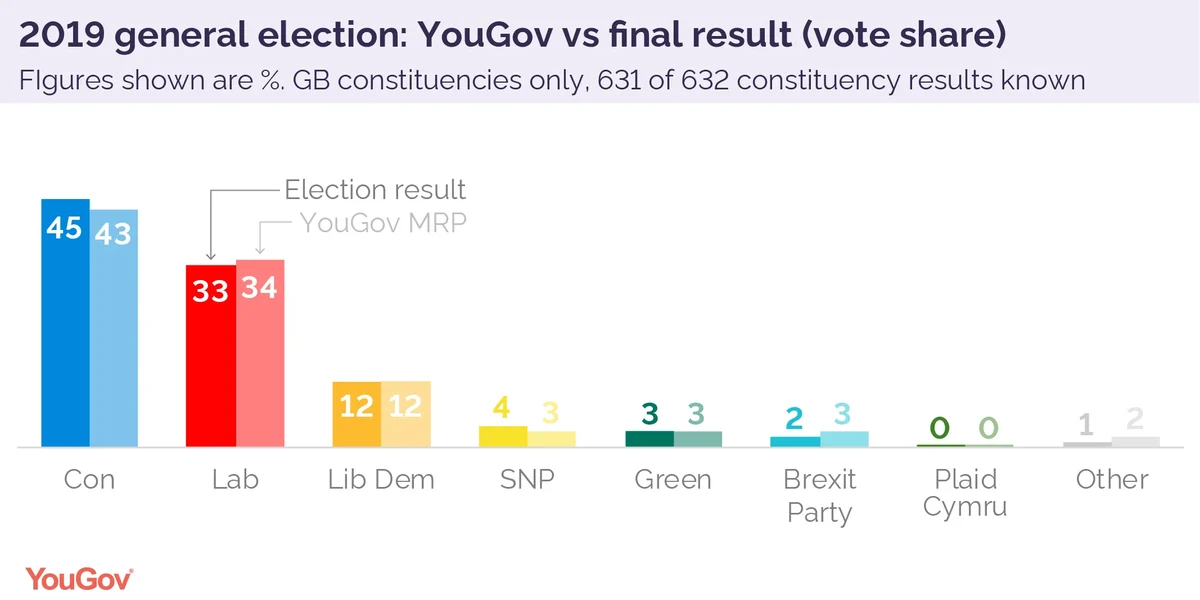 Our seat projection was further from the result. Our MRP model told the correct story - we showed a Conservative majority, with the Labour vote falling sharply in Northern, leave-voting areas, but holding up more in London. We also correctly predicted that the Liberal Democrats would have very few successes.
While these were correct, the scale of the Conservative gains from Labour were understated. Our final published model projected that the Conservative party would win between 311 and 367 seats and that Labour would win between 206 and 256, meaning the Conservatives performed at the very top end of our expectations, and Labour actually performed slightly worse than the possible outcomes the model forecast.
Part of this difference may well have been down to changes in support in the final two days of the campaign. Ben Lauderdale's additional analysis of the data collected on Tuesday and Wednesday suggests that the Conservatives were gaining steadily as they went into election day, with the party forecast to receive 348 seats.
Naturally we will be looking closely at the data to see what improvements we can make to the model to make it more accurate in the future.