With three weeks to go until the general election, one in six previous Labour supporters are still undecided on who to vote for
At the start of the 2017 general election campaign around 16% of the public were unsure who to vote for. This group contained far more people who voted Labour in 2015 than Conservative. At the time Labour were significantly lagging in the polls, in part due to that indecision.
Today there are parallels to 2017. At present, 17% of 2017 Labour voters say they are unsure how they'll vote, compared to just 11% of 2017 Conservative voters.
Labour is currently 12 points behind the Tories in the polls, and their success in bringing previous supporters back on board will be a factor in determining the outcome of the election.
It's a lot easier to win back old voters than it is to gain new ones, particularly if they haven't swung so far away from you yet that they've committed to a different party.
In 2017, most undecided voters eventually returned to Labour, and they'll be hopeful history can repeat itself.
There is currently a significant difference in the number of Labour undecideds dependent on their Brexit position. Some 13% of 2017 Labour voters who backed Remain in 2016 are unsure how they'll vote this time, a much lower proportion than the 24% of those who voted Leave in 2016 and Labour in 2017.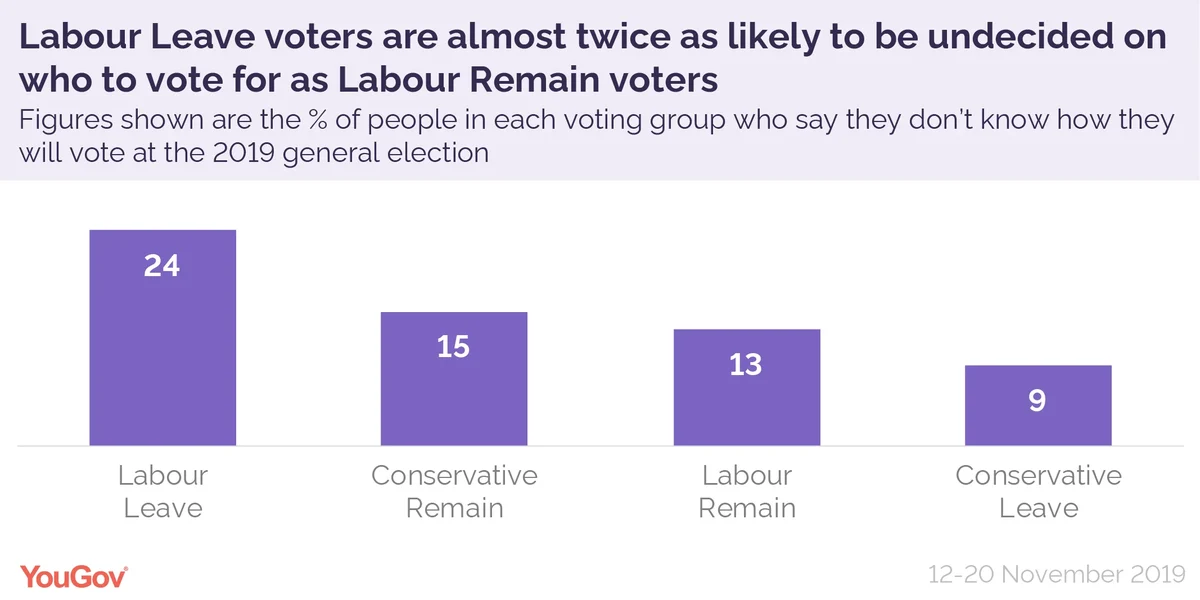 Since the EU referendum, Labour has grappled with how to keep both their Remain and Leave voters happy. Not taking a definitive stance on Brexit hurt them in the European Parliament elections; at the time just 13% of the public thought their policies on Brexit were clear. Committing to holding a second referendum on Brexit has likely contributed to their increased vote share amongst 2016 Remain voters, but has done no favours to their performance amongst those who voted Leave.
Since this data was collected, Corbyn has announced that his government would remain neutral in a second referendum between Remain and a renegotiated deal. If Leave supporting Labour voters are reluctant to switch to either the Conservatives of Brexit Party, this "neutral" Labour position may be enough to keep these Leave supporters happy.
The only party with more undecided 2017 voters than Labour is the Green Party, with 18% saying they are unsure. First-past-the-post is always a challenge for smaller parties and so some of this group of voters could end up lending Labour their support if they decide to vote tactically.
The Greens are not standing in as many seats as usual after entering a Remain alliance with the Liberal Democrats and Plaid Cymru. While not part of the pact themselves, Labour could indirectly benefit from it if Green voters unable to vote for their first choice party feel more comfortable voting Labour than Lib Dem or Plaid.
Photo: Getty