Prime Minister leads the Labour leader by 37% to 23% in poll of who Britons expect to perform best
With YouGov set to run a snap poll immediately after tonight's Prime Ministerial debate asking which leader performed best, a preliminary survey has looked ahead of time at who the public expects to triumph.
The results show that Britons are more likely to think that Boris Johnson will perform best, at 37% to Jeremy Corbyn's 23%. The largest number of Britons aren't sure, at 39% - a reminder that not everyone is as invested in this general election debate as the Westminster bubble.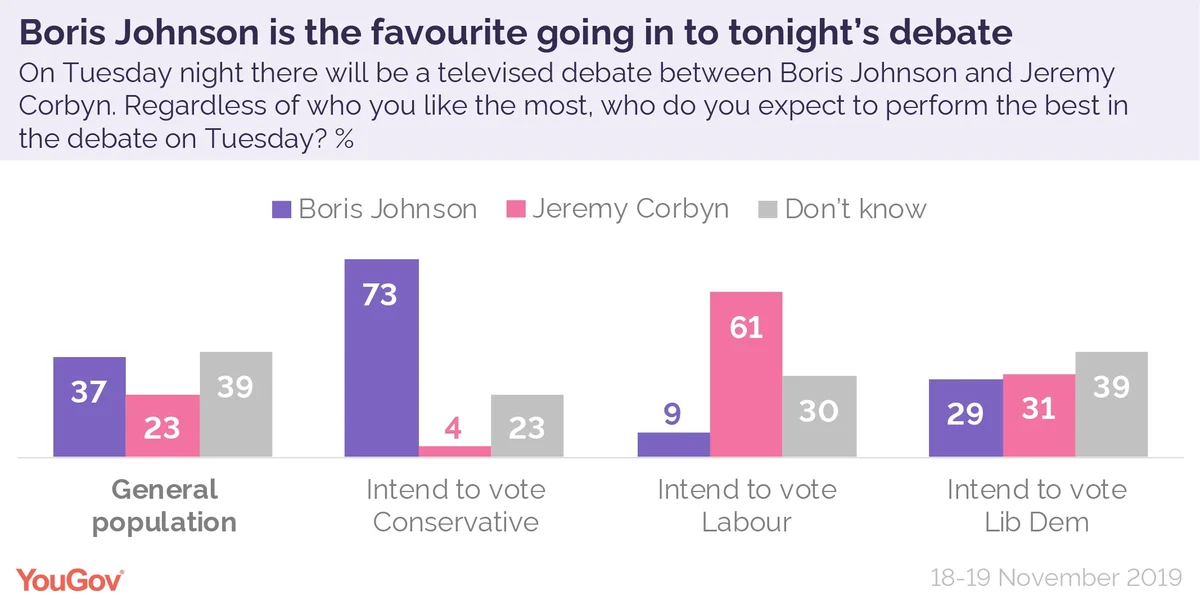 Unsurprisingly the expectations are partisan, with voters tending to think the leader of the party they themselves support will do better, so Boris Johnson's lead can in part be accounted for by the fact that there are more people who intend to vote Conservative than Labour.
Nevertheless, those who intend to vote Labour are less certain of their man's success than their Conservative rivals. Where Boris Johnson is expected to win by 73% of Conservative voters, this figure is only 61% for Corbyn among Labour voters.
The 30% of Labour voters who aren't sure is slightly higher than the Conservatives' 23%, and Labour voters are also slightly more likely to think Johnson will win (9%) than Tory voters are to think Corbyn will win (4%).
For their part, those who intend to vote Lib Dem are split, with 31% expecting Corbyn to get the better of his opponent while 29% say the same of Johnson.
Photo: Ashna Hurynag/ITV