Six in ten support Labour's policy of free broadband for all, but only half that figure support the means by which it would be provided
Labour's announcement that it would – if elected - provide free, superfast broadband to all UK homes and businesses by 2030 marks one of the first big retail offers of the 2019 election campaign.
As YouGov has pointed out previously, Labour's economic policies tend to be popular, and this one is no exception. Fully six in ten Britons (62%) support such a move, almost three times the number who are opposed (22%).
Support is unsurprisingly strongest among 2017 Labour voters, 79% of whom back the proposal, as do 62% of Lib Dem voters. People who backed the Conservatives in 2017 are much more evenly split, with 45% pro and 41% against.
However, when it comes to the way in which Labour say they will deliver free broadband – by nationalising BT Openreach – Britons become much more unsure.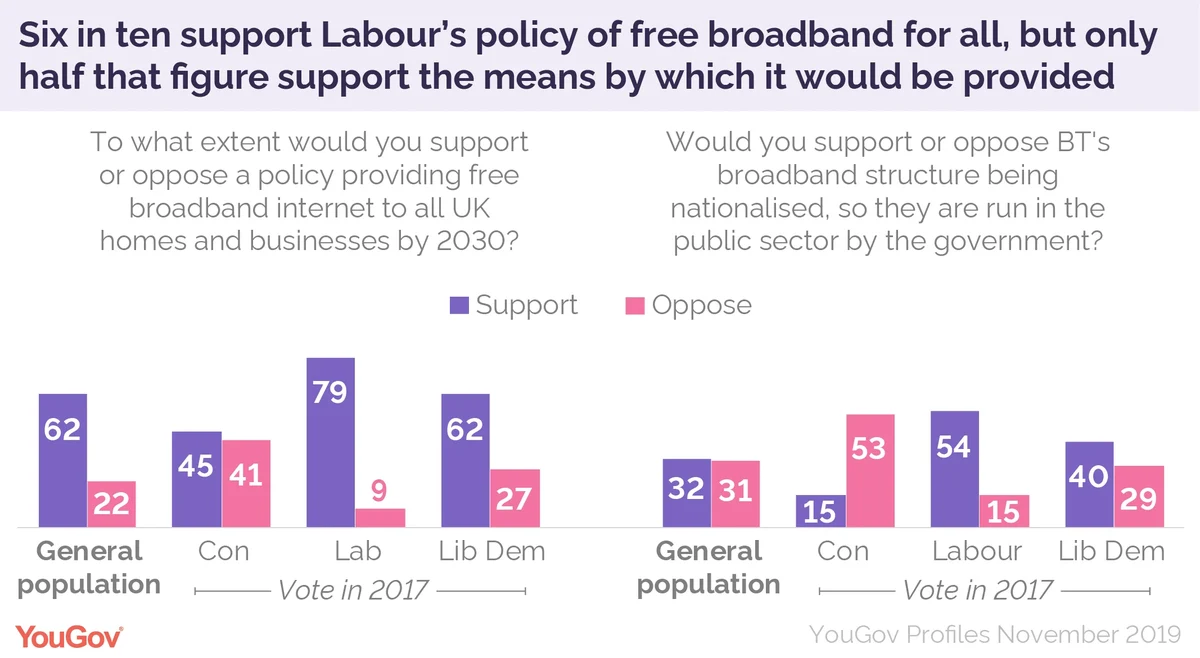 Just under a third (32%) support this portion of the plan, with an almost identical 31% opposed. Both groups are marginally outnumbered by the 37% who answered "don't know".
Again, 2017 Labour voters are more likely to support, with a small majority of 54% in favour and 15% opposed. Among those who voted Conservative those figures are almost completely flipped, with just 15% in favour and 53% against. For their part, Lib Dem voters back the measure by 40% to 29%.
Photo: Getty