Labour will have a battle to retain marginal seats in London, as key supporters ebb away to the Lib Dems
New polling for Queen Mary University shows that Labour now holds a 10 point lead in the capital, on 39% to the Conservative's 29%. The Lib Dems trail in third place on 19%.
Whilst both Labour and the Tories have recovered since our London poll conducted in May, up 4% and 6% retrospectively, they are still down on the results of the last election.
Compared to 2017, the Conservatives are down 4%. But they could still end up taking seats off Labour on current polling, as the Labour vote share has dropped 16% over the same period. Most of those leaving Labour are heading over to the Lib Dems, who are up 10%.
This drop means Labour will have a battle to hold marginal seats such as Battersea, or Kensington, which it won by just 30 votes in 2017.
In further bad news for the party, most Londoners do not hold Jeremy Corbyn in high regard. Just one in five (20%) think he's doing well as Labour leader, compared to over three times that number (65%) who think he's doing badly. Even amongst those who voted for the party at the last election, more now think he is doing badly (56%) than well (32%).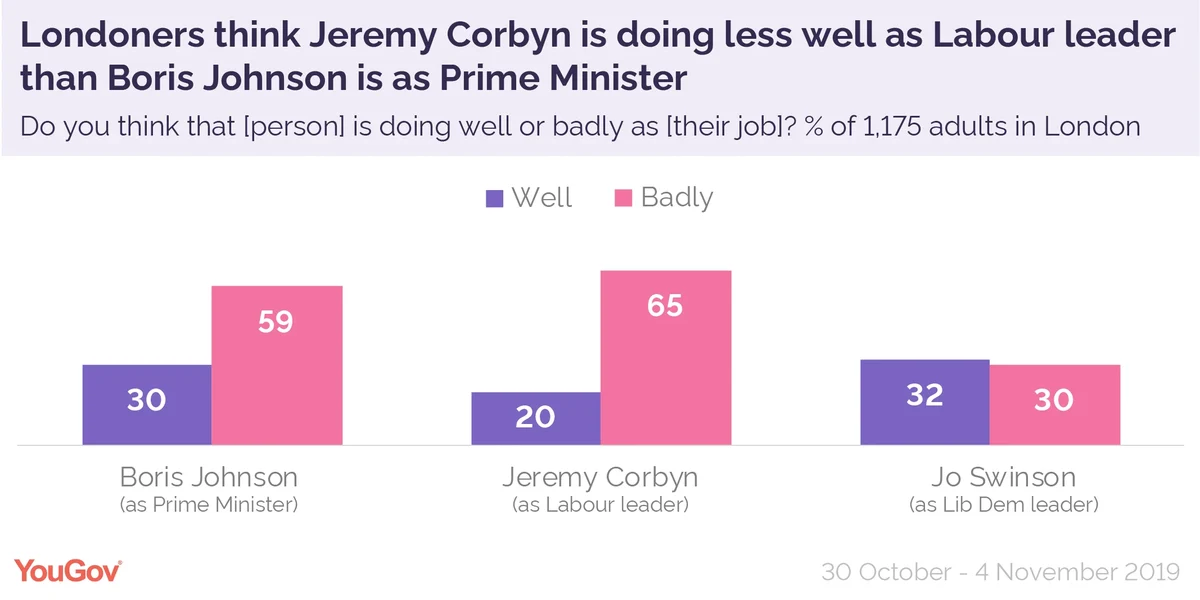 These numbers also put him behind the Prime Minister, who 30% think is doing well, and Jo Swinson, who is the party leader currently enjoying the highest support on 32%.
Amongst those who voted Labour at the last election, more now think that Jo Swinson is doing well (39%) than say the same thing of the Labour leader (32%).
Photo: Getty